Canon has announced their latest consumer level mirrorless camera, the EOS M50 Mark II as well as a new Speedlight that's designed to work with any EOS camera.
Canon EOS M50 Mark II
The M50 Mark II boasts features and improvements over the original, that will appeal to vlogger and video content creators looking for a less expensive, yet feature rich alternative to create and share their visions with.
Featuring the same 24.1 megapixel APS-C sized sensor and DIGIC 8 processor as found in the original EOS M50, The M50 Mark II adds improvements to autofocus, support for vertical video, live streaming and more.
The M50 Mark II captures 4K 24p and/or Full HD 60p video as well as HD (1280×720) at up to 120 fps for capturing super slow motion action.
Low light capabilities have been improved over the original, now offering a native range of ISO 100-25600, expandable to 51200.
---
---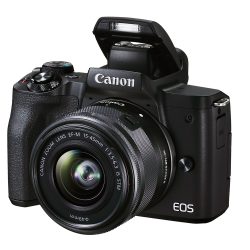 The Dual Pixel CMOS Autofocus system adds improved eye and face-tracking support making it available for use in all still and video modes.
The M50 Mark II also introduces a vertical video feature which according Canon give creators the ability to mix up shot lengths and angles to create videos that more interesting and unique. It is important to note that vertical video isn't supported when using the live streaming function.
There are a couple of other new features to note.
Just like the stills countdown timer, but for video, the movie self-timer with touch record control feature allows you to set the amount of time (between 2 to 10 seconds) you need to get back into the scene after pressing record.
The movie digital zoom feature works with both fixed focal length and zoom lenses, allowing you to magnify the centre part of the LCD screen offering a more intense, close-up look at the subject.
New and Improved Features
Improved ISO 100-25600 (H: 51200) range
Dual Pixel CMOS AF and Eye Detection AF now supported in all still and video modes
Vertical Video shooting support
LCD touchscreen record button and movie self-timer for improved vlogging experience
Ability to tap LCD screen to autofocus on subject while looking through the EVF
High-quality webcam capability for compatible services, when using free EOS Webcam Utility Software or Clean HDMI Output
Wireless live streaming (to YouTube only)
The EOS M50 Mark II carries and builds on the strong performance of the popular EOS M50 with improvements that will be especially notable for content creators like vloggers and more. You still get the impressive image quality of the 24.1 Megapixel CMOS sensor, power of the DIGIC 8 image processor, 4K UHD 24p and HD 120p for slow motion video and more, along with some additional boosts. When it comes to content, whether stills or video, the EOS M50 Mark II goes far beyond letting you just scratch the surface of your vision.
---
Speedlight EL-1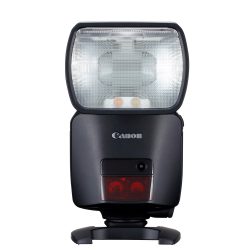 Designed to work seamlessly with any Canon EOS camera, the EL-1 features a rechargeable lithium-ion battery pack, high-speed recycle times as low as 0.9 seconds and increased number of flashes, up to 355 times before having to be recharged.
The Xenon gas filled flash tube offers better output stability and up to 14 stops of total flash exposure and utilizes a new active cooling system that helps circulate air throughout the flash head allowing for up to 170 continuous shots.
Other features include an improved user interface, new joystick, improved control layout, full 180º swivel and up to 120º of upwards or 7º downwards bounce.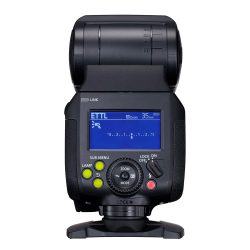 Key Features
Maximum Guide Number of 197 Ft./60m at ISO 100 Zoom Flash Head with Wide Range of 24-200mm
New Rechargeable Li-Ion Battery Utilizing LC-E6 Battery Charger
Improved Recycling Time (0.9 Sec.) and Number of Flashes (335 Times)
New Active Cooling System Enabling Longer Operation and Improved Thermal Management
More Versatility with Minimal Power Output Range 1/8192
Improved User Interface with New Joystick, Display and Control Layout
LED Modeling Lamp with Adjustable Brightness and Color Temperature
Same Dust- and Water-Resistance as EOS-1D Series and A New High-Durability Glass Flash Tube
Support of RT Series Flash Products and Wireless Second-Curtain Sync
Full Swivel 180° with Bounce up to 120°, Built-In Catch Light Panel and Wide Panel
Bounce Adapter and Two Color Filters Included
CP-E4N Battery Pack Compatible and Optional Accessories
The Speedlite EL-1 is the next generation, all-purpose flash that professionals and advanced amateurs have been seeking, providing durability, reliability and a range of power that opens up a number of possibilities. The new Xenon flash tube offers increased stability for flash output and 14 f-stops of total flash exposure range allowing you to shoot anywhere from a bright 1/1 to a dim, low power 1/8192 to precisely sculpt your scene with light. The new rechargeable Li-ion Battery Pack LP-EL supplies a shorter recovery between flashes as well as an impressive number of continuous flash opportunities, and conveniently lets you recharge when needed.