At first glance, the FUJIFILM GFX 50s doesn't look that much different than other cameras in the FUJIFILM X Series line-up, but maybe, that's the point.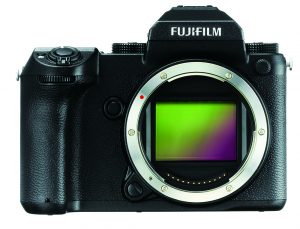 Unlike other Medium Format (MF) bodies that can feel large and cumbersome, the GFX 50s sits in your hand as comfortably as a regular sized DSLR.
For those used to other X Series cameras, it is slightly larger and heavier than say an X-T2, but it has to be in order to accommodate that massive 43.8 x 32.9mm (FUJIFILM G Format) 51.4MP CMOS sensor.
[toggle title="Click here to see the GFX 50s Key Features" load="hide"]
New 51.4MP FUJIFILM G Format 43.8 x 32.9mm sensor with approximately 1.7x the area of a 35mm sensor allows multiple aspect ratios (4:3, 3:2, 16:9, 1:1, 65:24, 5:4, 7:6) to capture great textures and subtlety of tones
The High-performance X Processor Pro process engine (also used in the X-Pro2 and X-T2 cameras) allows photographers to use Fujifilm's proprietary Film Simulations with a Medium Format sensor and also increases response times
3.69M dot organic OLED electronic viewfinder is detachable to allow for flexible operation. Users can attach the accessory EVF-TL1 EVF tilt adapter (sold separately) to allow the finder to be tilted to 90° vertically and swung ±45°
Compact and lightweight weather and dust resistant body to -10C constructed from magnesium alloy and when paired with the FUJINON GF63mmF2.8 R WR weighs only 60% of a medium format DSLR camera equipped with a sensor of the same size for maximum flexibility and mobility
3.2 inch, 2.36M dot touch three-directional tilting LCD screen with touch operation for the menu, focusing points and image playback improves operability and makes viewing images and checking focus easier
1.28 inch customizable LCD sub monitor on the top of the body displays important exposure data such as aperture and shutter speed and is extremely useful when shooting on a tripod or when tethered to a computer
Up to 16x live view magnification
Live RGB colour histogram display with highlight alert
Focal plane shutter with flash sync up to 1/125. Get HSS with the Fujifilm EF-X500 flash.
Manual exposure dials and controls with C position in black
117-point (9 x 13 / maximum of 425 points when miniaturized) high-precision contrast AF can be adjusted using the same focus lever found of the X-Pro 2
Live HDMI output
USB 3.0 Tethered support with Live View using either the HS-V5 and LR using Adobe Plug-in Pro.[/toggle]
Initially, FUJIFILM is offering a selection of three new FUJINON lenses – the GF63mmF2.8 R WR, the GF32-64mmF4 R LM WR and the GF120mmF4 R LM OIS WR Macro and FUJIFILM say that there will be three additional lenses added later in 2017.
---
To find out what we thought of the FUJIFILM GFX 50s, watch our hands-on review featuring Vistek Photography Product Manager Gary Goldberg & Video Producer Dale Sood:
---
Test Shot Gallery
[the_grid name="FUJIFILMGFX50S_Sample_Images"]
Model: Drew Catherine
Images: ©Gary Goldberg (for model) / ©Dale Sood (for night)
---
FUJIFILM GFX 50S combines an extraordinary sensor, processor and design with FUJINON lenses to give users the ultimate photography experience. The GFX 50S combines the heritage of over 80 years of imaging and the innovative award-winning functional design of our X Series digital camera system in the relentless pursuit of image quality.
---
The GF lens range, which can cope with resolutions up to 100MP, combines the latest technologies with extensive knowledge accumulated from making XF lenses to deliver the best possible image quality and realize the full potential of the GFX 50S.
---