[vc_row][vc_column][vc_row_inner][vc_column_inner width="1/4″][vc_single_image image="31300″ alignment="center"][/vc_column_inner][vc_column_inner width="3/4″][vc_column_text]
Update – August 2019: The Fujifilm GFX 100 has earned a prestigious DPReview Gold Award with an 90% overall review score!
[/vc_column_text][/vc_column_inner][/vc_row_inner][vc_column_text]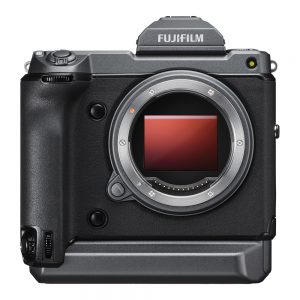 With the release of the GFX100, Fujifilm continues to push the envelope with it's game changing medium format GFX series cameras.
On the outside, the new Fujifilm GFX100 looks similar to previous GFX cameras, but inside it's a whole different camera.
World's first 100MP CMOS Sensor in a Mirrorless Camera
At a 102 megapixels, the GFX100 boasts the highest resolution ever offered in a mirrorless camera. It's also the first mirrorless camera (with a sensor, larger than the 35mm full-frame format), to offer 5-Axis IBIS (in-body image stabilization), on-board phase detection hybrid AF with almost 100% coverage and 4K, 30p video recording capability.
The newly developed, back-illuminated 102MP CMOS imaging sensor paired with Fujifilm's fast X-Processor 4 processing engine, is capable of outputting 16-bit images with "amazing colour fidelity, rich shadow detail, and incredible dynamic range."
Because the back-illuminated structure of the sensor places the exposure plane in extremely close proximity to the colour filter array, the GFX100 can achieve ultra-low noise levels and a native ISO of ISO 100.[/vc_column_text][vc_column_text]Built-in 5-Axis In Body Image Stabilization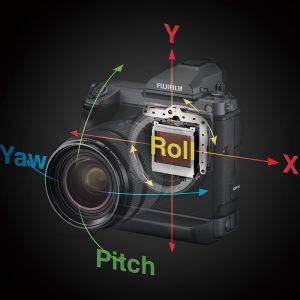 The GFX100 is the world's first medium format mirrorless camera to feature built-in 5-axis IBIS which provides up to an additional 5.5-stops of image stabilization.
To minimize the effect of shutter shock, the entire shutter unit is suspended by four springs which Fujifilm says will "dramatically broaden the scope of situations where a user can hand-hold the camera and still enjoy the world of 100MP+ ultra-high resolution, while pushing the boundaries of photographic expression."[/vc_column_text][vc_column_text]On-board Phase Detection Hybrid AF with approx. 100% Coverage
The GFX100 utilizes 3.76 million phase detection pixels at almost 100% coverage to provide fast and accurate AF performance for subject tracking, face/eye detection and low-contrast environments.
Fujifilm says this is particularly noticeable when using fast prime lenses, achieving speed improvements of up to 210% over the AF system used by the GFX 50R.[/vc_column_text][vc_separator][vc_column_text]
The Fujifilm GFX 100 combines decades of experience, knowledge, and research into a mirrorless large format camera that redefines the boundaries and limitations of how photographers and filmmakers creatively express themselves. The GFX 100 is not only reshaping how images are being made, but it is also redefining large format for the world's next generation of image makers.
[/vc_column_text][vc_separator][vc_single_image image="30790″ img_size="full" alignment="center"][vc_column_text]Video Capabilities
The GFX100 is the first mirrorless camera with a sensor of this size to support 4K/30p video recording.
The larger sensor size produces a shallow depth of field, enhanced tonal gradient in 10-bit output and greater ISO sensitivity. You can also apply all 16 film simulation modes, including Eterna which replicates Fujifilm's cinema film of the same name.
It also supports F-Log/HLG, the digital cinema ratio of 17:9, compression codecs such as H.265 and H.264 and a bit rate of up to 400Mbps. Uncompressed 4:2:2 10-bit footage can also be captured via the HDMI port to an external monitor/recorder while being simultaneously saved to the internal SD card.[/vc_column_text][vc_column_text]Body Construction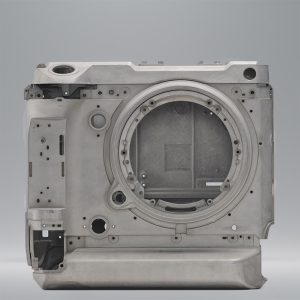 The GFX100 is fully weather sealed across 95 locations on the camera body and detachable EVF and offers a high level of dust and moisture resistance.
The core imaging unit, which consists of the lens mount, image stabilization mechanism and image sensor, has been structured so that each component is completely separate from the main body panels.
Fujifilm says that this "double-structure' is designed to ensure a high level of precision and robustness while minimizing resolution degradation caused by external stress to the body."[/vc_column_text][vc_column_text]Final Thoughts…
With their GFX line, Fujifilm has done an excellent job of making medium format cameras accessible to not only professional photographers, but to serious enthusiast photographers as well.
While the price of the GFX100 will indeed limit its appeal, let's remember that the only other 100MP plus, full frame, medium format cameras on the market right are the Phase XF IQ3 and XF IQ4 systems which would each set you back over $60,000 CDN.
Heck, even the 50MP Hasselblad X1D-50c (body only) retails for around $12,000 CDN and offers half the megapixels and less features for almost the same price as the GFX100!
In short, Fujifilm has once again shaken up the camera world, by offering a high-end, rugged, feature rich, multi-functional camera that will appeal to both photographers and filmmakers alike, for a price that won't completely break the bank.[/vc_column_text][vc_column_text]
Fujifilm GFX 100 – BIG in Japan – Full Hands-on Review
[/vc_column_text][vc_separator][vc_column_text]
GFX Series Key Features Comparison
[/vc_column_text][vc_row_inner][vc_column_inner width="1/3″][vc_column_text]GFX100 – $13,299.99 CDN
102MP Back-illuminated CMOS Sensor
Medium Format
5 FPS Continuous Shooting
ISO 100-12800 Expandable to 50-102400
4K (3840 x 2160) up to 30p / Full HD (2048 x 1080) or (1920 x 1080) up to 30p
Dimensions: 156.2 (w) x 144.0 (h) x 75.1 (d) mm (6.15 x 5.67 x 2.96″)
Weight: 1155 g (49.4 oz.) (w/o EVF or Accessories)
Tilting Touchscreen
[/vc_column_text][/vc_column_inner][vc_column_inner width="1/3″][vc_column_text]GFX 50S – $6999.99 CDN
51.4MP CMOS Sensor
Medium Format
3 FPS Continuous Shooting
ISO 100-12800 Expandable to 50-102400
Full HD (1920 x 1080p) at 30fps
Dimensions: 147.5 (w) x 94.2 (h) x 91.4 (d) mm (5.81 x 3.71 x 3.6″)
Weight: 740 g (26.1 oz.) (w/o EVF or Accessories)
Tilting Touchscreen
[/vc_column_text][/vc_column_inner][vc_column_inner width="1/3″][vc_column_text]GFX 50R – $5699.00 CDN
51.4MP CMOS Sensor
Medium Format
3 FPS Continuous Shooting
ISO 100-12800 Expandable to 50-102400
Full HD (1920 x 1080p) at 30fps
Dimensions: 160.7 (w) x 96.5(h) x 66.4 (d) mm (6.3 x 3.8 x 2.6″)
Weight: 690 g (24.3 oz.) (w/o EVF or Accessories)
Tilting Touchscreen
[/vc_column_text][/vc_column_inner][/vc_row_inner][/vc_column][/vc_row]