In the summer of 1969, Apollo 11 Astronaut Neil Armstrong, became the first human to step foot on the surface of another celestial body, documenting the historic event with a silver Hasselblad Data Camera (HDC). Now, to commemorate this historic achievement, Hasselblad has launched the stunning, limited edition, matte black 907X Special Edition camera body and CFV II 50C digital back featuring "On the Moon Since 1969" anniversary text.

Hasselblad 907X Medium Format Camera Body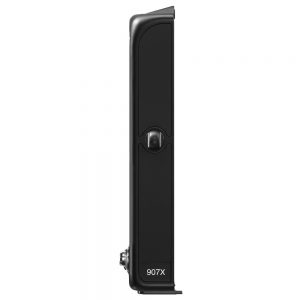 The 907X (announced in June) is the smallest medium format camera body Hasselblad has ever produced weighing in at only 206g.
The body (essentially frame to attach the lens and digital back to) features an extremely thin, lightweight design that smoothly connects to the CFV II 50C digital back allowing for a wide range of Hasselblad optics, including all XCD lenses (native) and all HC/HCD V system and XPan lenses (via adapters) to be attached.
---
HASSELBLAD DATA CAMERA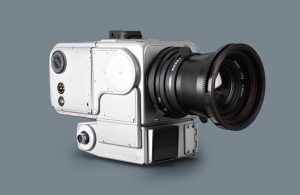 "Taken onto the lunar surface was the silver Hasselblad Data Camera (HDC). Fitted with a Zeiss Biogon 60mm ƒ/5,6 lens and 70mm film magazine containing specially formulated thin-base Kodak film, it allowed for 200 images per magazine. Installed in the HDC was a Réseau plate, which optically imprinted fixed cross-marks that allowed for photogrammetric measurements to be made from the resulting negative. The HDC was specifically designed to cope with the rigours of the lunar surface; the silver paint colour was used to stabilize the camera when moving between temperatures ranging from -65° C (-85° F) to over 120° C (248° F). Armstrong carried out all the photography himself on the lunar surface with this HDC attached to his chest, which had never been tested in space before, adding to the pressure of this once in a lifetime moment."
---
Hasselblad CFV II 50C Digital Back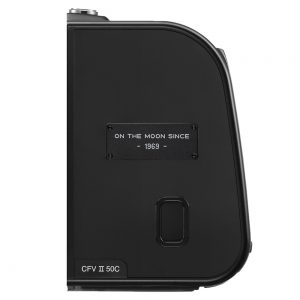 Coupling the CFV II 50C to the 907X, offers what Hasselblad calls "a truly distinct photographic experience" in part, by allowing you to "shoot in the classic waist-level style of the V System" thanks to the 3″ tilt touchscreen on the rear of the digital back.
The CFV II 50C digital back features a 50-megapixel CMOS medium format sensor, offering outstanding  colour  depth, 14 stops of dynamic range and the ability to capture full-size in-camera JPEG images.
Hasselblad Natural Colour Solution technology is also integrated into the camera's system, providing true-to-life tones that match what the human eye sees.
The 907X/CFV II 50C system will work with any of Hasselblad's newer XCD lenses providing autofocus and electronic exposure control.
The X H lens adapter allows all HC and HCD Lenses to be mounted on the 907X and XPan and V System Lenses can also be used (in electronic shutter mode) with the XPan Lens Adaptor and X V Lens Adapter, respectively.
---
Hasselblad 907X Special Edition Camera & CFV II 50C Digital Back, Matte Black – Celebrating 50 years on the moon, this limited 907X Special Edition includes the 907X camera body and CFV II 50C digital back, both in matte black with commemorative "On the Moon Since 1969" anniversary text. – Vistek – Product Detail Toronto, Calgary, Edmonton, Ottawa and Mississauga Canada
---
Hasselblad also states that the CFV II 50C digital back is "compatible with most V System cameras from 1957 and onward in addition to technical and view cameras" making it easy to combine analog and digital shooting.
The CFV II 50C digital back is also compatible with Hasselblad's Phocus software allowing for tethered shooting via the USB-C port to your computer, iPad or iPhone or via the built-in Wi-Fi to your iPad or iPhone.
Key features of the 907X Special Edition include:
Large medium format 50MP CMOS sensor
Up to 14 stops of dynamic range
Captures 16-bit RAW images and full resolution JPEGs
High-resolution 3.0-inch 920K dot touch and tilt screen
Smooth live view experience with a high frame rate of 60fps
Focus peaking, enabling more accurate focusing (especially advantageous on the manual-focused V System cameras)
Intuitive user interface with swipe and pinch touch controls
Internal battery slot with the option to recharge in-camera via the USB-C port (same battery used on the X System)
Dual UHS-II SD card slots
Integrated Wi-Fi and USB-C connection
Portable workflow with Phocus Mobile 2 support