H
asselblad has entered the mirrorless camera race in a big way, with the introduction of the X1D medium format mirrorless camera.
World's First Medium Format Mirrorless Camera
Fully designed by Hasselblad & handmade in Sweden, the 1XD is less than half the weight of a conventional digital medium format camera, mostly due to the lack of a mirror assembly and no need for a digital back.
The X1D features a built-in high-resolution LCD offering touch controls for all aspects of the cameras features. Using an icon-based user interface rather than a typical menu, which should make it easier for users to access customization and playback options such as being able to swipe and pinch to zoom.
The 2.4 MP electronic viewfinder will allow for bright crisp viewing even in difficult lighting conditions.
As with all mirrorless cameras, the X1D is smaller than most full frame 35mm cameras, and almost all of it medium format competitors.
---
See it at ProFusion Expo!
---
Order your Hasselblad X1D-50c from Vistek today!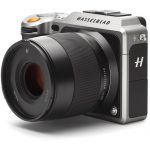 Click Here to Find Out More
---
Click Here to Find Out More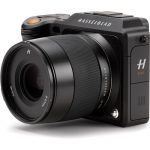 ---
Specs:
Compact, lightweight (725g), highly portable and user-friendly medium format technology
Large 50MP CMOS medium format sensor delivering up to 14 stops of dynamic range
New line of XCD lenses with integral central shutter; 30mm, 45mm and 90mm available
Compatible with all 12 lenses and lens accessories from the Hasselblad professional H System (adapter required)
Multiple image format options
High-quality XGA electronic viewfinder or high-resolution rear display with touch functionality
Wide-range of shutter speeds: 60 minutes to 1/2000th sec. with full flash synchronisation throughout the range
An ISO range of 100 to 25,600
Dual SD card slots, GPS and Wi-Fi
USB 3.0 Type-C connector, Mini HDMI, Audio In/Out
Weather and dust sealings
HD video
Phocus 3.1 for simple and quick raw image processing. Adobe Photoshop® and Adobe Photoshop Lightroom® compatible.
New Lens Range:
Hasselblad has also designed a new range of autofocus lenses specifically for the X1D called the XCD. There are currently only three lenses in the line, the XCD 45mm f/3.5 & the XCD 30mm f/3.5 and XCD 90mm f/4.5, but they have plans to release more in the future.
View the XCD Lenses
If you're an existing H System user you will be able to continue using those lenses with the X1D by means of an optional adapter.
---