After months of rumours, the Nikon Z Series, consisting of two full-frame mirrorless cameras, the Z6 and Z7, a handful of lenses and a lens adapter that will allow you to continue using your existing Nikon glass has finally been announced.
Nikon Z Series Cameras
Appearance wise, you'd be hard pressed to tell the difference between the two camera bodies and as you can see below, apart from the Z 7 and Z 6 logos on the bottom front left of the cameras, there really isn't a difference.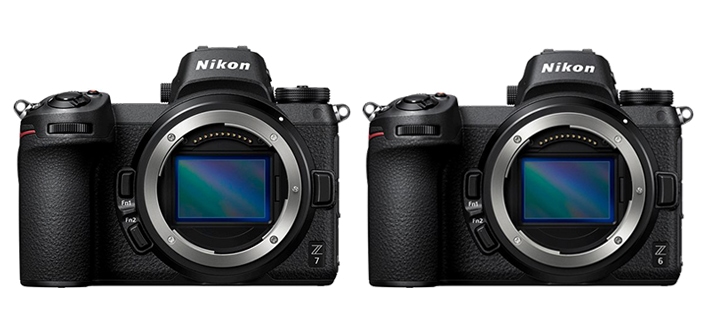 On the outside, both cameras feature a nice deep hand grip and as a Nikon rep put it, "control placements that will seem natural to all existing Nikon shooters." Another thing Nikon users will find familiar is the menu system accessible via the 3.2 in. Tilting TFT Touch-Sensitive LCD monitor on the back of the body.
The Z Series cameras also feature a LCD screen (that looks remarkably similar to the one found on the Fujifilm GFX 50s medium format camera) on the top of the camera body. Another nice touch for existing DSLR users to have, given that the majority of other manufacturers mirrorless bodies tend to leave this feature out.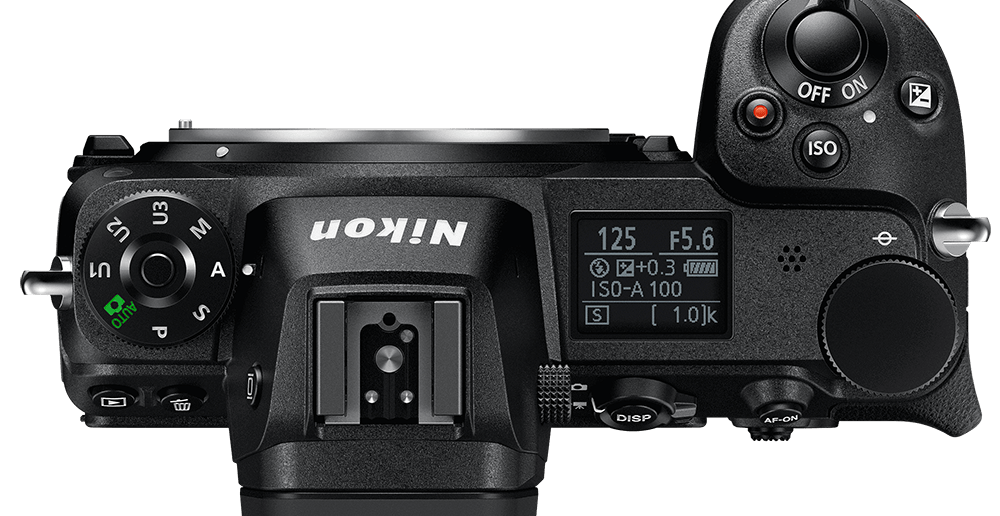 Despite their smaller size and lighter weight, both bodies feature magnesium alloy body construction and are fully weather-sealed as with Nikon's other professional level DSLRs.
On the inside, both cameras are equipped with a new backside illumination Nikon FX-format CMOS sensor (without an Optical Low Pass Filter) with built-in focal-plane phase-detection AF pixels and new EXPEED 6 image-processing engine.
At a massive 55mm across, the newly designed Z mount, which in Nikon's words is "the largest full-frame mount on any camera system" is 17% larger than the F mount. Along with that, Nikon has somehow also been able to reduce the flange distance (distance between the lens and the sensor) down to an insanely short 16mm.
---
Nikon unleashes the new Z-Series of mirrorless cameras and compatible NIKKOR lenses and accessories. Steeped in Nikon's tradition of quality, superior imaging technology and high reliability, the Z-Series takes mirrorless camera systems to a new level.
---
Where the differences start…
The Z 7 boasts 45.7 effective megapixels, and supports ISO 64-25600 whereas the Z 6 has an effective pixel count of 24.5 megapixels, and supports ISO 100-51200.
Both the Z 7 & Z 6 feature a fast hybrid AF system with focus points, – however, the Z 7 features 493points and the Z 6 273 points – that cover approximately 90 per cent of the imaging area both horizontally and vertically.
The AF system uses an algorithm, optimized for the FX-format sensor, that automatically switches between focal-plane phase-detection AF and contrast-detect AF when focusing.
When mated with the newly designed NIKKOR Z lenses, the system provides faster, quieter and greater AF accuracy than what is found on on other Nikon DSLRs for both still images and videos.
---
---
Both cameras are equipped with an electronic viewfinder with frame coverage and magnification of approximately 100 per cent and 0.8x, respectively. In addition, the information menu can be displayed in the EVF, allowing users to quickly view and adjust a variety of shooting settings, including ISO sensitivity, AF-area mode, and Picture Control without having to take your eye away.
Video Features
Both the Z 7 and Z 6 support full-frame 4K UHD (3840 × 2160)/30p (with full-pixel readout for sharper video) movies using Nikon's FX-based video format as well as full-HD/120p movies. 10-Bit HDMI output is available when using Nikon's N-log colour profile, and Active D-Lighting, electronic vibration reduction and focus peaking are available in for both 4K UHD and Full-HD recording. The N-Log setting offers extensive colour depth and twelve-stop, 1,300% dynamic range.
The Z Series also supports Timecode making synchronizing video and sound to footage recorded across multiple devices easier.
Both Nikon Z Series bodies are also equipped with in-camera vibration reduction (VR) providing compensation for movement along five axes offering up to an equivalent of around 5.0 extra stops of shutter speed.
This function can also be used with NIKKOR F lenses, including those not equipped with a VR function, when using the Mount Adapter FTZ (sold separately).
Nikon Mount Adapter FTZ and New Nikon Z Series Lenses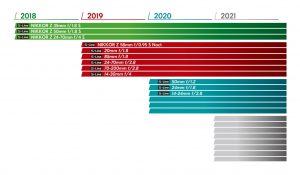 Nikon has also launch three new lenses and a lens adapter specifically for the Z Series along with the two camera bodies and has also announced for the first time, a lens "road-map" to let Nikon shooters know what to expect down the road.
Redesigned to fit the Z Series mount, the first three lenses are: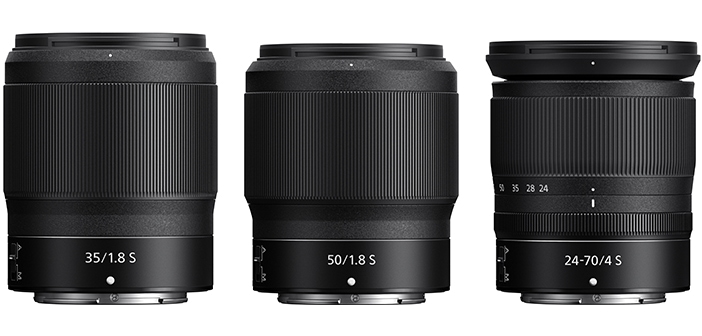 ---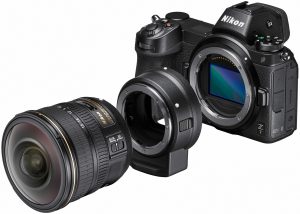 When paired with the Mount Adapter FTZ the lens opportunities are almost limitless as it allows you to mount any of Nikon's existing line up of approximately 360 F Mount lenses on a Z Series body.
The is a caveat with that number though. Only 90 (AF-S, AF-P or AF-I types) of those 360 lenses will have full AF/AE capability when mounted.
Nikon Z Series Cameras Key features
Same level of strength and durability, as well as dust- and drip- resistance, as the Nikon D850, offered in a compact body
A 3.2-in., approximately 2,100k-dot touch-sensitive LCD monitor, with a tilting mechanism
Silent photography function eliminates shake and noise caused by shutter release
Peaking stack image function 1 enables confirmation of focus depth after shooting using focus shift, which is convenient for focus stacking
High-speed continuous shooting (extended) at approximately 9 fps (Z 7) and 12 fps (Z 6) captures fast motion
Interval timer photography that makes 8K (Z 7) time-lapse movie creation possible
An extended low-light metering range allows users to easily capture scenes such as the transition from sunset to starry night sky, using aperture-priority auto exposure
Built-in Wi-Fi® for direct connection to a smart device using SnapBridge
Built-in Wi-Fi® makes the transfer of images and movies to a computer possible
Support for existing digital SLR camera accessories such as the EN-EL15/a/b batteries, WT7/A/B/C Wireless Transmitter (available separately) for transferring images and movies at high speed over a wired or wireless LAN, and radio-controlled/optical controlled Advanced Wireless Lighting, which makes flexible multi-flash photography possible