The new OM-D E-M10 Mark IV is the latest in Olympus's micro four thirds E-M10 lineup of mirrorless cameras boasting a 20MP sensor (a first for the line-up) improved stabilization and newly designed 180° flip-down touchscreen.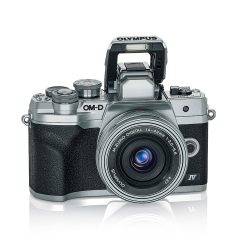 Olympus always builds beautiful-looking cameras and with its retro look and choice of black or silver finishes, the E-M10 Mark IV is no exception.
On the outside, the Mark IV is almost identical to the previous E-M10 Mark III, the exception being, the new 180° flip-down touchscreen, which should appeal to vloggers and those who enjoy taking selfies.
However, on the inside, it's a different story.
As mentioned above, the Mark IV is the first E-M10 camera to get a significant sensor boost going from 16MP to 20MP (similar to the sensors found on the higher-end E-M5 Mark III and flagship E-M1 Mark III models).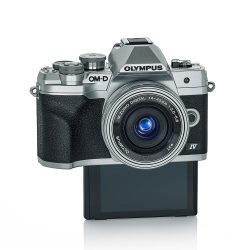 The built-in 5-Axis Sensor Shift Image Stabilization has also been given a slight boost, now providing up to 4.5 EV steps of shake protection.
Continuous shooting speed has also been improved, providing up to 15fps, almost double the speed of the Mark III.
As with the Mark III, the Mark IV has the ability to shoot 4K 30p video and Full-HD 60p video and captures high-speed footage at up to 120fps.
For those who like to shoot with filters in-camera, the Mark IV now offers 16 different art filters with the addition of an Instant Film filter to the options.
With plenty of features that are well suited to help advance a beginner's photography skills, the E-M10 Mark IV is a great and relatively inexpensive way for people to progress beyond their phones and take their first steps into the world of mirrorless cameras.
Key Features:
20MP image sensor
Shake-free 5-axis image stabilization
16 art filters
180° flip touch screen
Ultra-HD 4K video
Built-in wifi
Built-in flash