The Olympus OM-D E-M1X is the latest iteration of Olympus's best selling pro-level Micro Four Thirds OM-D E-M1 line of mirrorless cameras and is a bit of a departure (physically speaking) from E-M1 Mark II.
Olympus OM-D E-M1X External Features
The first thing you'll notice is the size. The OM-D E-M1X is a relative monster when compared side-by-side to the previous OM-D E-M1 Mark II, thanks to the built-in battery grip which Olympus says they designed for "better holdability and operability during shooting" in both horizontal and vertical orientations.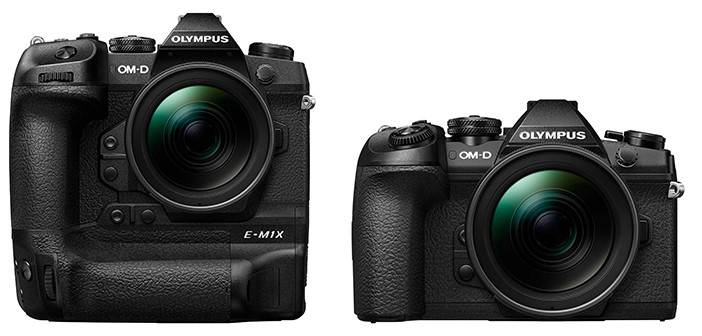 Designed with a focus on portability, the OM-D E-M1X weighs* in at 849 g/1.9 lbs (close to double the weight of the previous OM-D E-M1 Mark II's 498 g/1.1 lbs weight), but is still about 491g/1.08 lbs lighter than the Canon 1DX Mark II which comes in at 1340 g/2.95 lbs.
*(Listed weights apply to the body only without batteries, memory cards or lenses or other accessories)
Apart from the obvious different in height (146.8mm vs. 91mm), the E-M1X is also slightly wider (144.4mm vs. 134mm) and slightly deeper (75.4mm vs. 69mm) than the E-M1 Mark II.
As you can see from the images below, the button/dial placements have also been slightly altered due to the design changes. One nice touch is that the shutter release button and the rear control dial have been placed so that the same finger motion will naturally find the controls when moving from horizontal to vertical shooting.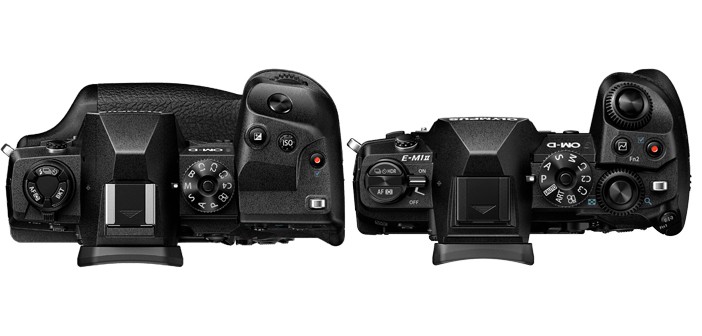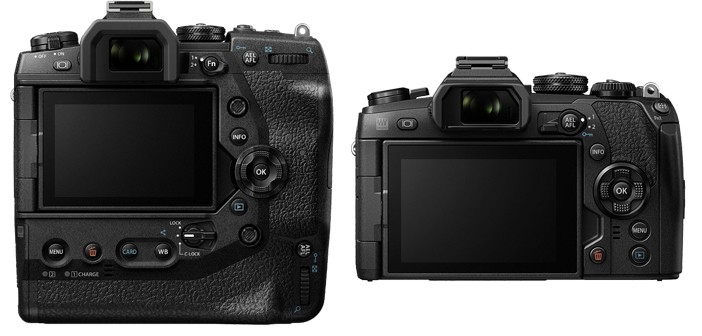 The body is completely weather sealed against splashes, dust and extreme cold temperatures and has a weather rating of IPX1*, although we've been told that it was tested (in a controlled environment) to withstand up to IPX3 conditions*.
*IPX1 – Dripping water (vertically falling drops) shall have no harmful effect. Test duration: 10 minutes, equivalent to 1 mm rainfall per minute
*IPX3 – Water falling as a spray at any angle up to 60° from the vertical shall have no harmful effect. Test duration: 5 minutes, volume: 0.7 litres per minute, Pressure 80–100 kPa.
The EVF is a new four element design that incorporates aspherical lenses and a maximum magnification of 0.83x, a maximum frame rate of 120 fps and a minimum display time lag of just 0.005 seconds.
Power is provided by the two high-capacity batteries that are stored in the grip and can be charged in camera when connected to a power source via a USB-C PD cable.
Ultra-fast transfer rates and storage is provided via dual UHS-II SD card slots.
---
Olympus OM-D E-M1X Review: The Action Photography Powerhouse
---
Olympus OM-D E-M1X Internal Features
The E-M1X features the same 20.4 MP sensor size as the E-M1 Mark II, but boasts Dual (as in two) TruePic VIII image processors which makes processing and AutoFocus features incredibly fast.
It also features Olympus's Frequency Accelerating Sensor Technology (F.A.S.T.) 121-point cross-type phase detection AF and 121-point contrast AF points.
There is a new feature called Intelligent Subject Detection AF which AI-based Deep Learning Technology to detect and focus on a choice of pre-programmed subjects such as fast moving cars, motorcycles, aircraft in flight and trains. The AI system will then focus on what it deems to be the "human" feature, such as the driver or pilot giving you the freedom to concentrate on composing your shot around them.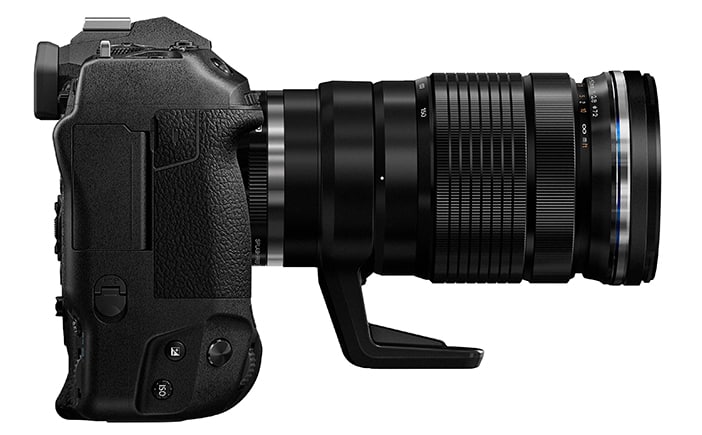 Other AF features include:
Custom AF Target: which allows you to save unique AF targets
AF Target Mode: presets which allows you to "choose from any odd number of points from 11 vertical and 11 horizontal and from three levels of horizontal and vertical area movement steps"
25-Point AF Target Mode: "track moving subjects like birds or small animals. It joins 5 other AF target presets including Single, Group 5-point, Group 9-point, 121 point and Small AF"
Face & Eye Priority AF Mode
Thanks in part to the dual image processors, the E-M1X is capable of capturing up to 60 fps of 20MP RAW image files in S-AF Mode and 18 fps in C-AF Tracking Mode using the silent electronic shutter and up to 15fps in S-AF Mode with the mechanical shutter.
In Zero-Lag Pro Capture Mode a half press of the shutter button starts a running series of up to 35 high resolution images which stops once you fully press the button. All buffered images are saved along with the final image allow you to review them and choose the shot that best captured the action you were looking for.
Of course, the E-M1X also features Olympus's solid 5-Axis in-body Image Stabilization (IBIS) providing up to 7 stops of compensation in any lighting situation to help when shooting handheld, or with a telephoto or macro lens. When combined with a stabilized M.Zuiko PRO lens, you can achieve up to 7.5 stops of compensation, allowing you to take "blur-free handheld shots as long as 4 seconds."
The High Res Mode is now available for handheld shots as well as when using a tripod. In tripod mode, the system moves the sensor in 0.5 pixel increments over a series of eight shots in less than a second to capture a 50MP image. When in handheld mode, it does the same thing only over a series of 16 shots rather than eight to achieve the same quality image.
Other features include:
Live ND Mode: "Live ND Mode eliminates swapping ND filters for each shooting scene or lens. Choose from 5 ND levels starting from 1EV to 5EV." This cane be used to get the "slow shutter" effect when capturing things like fast moving water and is accomplished using a 4 image composite to preview the effect prior to shooting.
In-Camera Focus Stacking & Bracketing Modes: "automatically captures several shots with varying focal points, then merges them to form a single image with edge-to-edge clarity"
Anti-Flicker Mode: "Anti-Flicker Mode compensates for artificial light by automatically activating the shutter at peak brightness to smooth exposure and colour difference between frames"
Olympus OM-D E-M1X Video Features
Thanks to the IBIS, you'll be able to capture smooth 4K and Cinema 4K (C4K) footage without having to use an external stabilizer.
In C4K mode, footage is captured at a max bit rate of 237Mbps 24p with an aspect ratio of 4096 x 2160. 4K mode offers a bit more flexibility, capturing with 30p, 25p or 24p frame rates and an aspect ratio of 3840 x 2160. Standard HD modes are also available.
OM-Log mode is also available using a new look up table for easier colour grading using Blackmagic Design's Davinci Resolve software.
An HDMI monitor connection supports 4:2:2 clean output providing an expanded range for colour correction.
Phase Detection AF is available allowing you to choose from four AF target modes including, Single, 121-point, Group 9-point or Group 25-point and also offers you to choose from three AF tracking sensitivity/speed settings.
So, who is the Olympus OM-D E-M1X for?
Well, the answer is probably this…
Existing Olympus Micro Four Thirds fans looking to upgrade to the latest technology. While it may share a lot of the features of the E-M1 Mark II, it has enough new features and improvements to warrant some series consideration if you're thinking about an upgrade.
Wildlife or sports photographers. The weather sealing and relative light-weight (even with a long lens) means that you'll be able to carry the camera around for long periods of time without getting fatigued. It also means, that in most cases, you should be able to leave your tripod/monopod at home and enjoy the freedom of handheld shooting.
---
A new professional model designed to meet the demands of pro photographers working in every field. The OM-D E-M1X is designed for better holdability and operability during shooting to meet the demands of pro photographers.
---