The latest Tough camera takes underwater photography to new levels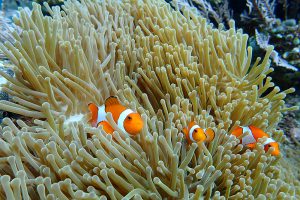 Olympus has developed a loyal following among outdoor-adventure enthusiasts for its aptly named Tough series of compact point-and-shoot cameras. No wonder. They're expressly targeted to "adrenaline junkies" and designed to capture fast action under various extreme conditions. The just-released TG-6 stays true to form where it counts and then kicks it up a notch where (to some) it's bound to matter most.
As with its popular predecessor, the TG-6 is decidedly rugged and built to withstand just about anything you'll encounter on your adventures. Waterproof to 15 metres. Shockproof against drops from 2.4 metres. Crushproof to a magnitude of 100 kilogram-force. Freezeproof to -10 C. Olympus has clearly put this camera through its paces.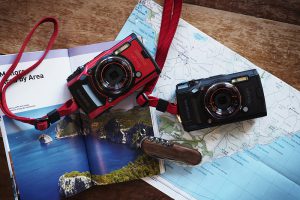 Inside, you've got the same respectable 12MP 1/2.3-inch BSi CMOS sensor and reliable TruePic VIII processor combining to deliver 20 fps continuous shooting in RAW and Ultra HD 4K video. It's equipped with a high-res, high-speed f/2.0 zoom lens, incorporating an anti-reflective coating to minimize ghosting and flares, plus it's hermetically sealed to prevent fogging.
The camera is incredibly intuitive and easy to operate, which comes in handy when you're on the move in challenging environments and navigating complicated controls is the last thing you need. Its GPS function retains the TG-5's useful tracking feature, along with a compass, manometer, thermometer and accelerometer. Built-in WiFi facilitates remote shooting and sharing. A helpful new date-print function makes record keeping quick and easy.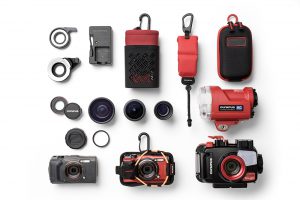 No matter where your outdoor adventures take you, this camera feels most at home in the subaquatic realm. Waterproof lenses, protective cases and underwater housing for deeper dives are the hallmarks of this series. With this new model, you've also got five innovative underwater modes to choose from, including macro and micro, along with white-balance options designed specifically for shallow, midrange and deep-water shooting.
Additional updates include a One Touch Teleconverter (2x and 4x), focus stacking (three to 10 images) and a 1040K-dot LCD rear monitor (a huge step up from the previous 460K). The camera is available in two handsome shades – black or red – and, like the TG-5, retails at a comfortable price point that won't bust your budget.
Olympus TG-6 KEY FEATURES
Bright f/2.0 high-speed lens
20 fps continuous shooting in RAW
Anti-fog lens glass
Anti-reflective coating
2x digital converter
Variable macro system
Ultra HD 4K video
Advanced underwater modes
Built-in WiFi and action-track sensors
Date imprint
---
Designed to withstand the toughest conditions, the TG-6 is packed with pro features that provide shooting flexibility for every type of environment. As with all Tough cameras, the TG-6 is waterproof, shockproof, crushproof, freezeproof, and dustproof. The TG-6 is a compact camera with serious photography chops. From its bright, F2.0 lens to the advanced image sensor and processor, capturing the tough shots is easy. This rugged, take-anywhere camera is the perfect photographic companion for any adventure.