Visitors to ProFusion Expo in Toronto this past week were treated to an early hands-on look at the brand new high-end mirrorless Panasonic Lumix G9 when it made it's Canadian debut at the show.
Similar in size to the previous GH5 model, the G9 incorporates a slew of improvements which we will talk about below.
G9 Redesigned Body
One of the first things you notice about the Lumix G9 is that it looks more like a DSLR than a mirrorless camera.
The most obvious feature is the extra deep grip and textured leather-like coating providing a solid handhold especially for those with larger hands.
Beefing up the body size, has allowed Panasonic to position a light-up LCD status screen on top of the camera, a handy feature that is pretty standard on larger DSLR bodies but rarely found on mirrorless bodies.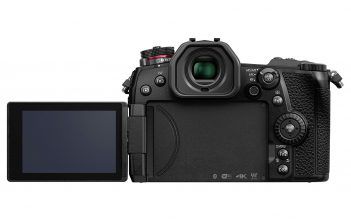 The G9's OLED electronic viewfinder (largest in its class) boasts a 3,680k-dot resolution, 120fps refresh rate providing zero blackout when shooting in high-speed bursts and a high magnification factor of 0.83x (35mm equivalent) which is also scalable back to 0.77x or 0.7x if needs be.
If you prefer to shoot using live view the G9 features a 3-inch 1,040k dot free-angle LCD touchscreen offering approx 100% field of view with up to 4x digital zoom. It also features a level gauge, real-time histogram, guide lines, highlights (both still and video) and zebra pattern (still and video).
---
---
Designed for Still Photographers
With the G9, Panasonic has created what they are calling their "ultimate stills camera" by primarily focusing on the needs of photographers rather than those who shoot both stills and video as they did with the previous GH5 model.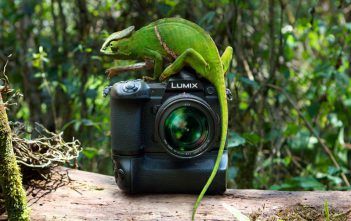 The G9 shares the same 20.3-megapixel Micro-Four Thirds sensor as the GH5, but offers improved colour and more intelligent noise reduction via their latest Venus processing engine.
There is also a new High Resolution Mode that is capable of delivering 80MP (equivalent) images in both JPEG and RAW file formats which works by combining 8 images in rapid succession using small sensor shifts between each one. However, in order for this to work properly, you'll need a tripod to keep the camera rock steady while shooting.
While you might need a tripod for the High Resolution Mode, you might not for regular everyday shooting thanks to an upgraded in-body stabilization system (works with both photo and video modes) capable of achieving up to an extra 6.5 stops. This system is also compatible with Optical Image Stabilizer (O.I.S.) lenses for even more stability.
The autofocus system, what Panasonic describes as "the world's fastest" offers 225 AF points and utilizes an improved version of their Depth from Defocus (DFD) algorithm that was first introduced way back on the GH4.
Video
While not as video capable as the GH5, the G9 can record UHD 4K/60p video at up to 150 mbps or full HD at up to 180 fps.
---
The all-new 20 megapixel G9, with gee-whiz gadgetry and speed, delivers bursts of 60 fps and an unbelievable auto focus speed of 0.04 second (faster than the GH5). Capable of high resolution imaging, the G9 captures 4K 60p video and 6K photos. Also offers improved image stabilization (2 to 6.5 stops), dual SD card slots, three different magnification levels on the viewfinder, a night mode for infared viewing, and is weather sealed and freezeproof to -10C
---
Main Features
20MP with no low pass filter
Industry's fastest Bust mode – 60fps in AFS and 20 fps in AFC (Electronic shutter)
Fastest Auto focusing speed – 0.04 seconds (faster than GH5)
80MP high res shot in RAW and JPEG
Improved Dual Image Stabilization 2 – 6.5 stops shutter speed reduction
Weather Sealed and freezeproof to -10C
Dual SD card slot – both UHSII compatible
4K 60 p video
6K Photo Mode 18MP stills
Three different magnification levels on the viewfinder – 0.7x, 0.76x, 0.83x
Largest status LCD screen on a mirrorless camera
Night mode – LCD and viewfinder both switch to infrared so you don't ruin your night vision
Focus Mode selector on front of camera – you can set up two different shooting modes and quickly change between them
AF Point Select – magnify the screen up to 10x to see if the eye is in focus
USB Power Charge plus Quick Charge wall charger included – use a USB power pack on the go to keep your battery fully charged at all times. (Optional USB power pack not included)
Bluetooth
Magnesium Alloy body
---
---
Also published on Medium.