In move that seems to have taken everyone by surprise, Sigma has announced they have developed what they are calling the "world's smallest and lightest 'pocketable full-frame' camera" for both still and video applications, the Sigma fp.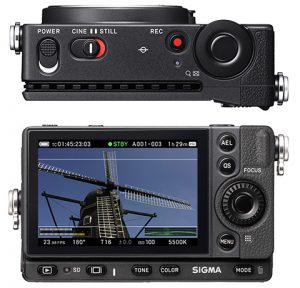 In terms of normal full-frame camera standards, the Sigma fp is tiny, measuring 112.6×69.9×43.3mm (4.4×2.75×1.7inches) and weighing only 422g (0.9lbs) with the battery included. In comparison, Sony's smallest full-frame camera measure
It features a back illuminated 35mm full-frame Bayer sensor with 24.6 effective megapixels encased in a die-cast aluminium alloy body that is sealed on 42 points against dust and splashes.
On the outside you'll find a fixed position 3.2-in LCD touchscreen, SD card slot, HDMI slot, flash sync port, mic port, remote shutter port and finally a USB 3.1 port.
---
Sigma fp Concept Video
---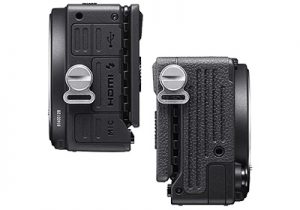 There are also three hard points, one on each side and one on the bottom that can be used to attach a host of accessories, including a removable hotshoe mount (included with camera), LCD viewfinder (fits over the LCD monitor), base plate, hand grip (2 sizes, large or small), a tripod or camera strap.
The fp also utilizes a large-size heat sink mounted between the LCD and camera body that works in combination with a heat dissipation coating applied to the outer surface of the body to keep the camera from overheating.
The fp will be Sigma's first camera to use Leica's L-mount len standard including the three new lenses announced along with the camera will be compatible. It's also what they are calling an "open system", which means that you'll be able to pair the camera with not only SIGMA lenses but also other lenses and accessories, whether from SIGMA or other brands, using a variety of attachments, including the Sigma Mount Converter MC-21.
---
[button link="https://www.vistek.ca/new/sigma/fp-series-camera" size="large" target="new" text_color="#ffffff" color="#007ac3″]Click here to request more information about the Sigma fp at Vistek[/button]
---
Dropping a mechanical shutter entirely, the fp utilizes an electronic shutter which it says should allow for quieter shooting.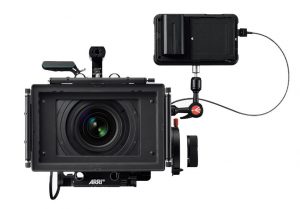 In still mode, it can capture 14-bit DNG RAW files at up to 18fps for up to 12 frames, has an ISO range of 100-25600 and uses a 49-point contrast detect focus system with support for face and eye-detect as well as subject tracking.
The built-in Auto HDR function will capture and combine three exposures and there is even a Cinemagraph mode that allows you to create GIFs where only the moving parts of the image are captured.
In Cine mode, the fp can capture 12-bit CinemaDNG Raw video at 4k/24p internally or to an external recorder (ATOMOS Ninja Inferno, Blackmagic Video Assist 4K supported) via the USB 3.1 port and supports waveform monitoring, shutter angle control and timecode. It also supports ALL-I recording which is optimal for editing H.264 compressed videos.
Seven fp "shooting styles" suggested by Sigma
SNAP STYLE – Making the best use of the small and lightweight body of the SIGMA fp, it allows photographers to enjoy high end shooting experience in a casual way.When fitted with 45mm F2.8 DG DN | Contemporary, the SIGMA fp weighs a total of just 637g, making it truly a "pocket-size" full-frame camera.
PORTRAIT STYLE – The hot shoe that comes with the body makes it possible to attach a clip-on flash to the SIGMA fp. Using a side grip (available separately) will further enhances a secure hold. With the face/eye priority AF feature enabled, the SIGMA fp will give photographers a great deal of freedom when shooting portraits of a moving subject.
FIELD STYLE – By making use of the dust- and splash-proof structure of the SIGMA fp and specially-designed viewfinder and other accessories, photographers will be able to concentrate on shooting in all kinds of environment, be it a sunny day or in the rain. The SIGMA fp works with 14models of L-Mount lenses. With the use of SIGMA MOUNT CONVERTER MC-21, a total of 43models of SIGMA interchangeable still lenses can be used, including those for DSLR cameras (as of July 2019). This allows photographers to build a shooting system according to their field and purposes.
STREAMING STYLE – By simply connecting it to a PC via USB, the SIGMA fp can be used as a webcam. It is capable of recording audio while shooting a video. It will bring a full-frame camera quality to live streaming.
GIMBAL STYLE – Shooting a video using a gimbal is possible. Lightweight equipment eases strain on the photo/videographer, and cuts power consumption of gimbals.
CINE STYLE – The SIGMA fp supports cinema camera-like user interfaces, which means that it can be taken straight to filmmaking settings. The small-size body translates into a smaller system as a whole, which in turn opens new possibilities for the forms of video creation that would have been difficult to achieve with bulky equipment, such as shooting in narrow space or extreme close-ups.
DRONE STYLE – Aerial shooting with a drone. The lightweight body of the SIGMA fp means less power consumed by the drone, which helps keep the camera airborne for longer.
The Sigma fp is scheduled to be released this fall, but we are still waiting on pricing information.