With today's development announcement at Photokina of the ZX1, Zeiss has officially entered the (getting to be very crowded) full-frame mirrorless camera market segment.
As mentioned, the full-frame mirrorless camera is becoming increasingly crowded all of a sudden. Sony is still the leader, but with Nikon and Canon joining the fray that will change, even more so now with Sigma and Panasonic recently announcing their intentions to release full-frame mirrorless bodies.
---
---
So why should we be excited about Zeiss's announcement of the ZX1?
The Glass…
Well, for one, Zeiss already has a reputation for producing some of the highest quality lenses available to photographers today and the Zeiss Distagon fixed 35mm f/2 lens found on the Zx1 should be no exception to that.
The lens itself, contains 8 elements in 5 groups including 2 double sided aspherical lens elements, a minimum focusing distance of 30 cm and according to Zeiss, has been perfectly matched to the in-house developed 37.4 megapixel sensor full-frame sensor.
The Look…
With its minimalist look, curved lines and unique shape, this is an absolutely stunning camera and there really isn't anything else currently on the market that compares.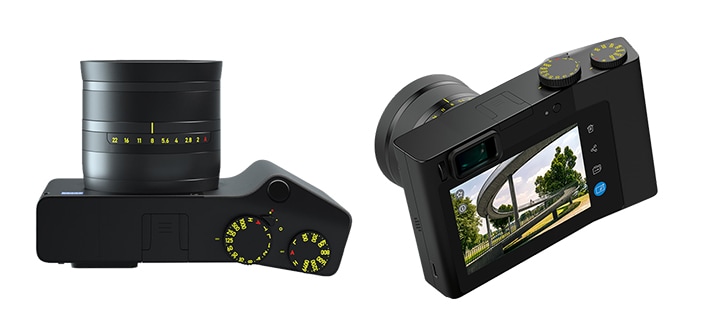 The Features…
Interestingly, Zeiss has added a feature to the ZX1 that no one else has. The ability to edit RAW images via the touchscreen on the back, by fully integrating Adobe's popular Lightroom CC into the camera system itself.
This means that you'll be able to shoot, edit and share (when connected to the internet using the built in Wi-Fi or via Bluetooth) professional looking images directly from the camera without having to first download and edit the files on a separate device.
Another interesting feature is that the ZX1 doesn't utilize separate memory cards to store images. Instead, the Zx1 features a whopping 512 GB of internal storage (enough for 6,880 RAW or 50,000 JPG files).
And don't worry if you somehow find yourself running out of room, you can also move and store your images directly to a USB-C connected external drive to free up space.
Other features include: a 3,190mAh battery capacity, 3fps continuous shooting and 4K video recording at 30fps.
Since this is a development announcement, price and shipping details have yet to be release, although, Zeiss does say that the ZX1 will be available at select retailers early in 2019.
If you'd like to find more information on the Zeiss ZX1 visit their landing page here
---