The Sigma fp L is the follow-up to the original Sigma fp and while it may look identical in terms of size and shape, Sigma has added a lot of upgrades under the hood.
The fp L features four main upgrades of note over the fp.
The first is its Bayer 61-megapixel, full-frame, backside-illuminated CMOS image sensor, a massive boost over the 24.6-megapixels found on the original, putting the fp L on par with the Sony a7R IV camera in terms of resolution.
The second upgrade is the new Crop Zoom feature which utilizes the fp L's massive boost in resolution to allow users to digitally zoom (without any loss of image quality) up to 5x using the touchscreen. This new feature works for both still and video modes (in full HD quality) and is compatible with zoom lenses as well.
Third on the upgrade list is a new hybrid autofocus system featuring 49 on-sensor phase-detect autofocus points rather than the contrast-detect system found on the original.
Face and eye detection, tracking autofocus, AF+MF, MF assist and magnified AF are all available as well.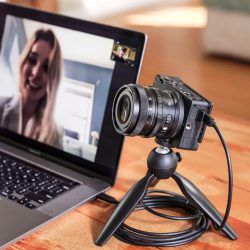 Finally, the fourth upgrade is unlimited power via USB-C allowing the camera to be operated for extended periods of time without having to worry about running out of batteries.
This also means that the camera can easily be used as a webcam, as it can be powered directly from a computer.
There is also a new save/load feature that allows you to save custom camera settings via a QR code. This also means that users can easily share their custom settings with other photographers or quickly set-up a new or rented fp L.
Video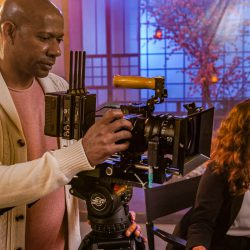 The fp L is also well-suited to video applications and can record DCI 4K (4096 x 2160) at 24p (only with RAW output via HDMI) and 4K UHD (3840 x 2160) at 23.98p, 24p, 25p and 29.97p frame rates. 4K/60p video remains unavailable.
Full HD video can be captured at 23.98p, 24p, 25p, 29.97p, 48p, 50p, 59.94p, 100p and 119.98p. There is an automatic crop at 100p and 120p frame rates of 1.67x.
4K UHD video can be recorded in 12-bit CinemaDNG format at up to 24p as well as 8-bit and 10-bit CinemaDNG and MOV H.264 video.
The built-in stereo mic records 16-bit 48kHz audio and there is also the option to plug in a microphone.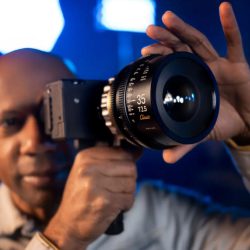 There isn't a dedicated headphone output, however, the new EVF-11 includes one.
The fp L includes a director's viewfinder function allowing users to simulate the framing of other cinema cameras, including models from Arri, Sony and RED.
Sigma has also added two new colour modes that work with both stills and video, "Powder Blue" and "Duotone" bringing the total available modes to 15.
Power Blue is a colour mode "with a bright and clear feel, featuring a refreshing blue color" and Duotone "turns the colors of an image into a striking two-color gradient", giving "stills and videos a highly graphical look".
EVF-11 Electronic Viewfinder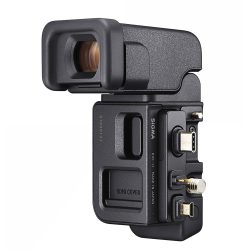 The EVF-11 (also compatible with the fp), is a new high-resolution OLED EVF featuring a 0.5″ display with 3.68M dots and 0.83x magnification.
It features a tilting mechanism (can tilt upward 90), expandability with external accessories, and highly functional user interface, "designed to ensure convenience and comfort during use".
There is also a USB Type-C port, allowing users to record to an SSD using the EVF-11.
Sigma fp L Key Features
Compact full-frame mirrorless camera
World's smallest and lightest full-frame camera
Compatible with L-mount lenses
Scalable design
Weather-sealed camera body
Compatible with EVF-11 electronic viewfinder
61-megapixel backside-illuminated Bayer image sensor
Native ISO range of 100-25,600, expandable to 6 -102,400
Hybrid autofocus system with contrast-detect and on-sensor phase-detect AF
Face/eye detect autofocus
4K UHD video at up to 30p / Full HD video at up to 120p
Supports 3 RAW video formats
Includes videographer-friendly features like time code, waveform display and zebra patterns
240-shot battery life
USB charging while shooting
Electronic shutter only
35 mm full-frame Back-illuminated Bayer sensor Approx.61 effective megapixels Hybrid Autofocus Contrast detection autofocus + Phase detection autofocus Supports USB power supply 35mm full size effective approx. 61 megapixels Bayer sensor | New to the fp L Image quality and creative range that is only possible with a full-frame camera.