Sony has just added three new compact, fast prime e-mount G-Series (not to be confused with the higher-end G-Master series) lenses, the FE 24mm f/2.8 G, FE 40mm f/2.5 G, and FE 50mm f/2.5 G.
Each of the new lenses offer similar performance, construction quality and size, with the obvious differences being focal length and application usage.
All three lenses feature an aspherical lens element (to suppress aberrations and deliver high resolution), an extra-low dispersion optic (to suppress chromatic aberration), and a seven-bladed circular aperture.
---
---
According to Sony, all three lenses feature internally focusing, double linear motors that create little to no vibration, and provide fast, precise and quiet autofocus, the last being essential for video work.
Other features found on each lens are a focus ring providing linear response manual focus, a focus hold button, an AF/MF switch and a de-clickable aperture switch.
Material wise, each lens feature an all aluminum barrel, metal exterior finishes (including the lens hood) as well as engraved iris ring indices and focal length markings.
As with pretty much all modern lenses, they are also dust and moisture resistant.
Additional Lens Features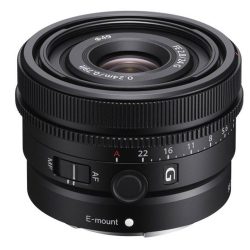 24mm f/2.8 G
Min focus distance of 0.24m (AF) / 0.18m (MF)
Max magnification of up to 0.13x (AF) and 0.19x (MF)
f/2.8 – f/22 Aperture Range
Full Frame Format
49mm Filter Diameter
E-Mount Mount
162 g (5 oz) Weight
View product price/availability and additional details at Vistek
---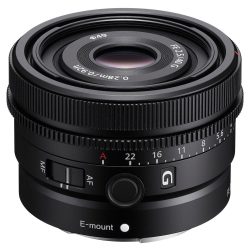 40mm f/2.5 G
Min focus distance of 0.28m (AF) / 0.25m (MF)
Max magnification of up to 0.20x (AF) and 0.23x (MF)
f/2.5 – f/22 Aperture Range
Full Frame Format
49mm Filter Diameter
E-Mount Mount
173 g (6 oz) Weight
View product price/availability and additional details at Vistek
---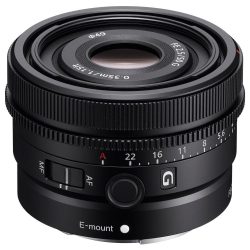 50mm f/2.5 G
Min focus distance of 0.35m (AF) / 0.31m (MF)
Max magnification of up to 0.18x (AF) and 0.21x (MF)
f/2.5 – f/22 Aperture Range
Full Frame Format
49mm Filter Diameter
E-Mount Mount
174 g (6 oz) Weight
View product price/availability and additional details at Vistek