Canon has just announced the EOS C300 Mark III Cinema Camera and a new Cine-Servo 25-250mm Lens to go along with it.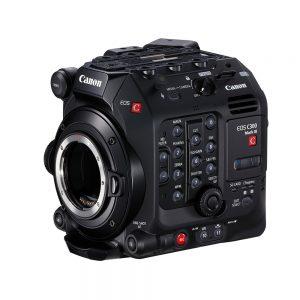 The Canon EOS C300 MK III camera, is a customizable (modular) cinema camera that features Canon's new Super 35mm Dual Gain Output (DGO) sensor that is capable of over 16 stops of dynamic range and records in most hi-res formats.
The flexible design can be configured according to your shooting and equipment requirements, including the lens mount which can be changed between EF, PL or EF Cinema Lock without the need to have the camera converted at a service center.
Canon's latest DIGIC DV 7 image processor further expands the C300 Mark III's functionality and flexibility by enabling features such as internal Cinema RAW Light recording, 4K 120p High Frame Rate recording and Dual Pixel CMOS Autofocus.
Canon Super 35mm Dual Gain Output (DGO) Sensor
As mentioned, the new sensor is capable of dynamic ranges in excess of 16 stops and works in conjunction with Canon's Dual Pixel CMOS Autofocus technology.
It generates high dynamic range with low noise levels by reading out each pixel with different gains. It then combines the images using pixels shot with a saturation-prioritizing amplifier for bright areas, and a lower-noise noise-prioritizing amplifier for darker areas.
Electronic Image Stabilization
The C300 Mark III also features in-body electronic image stabilization that supports 5-Axis camera shake correction. This system works with both stabilized and "dumb" (no electronic contacts) lenses mounted. However, in order to work with "dumb" lenses you will need to input the lenses focal length into the camera first.
Other Features Include:
Slow & Fast motion recording, pre-recording, relay recording, double-slot recording, custom picture settings, color bar, peaking, zebra pattern, magnify, black and white mode, waveform monitor display, assignable buttons, marker display, custom picture display, control via Browser Remote and peripheral illumination correction.
C300 Mark III Key Features:
Canon Super 35mm Dual Gain Output (DGO) Sensor
DIGIC DV 7 Image Processor
Modular Design with Three Available Expansion Units
Canon Log 2 and 3 Gamma Support
LM-V2 4.3″ LCD Touch Screen Monitor
4-channel Audio Recording
Support for Custom User LUTs
User Interchangeable Lens Mounts
Anamorphic Lens Support
Canon Cinema RAW Light and XF-AVC Recording
Five-axis Electronic Image Stabilization
12G-SDI
Dual Pixel CMOS AF with Touch AF and Face Detection
---
Impressive usability and imaging power combine in the EOS C300 Mark III, the customizable cinema camera that's built for versatility and flexibility. The lightweight body comes equipped with Canon's new Super 35mm Dual Gain Output (DGO) Sensor capable of over 16 stops of dynamic range.
---
CINE-SERVO 25-250mm T2.95–3.95 EF/PL Lens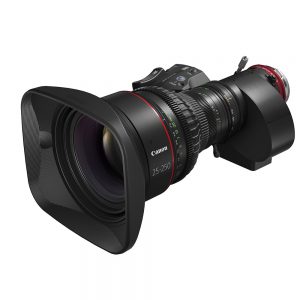 The new 25-250mmT2.95–3.95 EF/PL lens fills in the gap between Canon's other CINE-SERVO lenses, the 17–120mm T2.95–3.9 EF/PL and the 50–1000mm T5.0–8.9 EF/PL.
The new lens is fully 4K-ready, with a high optical resolution and support for Super 35mm large-format cameras.
It features an 11-blade aperture diaphragm 10x zoom magnification, a wide focal length range of 25mm to 250mm, and a 180º smooth rotating focus ring.
The servo drive unit is compatible with industry-standard protocols for control from a number of lens controllers including Canon's standard broadcast lens controllers (ZSD-300D/FPD-400D) and multiple industry standard cinema lens controllers.
The drive unit can be easily removed for cinema-style shoots and can be easily re-attached without any manual re-alignment. A 16-bit metadata output enables connection to virtual studio systems.
---
The CINE-SERVO 25-250 T2.95 lens provides cinematographers and broadcast operations with a compact, lightweight design (only 6.7 lbs.) using Canon optical elements, while offering outstanding performance and reliability in professional shooting environments.