In a move that is sure to make GoPro nervous, DJI has launched their own action camera, the 4K HDR capable Osmo Action.
Designed to directly compete with GoPro's Hero line, the DJI Osmo Action (OA) is a dust-proof, shockproof (when dropped from up to 1.5 m/5 ft), freeze-proof (down to -10ºC/14ºF) and waterproof (without an additional housing) to a depth of 11 m/36 ft).
The Osmo Action features dual colour screens, a 1/2.3″ CMOS sensor that captures 12-megapixel still images (JPG or RAW) and 4K video up to 60fps at 100Mbps and is DJI's first handheld camera to feature their new RockSteady image stabilization.
External Features: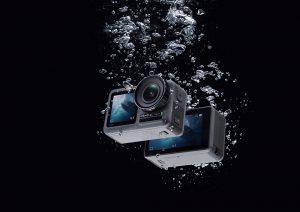 In terms of physical size, the OA measures 65 mm x 42 mm x 35 mm (2.6 in x1.7 in x 1.4 in) and weighs 124 g (4.4 oz) which makes it slightly larger and heavier than the GoPro Hero 7 (GPH7), but not enough that you would really notice the difference.
The body itself has a more textured finish, giving it a grippier feel than the GPH7 which is nice, as it provides a more secure feeling when hand held.
The user interface buttons are well-placed, with the power and record buttons located on the top and the quick switch (QS) button which allows you to change settings, modes and flip between screens, on the side above the USB-C and Micro SD card slots are located.
As mentioned, the OA features two colour screens, a 2.25-inch touchscreen on the back and a forward facing (non-touchscreen) 1.4-inch display on the front designed to make shooting vlog footage and action selfies easier.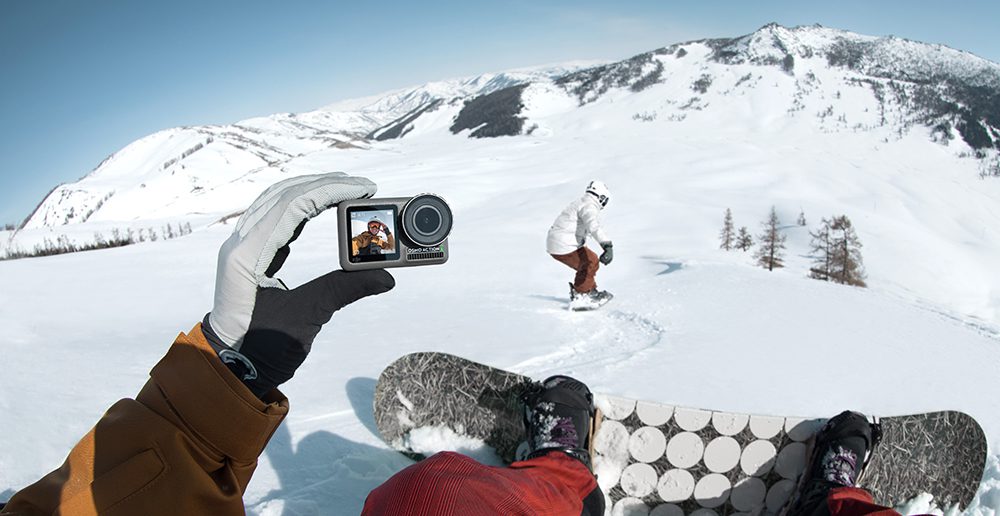 Both screens feature a brightness of 750 nits, which means you'll be able to clearly view footage on the screens even when shooting in direct sunlight.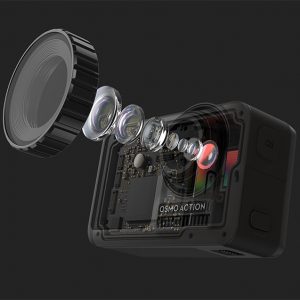 Another nice touch is that the lens filter cap is easily removed by unscrewing it rather than having to wrestle to twist it off as with the lens cap on the GPH7.
The filter cap is also designed to accommodate optional ND, Polarizer and underwater filters.
The removable battery when fully charged, will last for up to 93 minutes when shooting at 4K/30fps with EIS enabled or up to 135 minutes at 1080p/30fps without EIS. The battery can be fully recharged in about 90 minutes.
It also features dual microphones, speaker and accepts micro SD cards up to a maximum of 256 GB.
Camera Features:
Behind the filter cap, is a fixed 145º FOV, f/2.8 three-glass aspherical lens designed to reduce warping and distortion.
The Osmo Action can capture 4K UHD 60p at up to 240fps as well as HD 1080p up to 240fps and features up to 8 x slow-motion capture in HD mode.
The OA can shoot High Dynamic Range video capturing an extra 3 stops of dynamic range which helps to preserve details that can be lost in difficult lighting conditions.
One of the most hyped features of the Osmo Action is its RockStead electronic image stabilization (EIS) technology.
RockSteady uses high-performance stabilization algorithms in combination with EIS to produce what DJI claims will be "stable, shake-free footage no matter how heavy the action gets."
However, RockSteady does come with a caveat. It doesn't function in the modes listed below.
HDR mode
Slow-motion mode
Hyperlapse mode
Time-lapse mode
Other Features:
Like the GPH7, the Osmo Action features different shooting modes including:
8 X Slow Motion: Capture every epic move with jaw-dropping clarity and detail when you use 8x slow motion with 1080p resolution and 240fps
Custom Exposure Settings: Shoot for the stars with manual and semi-automatic settings that allow up to 120 seconds of exposure, perfect for capturing the night sky
Timelapse: Condense time and movement for stunning, easy-to-achieve results
Timed Shooting Mode: Set up timed RAW shots, perfect for post-processing and additional control
SnapShot: Press the shutter button to power on and begin recording in under two seconds. Pressing the shutter button once when the camera is in sleep mode or powered off engages preset shooting modes.
There is also a Voice Control feature with five different voice commands that control functions such as filming, still capture and power down.
The Osmo Action works with DJI's Mimo app via Bluetooth and allows you to transfer and edit videos on the fly and using the story templates feature, you can edit and share highlights to social media without having to leave the action.
The DJI Osmo retails for $469.99 CDN and is currently available to pre-order from Vistek via the link below.
Meet Osmo Action, DJI's versatile new action camera that was built to go wherever adventure takes you. Dual screens and an intuitive design let you effortlessly capture your world, and advanced technologies like RockSteady stabilization ensure breathtaking results that give viewers a front seat to your moments.

Take Osmo Action anywhere and unleash your other side.