At long last, Canon has unveiled their first-ever, 4k, Super 35mm RF mount Cinema EOS Camera, the EOS C70.
In addition to the camera, Canon has also unveiled the EF-EOS R 0.71x optical adapter allowing users to mount Canon's extensive range of existing full-frame EF lenses to the EOS C70.
EOS C70 Cinema Camera
Canon's EOS C70 was designed from the ground up "with a significant emphasis on operational convenience for the end-user".
Body Design
The body itself is extremely lightweight, weighing only 2.6lbs. without a lens.
In terms of appearance, the EOS C70 differs from Canon's other cinema cameras.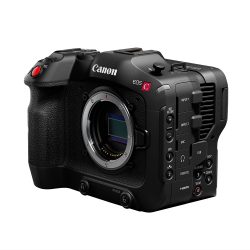 It features a deep hand grip, reminiscent of those found on Canon's EOS DSLR's and mirrorless cameras, as well as a slimmer, more compact body design.
In fact, it's the smallest of Canon's Cinema EOS cameras to date.
The control buttons and input/output ports are located on the side and the back of the body.
The thirteen customizable buttons allow users to select from more than 80 functions and then assign each button depending on preference.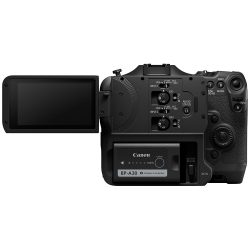 Touchscreen
The side mounted, fully rotatable LCD touchscreen features Direct Touch Control providing easy access to commonly used menu settings, allowing users to start and stop recording, access file format and resolution, set ISO/gain, colour temperature and iris.
ND Filter
Built into the flange, behind the RF mount, Canon has placed a 6mm thick, motorized Neutral Density filter that provides up to 10-stops of ND.
---
Developed with an idea of combining the Cinema EOS series with the EOS R series, the new EOS C70 offers exceptional image quality and professional video features in a compact and mobile form factor, perfect for documentary, newsgathering, and corporate videos.
---
Stabilization
Enhanced image stabilization is available with coordinated control using internal electronic IS.
Canon says that when combined with an RF lens, the system optimizes hand-shake correction, offering better anti-vibration performance than when using an EF lens/electronic IS combo.
It also adds Super 16 Digital IS, stabilizing 2K images using the peripheral area around the center of the 4K sensor, to provide high performance stabilization.
Sensor, Processor and Autofocus
The C70 features the recently developed DIGIC DV7 image processor, next-generation Super 35mm DGO (Dual Gain Output) Sensor (offering a total dynamic range in excess of 16 stops) and Dual Pixel CMOS Autofocus technology.
Extended Dynamic Range
The newly developed DGO sensor extends the dynamic range by reading out each photodiode at two different gains and then combining them.
One prioritizes saturation gain to protect details in bright areas, and the other prioritizes lower noise gain for darker areas.
When shooting with extended dynamic range active, footage is captured at up to 4K/60p or 2K/120p in Super16mm Crop mode.
When disabled, footage is captured up to 4K/120p DCI or UHD or 2K/180p DCI or HD.
Recording Formats
The C70 supports both Canon Log 2 and 3 Gamma, in addition to PQ and HLG gamma functionality.
It also supports XF-AVC format in variable bit-rate and both Intra and Long GOP with MXF file format, or in a first for the Cinema EOS line, Long GOP 10-bit 4:2:2/4:2:0 MP4/HEVC with an MP4 file format.
Other features:
New Direct Touch Menu System
Coordinated Electronic Image Stabilization
Two built-in Mini XLR inputs
Time-code input/output terminal
Custom picture processing via import of 3D LUTs and recording to Look Files
Dual-SD card slots
Built-in stereo mic
Support for optional Canon RC-V100 remote control
---
---
Canon Mount Adapter EF-EOS R 0.71x
Canon's other big announcement is the new Mount Adapter EF-EOS R 0.71x allowing users to mount select Canon full-frame EF lenses to the EOS C70.
Made specifically for the C70, the EF-EOS R 0.71x adapter accomplishes two things:
It fits the full-frame, wide angle image onto the 4K Super 35mm image sensor.
It simultaneously elevates the lens camera sensitivity by one stop.
The adapter also preserves full electronic communication between the lens and camera, meaning optical lens corrections and transfer of lens metadata is maintained between the camera and (select) EF lenses.
The adapter is first attached to the RF mount and then secured to the camera using two screw-in brackets.
Canon's innovative new EF – RF optical adapter, the Mount Adapter EF-EOS R 0.71x, converts light transmission from full-frame to the Super 35mm image format. It extends the angle of view and optical sensitivity, while seamlessly integrating with the camera's optical corrections.