In news that we don't think anyone saw coming, Blackmagic just dropped the gauntlet for every other cine camera manufacturer in the world with their announcement of the "world's most advanced digital film camera", the URSA Mini Pro 12K.
The highlights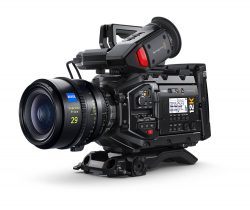 The new Blackmagic URSA Mini Pro 12K features an advanced 12,288 x 6,480 12K Super 35 image sensor (80 megapixels per frame), 14 stops of dynamic range and high frame rate shooting at up to 60 frames per second in 12K at 80 megapixels per frame, new Blackmagic Generation 5 Colour Science and higher Blackmagic RAW performance.
The URSA Mini Pro 12K can shoot at an unheard of 60 fps in 12K, 110 fps in 8K and up to 220 fps in 4K Super 16 and features an interchangeable standard PL mount which can be optionally switched to a EF or F mount. The rest of the camera body is basically identical to the UMP 4.6K on the exterior, just the sensor and internal processors have really changed, it has the standard built in ND filters, dual CFast and UHS-II SD card slots, along with a cool new addition a SuperSpeed USB-C expansion port for external drives  and more!
12K Resolution
The benefit of shooting with a 12K sensor is that it allows you to reframe shots in both 8K and 4K resolutions while keeping incredible detail, subtle skin tones and rich, deep colours and capturing excellent Anamorphic quality as well
The new super35 12K sensor with 12,288 x 6,480 resolution and DCI 17:9 ratio was designed by Blackmagic and is the first designed specifically for BRAW workflow.
The sensor features an equal amount of RGB pixels in a symmetrical pattern, so unlike a traditional Bayer pattern sensor you are producing a true RGB signal more akin to that of older prism style 3 sensor broadcast cameras. Meaning far more accurate colour information is produced and captured by the sensor along with the 12K max resolution, but also the camera can actually scale that same imager RGB colour information, with no binning, into 8k and 4K, producing images without any cropping (Full Super 35) and no aliasing issues. The symmetrical scaling also allows the sensor to run at 12k 60fps and at higher data rates or frame rates in both S35 Cinema 8K and Cinema 4K modes at an incredible 110fps.
Supported full-sensor recording modes in Blackmagic RAW
12K up to 60fps
8K (8192 x 4320) up to 110fps, 8192 x 3408 up to 140fps
6K up to 110fps
4K (4096 x 2160) up to 110fps full-sensor or up to 220fps in super16 crop mode
Anamorphic 12K, 8K and 4K modes are also available, as well there is even a 6K Super 16 mode.
Blackmagic RAW (BRAW)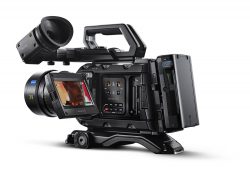 Utilizing constant quality Q0 and Q5 options and new Q1 and Q3 options, BRAW locks the quality level, allowing compression to adapt and match the detail of the scene.
Constant bitrate encoding options 5:1, 8:1, 12:1 and the new 18:1 are designed to give customers the best possible images with predictable and consistent file sizes.
The RAW footage can also be recorded to two cards simultaneously in 12K or 8K to either CFast (at 900MB/s) or UHS-II cards (at 500MB/S), transferring camera metadata, lens data, white balance, digital slate information and custom LUTS along with it.
You can also record to fast SATA and NVMe drives connected to the SuperSpeed USB-C expansion port.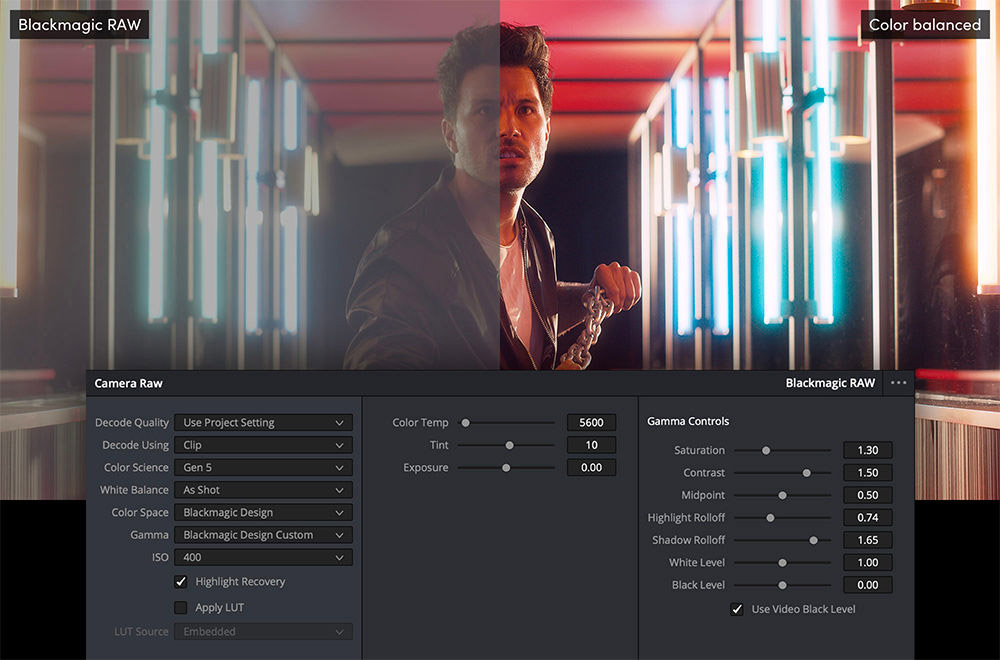 Editing Footage
Blackmagic says that thanks to the integrated design of the sensor and Blackmagic RAW (BRAW) you will be able to edit 12K file footage on a laptop computer, such as the new i9 MacBook Pro running DaVinci Resolve Studio if needs be.
Blackmagic also demonstrated real time multi-cam editing of 8 camera streams on a new Mac Pro desktop computer. A copy of Davinci Resolve Studio is included in the purchase price of the camera.
Colour Science
Blackmagic's new Generation 5 Colour Science features a new film curve that is designed to make full use of the massive amount of colour data coming from URSA Mini Pro's 12K sensor.
Blackmagic says that will "deliver even better colour response for more pleasing skin tones, and better rendering of highly saturated colours such as neon signs and car tail lights in high contrast scenes."
Design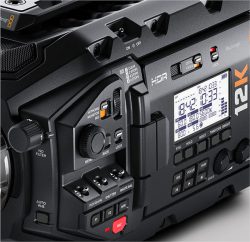 The control buttons, switches and dials are well positioned and pretty easy to find by feel while using the viewfinder.
There is an external backlit LCD status display that provides critical information as well as a 4″ fold out touchscreen for reviewing shots and accessing the menu settings.
It also features 12G‑SDI in and out, USB‑C, 48 volt phantom power XLR audio, timecode and reference in connections. In fact all of the connections and also the accessories are basically exactly the same as the UMP 4.6K camera.
As mentioned above, the interchangeable lens mount means that you can quickly switch between the included PL mount to EF or F mount lenses and even B4 broadcast lenses.
The built in ND filters provide 2, 4 and six stops of neutral density and were designed to filter both optical and IR wavelengths.
Blackmagic URSA Mini Pro 12K Features
12,288 x 6480 12K Super 35 sensor.
Use for feature films, VFX and high end TVC's.
14 stops of dynamic range and native 800 ISO.
New Blackmagic RAW for real time 12K editing.
Blackmagic RAW optimized for Metal, CUDA and OpenCL.
Generation 5 Colour Science with new film curve.
Shoot up to 60 fps in 12K, 110 fps at 8K and 220 fps at 4K.
Dual card CFast recording at up to 900MB/s.
PL mount included, EF and F mounts available.
SuperSpeed USB-C for recording to external disks.
Includes DaVinci Resolve Studio for post production.
Compatible with new Blackmagic URSA Mini Recorder.
So although the headline spec shouts out about the jaw dropping 12K resolution, which is perhaps the biggest news in nearly a decade, what Blackmagic has really developed is what may be one of the highest image quality 8K, 6K and 4K camera's available for production, all in one, and thrown in the 12K, high frame rates, and easy BRAW post workflows for good measure.
By the way if you are so inclined and have the latest version of DaVinci Resolve Studio Black magic has made some test clips available for you to play with here
Black Magic Design URSA Mini Pro 12K Digital Camera (Body Only) Camcorders HiDef Camcorders Prosumer Camcorders CMOS bodies cameras Blackmagic URSA Mini Pro 12K is a revolution in digital film with a 12,288 x 6480 12K Super 35 sensor and 14 stops of dynamic range, built into the award winning URSA Mini body.
---
Cover Image Credit: Black Magic Website