The modular box-style, Digital Single Lens Mirrorless Panasonic LUMIX DC-BGH1 is now approved as a primary camera for filming Netflix original content.
Update: February 11, 2021 – Back in December of 2020, streaming giant Netflix announced that the BGH-1 became the first Micro Four Thirds (MFT) to be approved as a primary camera for filming Netflix Originals movies and series.
So far, the list of approved cameras is pretty exclusive, comprising mainly of high-end production cameras such as the ARRI Alexa LF, Canon C700, RED Komodo 6K and Sony FX9 cameras.
But now, Panasonic has two cameras featured on that list, the BGH-1 and the S1H full-frame, mirrorless camera which was approved back in November 2019.
In addition to that, the BGH1 is also the most affordable of the cameras on that list which should make it way more accessible for filmmakers to create approved content for Netflix.
According to Netflix, all of their "Original" content must include footage of which at least 90% was shot on one of it's approved cameras.
Netflix also suggests that content is captured in full 4K 4:2:2 10-bit All-I video (.MOV in either 4096 x 2160 or 3840×2160) in V-Log L at 400Mbps.
Here is a link to the official guide to shooting "Originals" using the BGH-1 Netflix created to help filmmakers.
---
Main Article Originally Published on October 13, 2020
LUMIX BGH1: Panasonic's first modular "box-style" cinema camera
Panasonic has just announced their first modular box-style, Digital Single Lens Mirrorless Camera, the LUMIX DC-BGH1.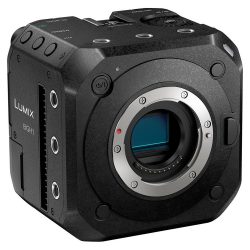 Panasonic's LUMIX DC-BGH1 is a Micro Four Thirds based system, integrating a 10.2-megapixel, Live MOS Sensor with Dual Native ISO technology (also used in Panasonic's professional level Varicam models) and same the Venus Imaging Processing Engine as found in the LUMIX S1H.
The BGH1 is being touted as a camera that can be used for a wide range of applications including, live-streaming, multi-cam productions, on vehicle shots, sports, documentaries or just about anything else you can imagine.
Dual Native ISO
It uses a Dual Native ISO system (sets ISO 400 and ISO 51200 as base sensitivities for low noise levels) that chooses the optimal circuit according to the sensitivity before gain processing, to minimize noise generation allowing for a wide dynamic range of up to 13 stops in V-Log L.
---
---
Recording Options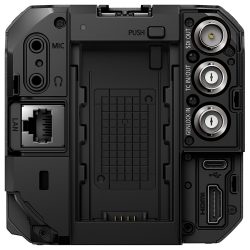 The BGH1 supports 4:2:0 10-bit C4K/4K 60p/50p video with unlimited internal recording time, and RAW C4K 4:2:2 10-bit, V-LOG L (which comes preinstalled) output over HDMI to an external recorder.
External 1080p recording is available over 3G-SDI and can be output simultaneously with the HDMI allowing operators to use one signal to record and the other to monitor.
Hybrid Log Gamma (HLG) is available in Photo Style and there is a low-bit-rate recording mode, C4K/4k HEVC/H.265 for HLG.
In VFR (Variable Frame Rate) mode the BGH1 captures C4K/4K 60 fps (max 2.5x slower in 24p), or Full HD at up to 240 fps (ma 10x slower in 24p) footage.
Focus Tracking/Detection
The BGH1 utilizes advanced, deep learning autofocus technology to detect both human and fast-moving subjects including dogs, cats and birds.
The system offers eye, face and body tracking as well as a separate head tracking capability (for human subjects) that continues to track even if the subject moves quickly, turns their back to the camera or tilts their head.
---
---
Build Quality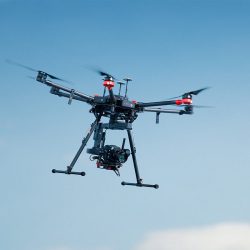 Thanks to it's aluminium and magnesium alloy body construction, the BGH1 is both durable and at only 545g (without a lens or attachments) extremely light.
How light? Well Panasonic says that it weighs 17% less than their GH5S mirrorless camera.
Thanks to this light weight construction, the BGH1 can easily be mounted on professional drones or handheld gimbals designed for larger cameras.
The other benefit to this construction is heat distribution, which when combined with the camera's internal fans keeps the camera from extreme overheating.
Modular Design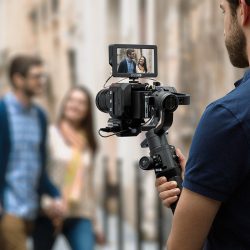 The BGH1 is a barebones system that is designed to be augmented with accessories including, most importantly, a monitor for which notably, the camera lacks.
Additional Features:
Supports anamorphic lenses (4:3)
Tally lamps (front 1 and rear 1), a network connection lamp
3.5mm Audio (in/out) jack compatible with XLR microphone DMW-XLR1 (sold separately)
Generic remote control input (2.5mm)
2.4GHz Wi-Fi connectivity and Bluetooth 4.2 (BLE)
Bundled accessories including a Cable lock band, AC adapter and AC cable.
Remote camera control using application software LUMIX Tether for Multicam and LUMIX Sync app
Photo shooting with PTP command
A SDK (Software Development Kit) will be provided for free. (More information will be announced separately before the sales of the BGH1 starts)
Based on the Micro Four Thirds System standard, the new LUMIX BGH1 takes advantage of high mobility with an extensive interchangeable lens lineup and brings together technologies that Panasonic has acquired though the development of professional cinema cameras, camcorders and the LUMIX GH series.