Blackmagic Design has always pushed the boundaries, both with the design of and the technology found within their cameras and the new Pocket Cinema Camera 4K announced at NAB Show this week continues this trend.
Blackmagic Pocket Cinema Camera 4K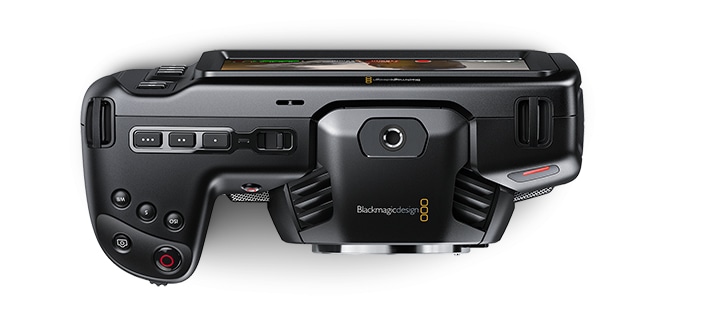 Looking like something straight out of a sci-fi movie, The Pocket Cinema Camera 4K (PCC-4K) features a stunning all black, carbon fibre poly-carbonate composite body that quite simply put, looks like nothing else currently on the market.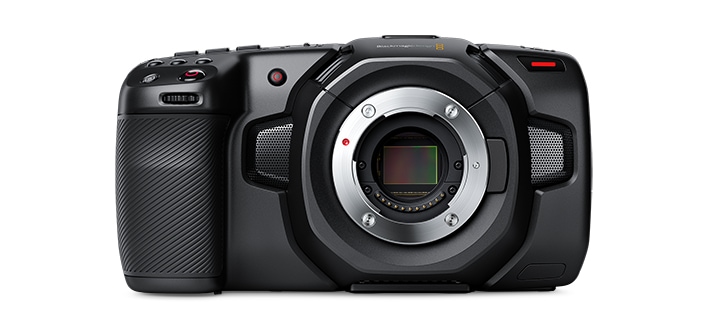 The PCC-4K is still small when compared to other cinema cameras, but with the redesigned body it's larger than the original and that's a good thing.
The Micro Four Thirds lens mount, means that the PPC4K can accommodate any existing Blackmagic lenses they may have. It also allows for different lens adapters for PL, C and EF mount lenses from manufacturers such as Canon, Nikon, Pentax, Leica and Panavision.
On the outside, the reconfigured body features a larger 5-inch touchscreen display than the originals 3.5-Inch one, making it easier to frame your shots and more accurately focus.
The touchscreen utilizes the same Blackmagic OS as found on the URSA Mini and using simple taps and swipes allows you to adjust settings, add metadata and view the recording status. On-screen overlays will also display recording parameters, status, histogram, focus and peaking indicators as well as playback controls.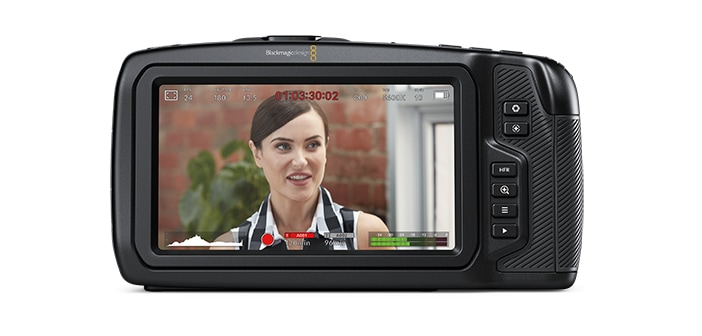 On the side, you have a full-sized HDMI port, mini-XLR input with 48 volts of phantom power for connecting pro mircophones, a 3.5mm audio jack, headphone jack and locking DC 12 volt power connection and a new USB-C expansion port allowing for direct recording to an external SSD or flash disk. There are also 4 built in low noise floor microphones placed around the camera body.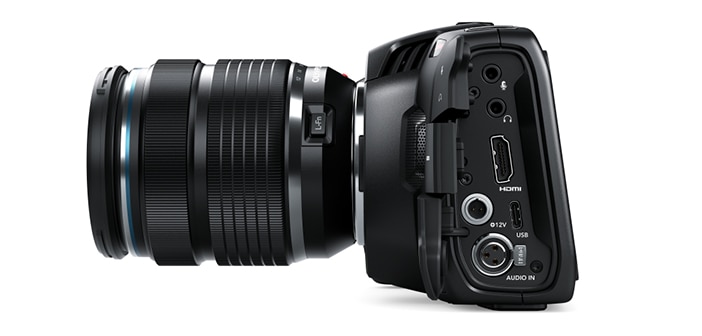 ---
Now, let's get down to the nitty gritty…
The PCC4K features a full-sized Four Thirds HDR sensor with a native 4096 x 2160 resolution capable of 13-stops of dynamic range and dual native ISO up to 25600 ISO for better low light performance.
The PCC4K also supports 10-bit ProRes or 12-bit RAW recording, 3D LUTs can also be applied for both monitoring and recording and it uses Blackmagic's fourth generation colour science allowing users to shot HDR images in film, video and new extended video modes.
Images are recorded onto standard SD cards, faster UHS-II cards or CFast 2.0 cards in either ProRes of RAW formats. 4K footage is recorded at up to 60 fps and windowed HD footage can be captured at up to 120fps.
If so inclined, you can also record your footage to an external USB-C connected drive which eliminates the need to transfer files to another device before editing.
One feature that the PCC4K does lack is in-body stabilization. Now this probably isn't a big deal for most as you can stick a lens with built-in stabilization on it, or simply mount the body on a stabilizing gimbal or tripod, but it might be a deal breaker for some who like to shoot with as little gear as possible.
In conclusion, we ask, is this camera for everyone?
No, probably not. But it will be appealing to those who are looking for an ultra portable, 4K camera with a ton of features that won't necessarily break their bank accounts.
---
You get incredible mobility in a carbon fibre polycarbonate composite body that's packed with high end professional features such as state of the art 4K image sensor, MFT lens mount, external controls, 5 inch touchscreen monitor, professional audio, USB-C Expansion Port and more. The unique portable design of the Blackmagic Pocket Cinema Camera 4K makes it perfect for use on everything from student films to big studio features.
---
Blackmagic Pocket Cinema Camera 4K Key Features
Full size 4/3 sized sensor with native 4096 x 2160 resolution sized sensor.
Compatible with extremely high quality Micro Four Thirds lenses.
Super wide 13 stops of dynamic range allows capture for high end feature film look.
Up to 25600 ISO for incredible low light performance.
Carbon fiber polycarbonate composite body which makes it lightweight, portable and durable.
Multi function grip for quick access to recording start/stop, still photos, ISO, shutter, aperture, white balance, power and more.
Built in SD, UHS-II and CFast card recorders.
USB-C expansion port allows longer duration recording directly to an external SSD or flash disk.
Standard open file formats compatible with popular NLE software such as 10-bit ProRes and 12 bit RAW.
Features full size HDMI output for monitoring with camera status graphic overlay.
Professional mini XLR input with 48 volts of phantom power for connecting to pro microphones.
3.5mm audio jack, headphone jack, and locking DC 12 volt power connection.
Built in 5" LCD touchscreen allows accurate focus when shooting 4K.
LCD supports on screen overlays including status, histogram, focus peaking, and transport controls.
Records 4K images at up to 60 frames per second and windowed HD at up to 120 frames per second.
3D LUTs can be applied for both monitoring and recording.
Blackmagic OS as used in URSA Mini and URSA Broadcast cameras.
4th generation Blackmagic color science.
Supports remote camera control via Bluetooth.
Includes full license for DaVinci Resolve Studio editing, color, visual effects and audio post production.
---
Let us know what you think of this post