Sony Canada held a product launch this morning at Toronto's Polson Pier to announce their latest product set to hit shelves, including the newest additions to the Alpha lineup as well as a new camcorder and two new NEX mirrorless compact family members.
SONY NEX-5N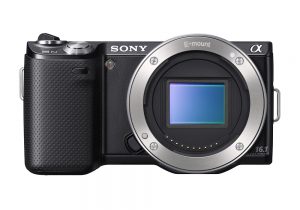 The entry-level NEX-5N – successor to the NEX-5 – looks almost identical to its previous incarnation. This version, however, features a Exmor™ APS HD CMOS sensor with 16.1-megapixel resolution that's complemented by a new specially-optimized version of the BIONZ® processor.
The NEX-5N also boasts smooth AVCHD Progressive full-HD movie capture (with stereo sound) at 60p – a first for an interchangeable lens camera with an APS-C size sensor.
And, where its predecessor, the NEX-5 offered  auto functionality, this incarnation allows users to have more control with Program, Aperture/Shutter Priority and Manual Modes. "It offers more manual flexibility," said Sony Marketing Manager, David Oyagi. "It's more appealing to the point & shoot step-up customer."
The NEX-5N also offers a multitude of in-camera effects, including 4 new to this version: HDR Painting, Soft Focus, Miniature & Rich-Tone Monochrome.
Other  Features:
3″ Xtra Fine LCD™ touch-screen display that can angle up to 80° up or 45° down
TruBlack™ technology
ISO 100-25600
10fps continuous shooting mode (at full resolution)
In-camera CA, vignetting and distortion correction
Photo Creativity Touch interface for beginner shooters
1080p 60p HD movies in AVCHD format
The NEX-5N will be available September 2011 in black & silver with an 18-55mm kit lens. MSRP: $800.
SONY NEX-7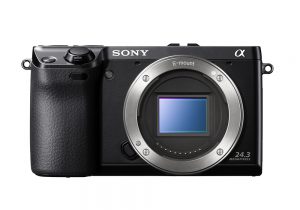 Touted as "a shooter's camera," the NEX-7 steps up to the plate with a 24.3-megapixel APS HD CMOS sensor and BIONZ® image processor. It also boasts an incredible 0.02-second shutter release time lag along with the world's first high-resolution XGA OLED viewfinder.
Despite its diminutive size, the NEX-7 packs a hearty punch with a multitude of features, including the customizable & intuitive TRINAVI control interface. Featuring two control dials on the top of the camera, the TRINAVI interface combines another control wheel, giving three customizable, manual controls – and the ability to create images with the flexibility and precision of an advance DSLR.
Other  Features:
Support for new AVCHD Ver. 2.0 (Progressive) for 60p movies
Ultra-high, wide-ranging sensitivity of ISO 100 – 16000
Built-in flash AND auto-lock accessory shoe
3″ tiltable Xtra Fine LCD™ touch-screen with TruBlack™ technology
The NEX-7 will be available November 2011. MSRP: $1,400 (body + exclusive black 18-55mm zoom lens) & $1,200 (body only.)
SONY NEX-VG20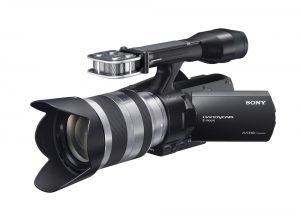 Once again combining the benefits of a DSLR that shoots video with a full-fledged video camera, Sony has announced the NEX-VG20 – similar to it's predecessor (the NEX-VG10) but with a number of enhancements, including comprehensive manual controls, improved imaging quality and upgraded sound.
The Exmor™ APS HD CMOS sensor allows 16.1-megapixel image capture  with RAW format support. And, in addition to  AVCHD™ video format, the VG20 also offers a choice of 24p and 60p (progressive) frame rate options.
Other upgrades include a Quad Capsule Spatial Array Microphone that now supports stereo and 5.1 channel surround, improved manual controls (including direct-access hard keys) and grips that have been modified for better low-angle shooting.
There are a choice of seven E-mount lenses available for the NEX-VG20, with a total of ten to be on the market by 2012. An optional LA-EA2 lens mount adapter for third-party lenses provides even more compatibility.
The NEX-VG20 will be available November 2011. MSRP: $2,200 (body + E-Mount SEL 18200 lens) & $1,600 (body only.)
SONY ALPHA SLT-A65 (α65)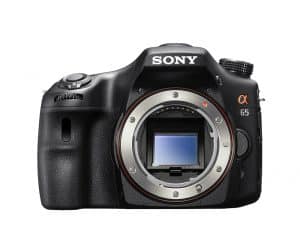 Trumpeting the latest refinements to its Translucent Mirror Technology, Sony announced in tandem, the new SLT-A65 (α65) & SLT-A77 (α77) – which share a number of similarities, including the same 24MP APS-C CMOS sensor and the world's first XGA OLED Tru-Finder™ viewfinder.
As part of the new, larger viewfinder, shooting info is now displayed above & below your image, instead of through it. Fast Continuous AF Full HD Movie shooting is joined by 15-point AF with three cross sensors along with Tracking Focus that maintains accurate focus lock on a moving subject – even if the target is momentarily obscured.
Fleshing out the already-impressive imaging effects are the addition of Auto HDR, Mult-Frame Noise Reduction and Hand-Held Twilight.
Highlights:
24.3MP, 10fps, BIONZ™ image procesor
Live view
SteadyShot INSIDE™ image stabilization
On-screen Help Guide
Graphic Display
Tiltable 3.0″ TFT Xtra Fine LCD with TruBlack™
15-point AF system
The SLT-A65 (α65) will be available in early October 2011. MSRP: $1,150 (body + standard 18-55mm kit lens) & $1,050 (body only.)
SONY ALPHA SLT-A77 (α77)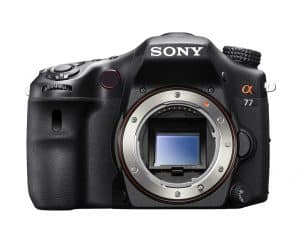 The successor to the A700, the new SLT-A77 (α77) boasts  a "best-in-class"  pedigree with its 24.3MP, 12fps,  BIONZ™ image processor. Precision AF tracking of moving subjects is more precise with the α77 than the α65, due to a new 19-point autofocus system with 11 cross sensors.
An incredible ISO range of 100 – 16000 expands down to ISO 50, making it ideal for capturing creative, long exposure shots. And the XGA OLED Tru-Finder™ viewfinder (also found in the α65) offers a real-time preview of the effects of adjusting exposure, white balance and other settings.
A more ergonomic & user-friendly design is evident in the top-panel LCD along with front & rear command dials along with the world's first three-way adjustable screen that tilts and pivots freely to allow shooting at any angle.
Highlights:
24.3MP, 12fps, BIONZ™ image procesor
Live view
SteadyShot INSIDE™ image stabilization
On-screen Help Guide
Graphic Display
Tiltable 3.0″ TFT Xtra Fine LCD with TruBlack™
19-point AF system
The SLT-A77 (α77) will be available in early October 2011. MSRP: $2,150 (body + SAL1650 f2.8 lens) & $1,500 (body only.)