As the original DJI Osmo Pocket already proved to legions of adoring fans for the past couple of years, there's lots to love about a diminutive 3-axis stabilized handheld pocket camera packed with useful intelligent features and top-level performance.
But there's always room for improvement, and the next-gen – and renamed – Pocket 2 steps it up in all the right ways: it's clearly destined to become an even more popular choice for its slate of crowd-pleasing upgrades.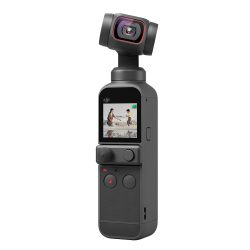 Perhaps most notable – and most welcome – are its larger image sensor and wider aperture. The new 1/1.7-inch sensor (versus the Osmo's 1/2.3-inch) promises significantly improved image quality, and the new f/1.8 lens (compared with the Osmo's f/2.0) expands its versatility in a broader range of shooting environments, including low-light situations, day or night, both indoors and out.
With its 16MP CMOS sensor, the Pocket 2 can handily capture super-smooth 4K/60 fps video, as well as stills spanning the width of the sensor in addition to stunning 64MP images using a new high-res mode – for the highest resolution for a camera of this size currently on the market.
Field of view has been extended from 80 degrees to an even more encompassing 93 degrees, with focal length shifting from 26mm to 20mm, all of which translates into a much wider scope, making the Pocket 2 superbly suited to capturing cinematic vlogs, videos and selfies.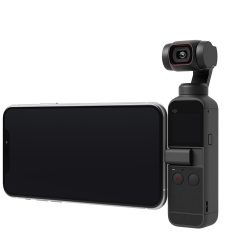 The Pocket 2 is now more responsive, too, thanks to a faster and more accurate Hybrid AF 2.0 system and ActiveTrack 3.0, DJI's most advance tracking tech to date. And the Pocket 2 has another cool trick up its sleeve called Fast Wake to power the camera up more quickly with a single tap when shooting spontaneously on the fly.
Sound quality enjoys a substantial boost, too, with the introduction of the new DJI Matrix Stereo system comprising four microphones for more immersive audio, and a SoundTrack feature that adjusts audio enhancement according to the direction in which the camera is pointed. With Audio Zoom, sound capture zooms in right along with the video to create a more dynamic soundtrack.
---
---
These are just some of the latest additions that make the new Pocket 2 so delightfully appealing, but don't forget: the thing it shares with its predecessor – a dependably accurate 3-axis motorized gimbal packed into an incredibly compact handheld form factor – is what sets this tiny camera apart in the fist place and accounts for it undiminished widespread popularity. Check it out yourself and you'll be raving about the Pocket 2 in no time, too.
Key Features:
Pocket-sized, lightweight 117g
3-axis stabilization
ActiveTrack 3.0
AI editor
High-quality images
DJI Matrix Stereo
HDR Video, Timelapse, Motionlapse and Hyperlapse modes
---
DJI Pocket 2 is an advanced gimbal camera that follows in the footsteps of Osmo Pocket. It's small, lightweight, and fits right in your pocket so you can record life with incredibly smooth footage. 4K/60fps video, 64MP photo, and DJI Matrix Stereo technology let you dive into filmmaking and create amazing content. Packed with intelligent features like Active Track 3.0, Story Mode, and compact accessories, DJI Pocket 2 is a tiny wonder that lets you create magic at hand.