The Many ways you can Stream with Z CAM E2 Series cameras.
If you are not fully familiar the Z CAM Lineup of E2 cameras covers a range of 5 camera models.
Starting at about $1,170 CAD is the E2C MFT mount camera with up to 4k 30p capability, then there is the slightly larger main model the E2, also MFT mount, with 4k up to 160fps in 2.4:1 crop at $2849 CSD, and then again slightly larger flagship models ranging from the E2-S6 Super 35 at $4,419 thru the E2-F6 Full Frame at $7,099 to the top of the line E2-F8 at $8,499 offering a range of frame rates at various resolutions.
All of the flagship models have a standard EF mount, and optional user interchangeable PL and other mounts are also becoming available shortly.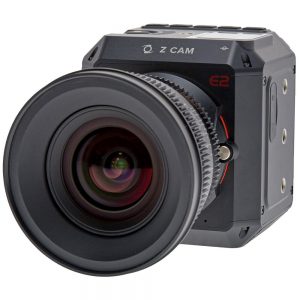 So the Z CAM E2 line all make great affordable cinema style cameras, you might already know that, but there is something that is far less known about them, that is they all make great live production streaming cameras as well.
Now obviously, they can used like any video camera for production to output either HD or 4K via their standard HDMI output port which can then be connected to a production system for streaming at up to 60p. The HDMI output could also be externally converted to either SDI for longer runs than HDMI or even with HDBaseT adapters to run the HDMI signal over Ethernet.
This type of general connectivity makes the Z CAM easy to integrate into any small desktop style or larger web studio system via these industry standard interconnects. In fact I have several now working in my own work from home studio.
You can also then run these video signals through production switchers, if desired, or with an interface/capture card to convert the HDMI or SDI into USB or Thunderbolt to connect directly to a computer, so the video and audio can be brought directly into a PC or a Mac, for use with either collaborative business software like Skype, Zoom Webex etc. or into Livestreaming Software applications, like OBS or perhaps VMix for example, or many of other streaming software titles that are available.
The image quality of the Z CAM for these live production applications can be stunning thanks to their great colour, wide range of lensing options excellent sensitivity, low light performance and low noise.
All of this means for the small independent owner operator or corporate user, that he can his expand his business model by offering a wider range of services to his clients. Adding streaming and webinars etc to his ability to produce standard high quality edited, post produced videos.
Obviously since these cameras are designed for cinema style, they typically work with manual focus cinema lenses, however they also do support simple contrast based Auto Focus with compatible lenses. Although you might typically use them in more static situations or as manned operated studio or OB style cameras, with the proper accessories you could also expand them out for use with full remote PTZ head and lens operations. Which again could expand the opportunities for use in even higher end applications.
At Vistek we can help to guide you step by step in configuring any of the above mentioned solutions.
But wait! At the risk of sounding like the guy hawking sponge cloths at the exhibition, there's more! A lot more in fact.
Did you know that all of the Z CAM cameras can an also take things several steps further?
---
---
ZCAM Cameras can be controlled via Wifi or USB-C wired Connection with your Smartdevice
All ZCam cameras can be remotely controlled by the ZCAM Apple or Android APP either via WiFi or via a USB-C type cable to either your Phone or Tablet. You can actually see the camera video on your device – obviously there I slightly more latency via WiFi than if you are connected with a cable. Note when using WiFi your phones data services should be off.
You can read a little more about the APP here: https://apps.apple.com/us/app/z-camera-app/id980859426
Z CAM can use your phone or tablet to Livestream directly from the Z CAM APP
If you are connected to the camera via the USB cable you can then also use the Z CAM APP along with your WiFi connection or data services to livestream the camera source directly from your device to any popular livestream platform simply enter the stream key in the APP.
Note: All Z CAM Cameras have a LAN CAT6 wired IP interface and you can remotely control the camera in a direct mode!
Z CAM cameras can connect directly with OBS with a new plugin
If you are connecting a single camera you can now use the 3rd party OBS plugin to connect your Z CAM camera directly to your computer over IP with Cat 6, Basically the plugin converts the H.264 video over IP to NDI so the source can be seen in OBS – for multi-cam operation and more info continue reading below – Note: a switch is recommended if you want wired internet to your computer as well.
You can download the OBS plugin here: https://obsproject.com/forum/resources/obs-ssp.926/
Z CAM cameras support NDI Via Z CAM Stream Converter software
As mentioned, all of the Z CAM E2 family of cameras can output H.264 over wired CAT6 IP directly, yes that's correct the Z CAM E2 lineup all have a standard built in Ethernet port, so you can directly connect your CAT6 cable into the camera, then to a Gig E switch if desired (for multi-cam operation), or directly into your PC or MAC. No other interface card is required!
Simply by adopting the steps be below for Direct mode you can see the stream and control your camera directly from the browser. You can use this feature on set for remote camera monitoring and control if required. See steps below.
As well since the stream the stream has now arrived in your computer as an H.264 Stream you can use the associated Z CAM Stream Converter APP to see streams from one or more cameras & convert the stream into either a virtual camera form, that might be preferred by certain desktop software or, and here's the magic, into a NDI compatible stream. That is used in popular Apps like OBS and VMix.
By simply launching the stream converter application for PC or Mac, you can scan and connect the various Z CAM cameras as NDI camera sources, and also in the stream converter APP you can adjust and remotely control some of the menu functions of each of the cameras.
Streaming Software like OBS or VMIX etc. can then be set up to utilize that converted NDI stream from the Z CAM camera and integrate it into your switched live stream production along with any other sources that you would regularly have connected via hardware interfaces or other remote cam software.
Note: for OBS you do have to install an NDI driver as below – Vmix will have driver standard.
But What is NDI?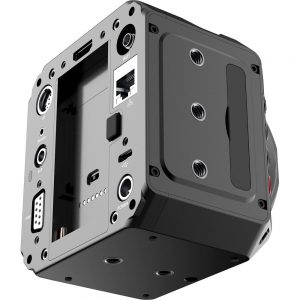 So I know, what the heck is NDI? Well, it stands for Network Device Interface, it was originally developed by Newtek as a standard to move audio, video and metadata over IP networks. And it's now been adopted by a very wide range of companies as an easy practical and standardized way to practically, plug and play, connecting video sources across standard CAT6 IP LAN and wide area networks.
What that means as well as that your camera can be remote, I mean really remote, if desired, and connected inexpensively over an industry standard CAT6 network from using just a simple switch to an extensive cloud architecture.
So the bottom line imagine everything I said above but now integrated more simply and affordably on a larger system scale.
Now again to be completely up front, Z CAM's implementation of NDI is only in the early stages, so overall features are still somewhat limited and may vary by the MAC or PC platform you use (Mac is a little behind) but what is there gets you going now, and what that means is that there is also a lot more excitement to come!
---
Filming with the ZCAM E2-F6 – First Impressions
---
But Wait Z CAM can also stream wirelessly!
Each of the Z CAM cameras also offers the ability to control and stream via its built in Wifi as an option to using the LAN port connection. There is a wifi antenna included with the camera and you can connect your phone by using the Wifi to control and monitor the cameras live feed if so desired as well as directly stream it out from your phone by entering the stream URL & key information into the APP. Need more reliability you can directly connect the phone to the camera, via an optional USB-C to Lightning cable, to reduce latency and insure you have a solid stream and then live stream it from the phone.
Z CAM IPAD Multi-cam APP
There is also a 3rd party, no charge, IPAD APP called Z CAM LIVE for Live wireless streaming! The app supports up to 4 cameras wired through a switch and then switched wirelessly via the IPAD app. While this first version does not have extensive features it can easily allow you to switch between up to 4 camera sources and then by entering the URL and Stream key you can stream the switched output live via your IPADs Wifi connection. You can download it now and try it if you like from the Apple App Store.
Again these wireless applications are still in their early days so they are still buggy and simple without extensive feature sets, but in a world that is increasingly constrained by social distancing, live streaming along with the Z CAM's functionality is sure to grow and grow.
And more – 4K with region of Interest
Yes, as the title indicates, you can now, if you have a new powerful enough computer, with 4K processing capability and GPU you can actually see and stream the 4K signal over CAT6 IP from the Z CAM camera and via the latest version .50 of Stream Converter produce up to 4 virtual HD NDI sources from the single Z Cam camera. You can also utilize the 4K signal in Stream Converter to create and size up to 4 windows of selectable "region of interest", to make 4 separate HD sources, which again could be shared with VMix or OBS, and you can now switch your program between those sources.
What that means is with a single ZCAM camera you can have a wide, medium and some close up framings or shots all coming the one 4k source camera. This is amazing and extremely powerful stuff which again can help increase your overall production value while reducing overall equipment cost.
Z CAM is a versatile and cost effective live production solution!
So as I am sure you will now agree Z CAM is much more than just a line up of affordable cinema cameras. They are also very flexible and easy to use for a variety of live production and streaming applications.
Closing advice to help get you started
So in closing out this blog I wanted to offer a little bit more help to those who already might have a Z CAM camera and want to try and test connecting it via the NDI.
I found I had just a little trouble getting started and getting an IP connection so I wanted to share what I have learned to make it easier for you to get going.
Make sure your computer firewall is disabled so turn off Norton or whatever you are using. This seemed to help me,
Download the Z CAM Stream Converter APP for the Z CAM website. Version at this writing is .50 You can find it here: http://www.z-cam.com/software-update/
Once you have it before you run it, it's best to insure you are seeing your camera over IP first by using the web client.
At the camera make sure you camera is set to the H.264codec first- this is an important step!!!
Connect the camera first directly to the computer via Cat6 cable.
Make sure your computer Lan port is turned on and enabled – sometimes you might have to turn off the wifi at first to allow it to switch to the LAN port.
At the camera under the main menu select the menu "Connect" then "Network" and turn the WiFi off.
Then select "ETH Mode" and set it to "Direct". Note: when later connecting through a switch/Hub you need to change this last option to "Router".
The use the web client to test the IP connection with the camera.
Follow these web client instructions.
Using Z CAM web client:
Connect Z CAM E2 to the computer through a Cat 6 Ethernet cable.
On the Camera select – Menu -> Connect -> Network -> ETH. Mode -> Direct
Read the ETH. IP 10.98.32.1 (normally).
Open your browser on computer and enter: http://10.98.32.1/www/html/controller.html
Z CAM web client screen would show up.
If you have a connection you will now see video from the camera on the web screen along with camera control menus. If this does not work you have a cable or LAN port issue – or maybe firewall issues as above
Fyi you can also use this setup also just to remote monitor and control your camera over IP.
Now install the Stream Converter software
ON the taskbar normally located on your PC bottom right hand side there is an up arrow for tasks that are running you will see a small Z CAM Icon "right click" on it and it you will see some menu options, simply press scan cameras and now they will be available to the various other software running on your computer.
Here is a link to a video showing Z CAM connecting to VMix via Stream Converter – he was using an earlier version of the app and had trouble finding it before it was linked to the Z CAM website as per the easy link provide above but generally it shows step by step how to connect it.
One other note is that the camera can connect as either a NDI or virtual camera depending on the software you are using.
For OBS the setup procedure for the Stream converter to see the Z CAM is the same but to discover the NDI stream you also have to install a NDI plugin into OBS. You can find that plugin here: https://github.com/Palakis/obs-ndi/releases/tag/4.6.0
Now as well here below is a video on using a MAC, unfortunately the one I have at home is older so I can't personally verify it, but from what I can see things are relatively the same as above with a PC. With just a few steps slightly different for the MAC. I hope they help.
ZCam Stream Converter & Vmix on a Mac
Since this video is from Youtube the author may also be able to answer some questions there in the comments section if required.
That's all for now but as I mentioned lots more to come!
Vistek will be doing videos and live streams upcoming soon on Z CAM and other Live Streaming and a wide range of topics, stay tuned to Vistek social media channels to find out about live streams coming your way.