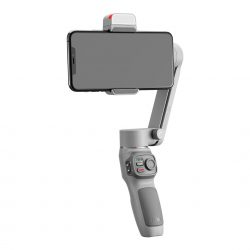 The SMOOTH-Q3 three-axis smartphone gimbal is Zhiyun's latest offering for content creators looking to create silky smooth footage for their TikTok, vlogging or other social channels using their mobile devices.
Being called an enhanced "SMOOTH Q-series product" by Zhiyun, the Smooth-Q3 offers a new compact, lightweight design and new functionality, including enhanced lighting features and smart templates.
The new "enhanced" lighting feature mentioned above is a 4,300k warm-toned integrated fill light offering three levels of brightness adjustment and touch button control for 180°front and rear lighting that Zhiyun says is "perfect for capturing clear portrait images in low light set ups."
---
---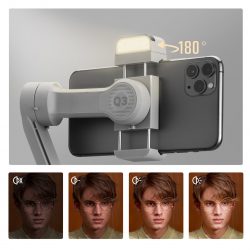 Working in conjunction with the dedicated ZY Cami app, the SMOOTH-Q3 will allow users to "capture and create stories in more ways than ever", especially when using the new SMART templates and advanced editor.
Users will be able to choose from one of the 17 SmartMode built-in templates, which are designed to help speed up the creation of videos that are shot on a regular basis.
The ZY Cami Editor offers the ability to spice up videos with customized templates and add music, special effects and filters to the footage.
Other new features include gesture control, SmartFollow 3.0 Object Tracking, an instant Dolly Zoom, and MagicClone Pano which is operated by a single press trigger button to mark the target and activate smart following.
Zhiyun says that the Smooth-Q3 is easier to fold and lighter (340g) than its predecessor, the SMOOTH-Q2, and is able to handle a higher maximum payload (up to 280g).
As with it's predecessor, it's small enough (45mm x 154mm x 180mm) when folded to comfortably fit into a backpack or other small bag.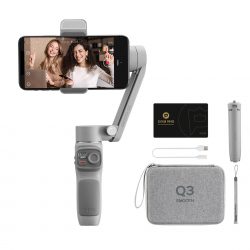 It also features a new, intuitive button layout, that Zhiyun says allows for an overall smoother operational experience.
One way this works is by allowing users to quickly switch between portrait and landscape modes simply by triple tapping the trigger.
The Smooth-Q3 is compatible with any smartphone that fits within it's capable width and will operate for up to a maximum of 15 hours on a single charge, with a recharging time from empty to 100% in about 3 hours.
The Smooth-Q3 is available individually or as a combo kit which includes the gimbal itself as well as a tripod, storage bag and other accessories.
Driven by art and advanced intelligent interaction, Smooth-Q3 marks the comeback of a classic, offering an even smarter experience in shooting. With Smooth-Q3, a smartphone is all you need to make a great work of art with amazing effects.