Over a series of three interviews, we will be talking to three different people who have one thing in common, they are all Z CAM users. Our first interview is with Jason Dam, Toronto based Director and co-owner, alongside Justin Manabat, of Ten Fold Productions.
Deciding to explore different camera options during the current COVID-19 lockdown situation in Ontario, Jason says he was eventually drawn to the Z CAM E2-F6 as it met the specific criteria he was looking for.
So what was it that drew you towards Z CAM?
Our goal was to find a camera ecosystem that had 10 bit colour, solid dynamic range, a sturdy body, and easy ergonomics. We also kept budgeting in mind knowing that the work for 2020 would be slower. After some extensive testing of various Z CAM models, including the E2-M4 (4k Micro Four Thirds) and E2-S6 (6k super 35), we eventually settled on the E2-F6 (6k full frame).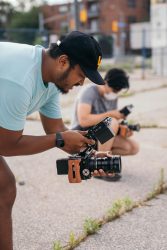 Jason further goes on to mention that one of the things he was searching for was a workflow that was simple and streamlined, similar to what he was used to with Blackmagic's BRAW codec.
While researching further about the cameras, we saw that Z CAM already had their own compressed raw through ZRAW, as well as 12 bit ProRes Raw through the Atomos Ninja V.
Coming from the Blackmagic systems with BRAW (very simple workflow, and easy to edit), and Sony a7iii's (h.264 codecs, a bit more work having to proxy), we wanted to find a codec that also made the workflow simple and streamlined. Z CAM came with a huge array of codecs, including H.264, H.265, ProRes Proxy, LT, 422, HQ and Z RAW which gave us confidence to shoot in whichever situation came up.
Another factor under consideration was the ergonomics and shape of the camera itself.
The ergonomics of the camera was huge for us. Coming from smaller mirrorless systems, and bodies like the BMPCC4k, we knew that the ability to maneuver fast and switch between tripods and stabilizers was key for our workflow.
From our previous experience with the Blackmagic systems, we found it difficult to balance onto gimbals with counter weights, and the body shape came with it's own limitations.
The body of the Z CAM was ideal for us, the square cube body was easy to work with, and intuitive once you spent enough time with it. It was rugged and had more weight to it, which gave us confidence to use in different scenarios without being afraid of the weather or damage.
With the camera fully rigged up with all the accessories (6-12 lbs depending on how it was rigged up), we were able to have a fully functional cinema camera that output a fantastic image.
As part of our conversation, we asked Jason to talk about some of the projects that he's worked on using the Z CAM, the first of which is below.
---
Jason Dam Project 1 – New Balance – Seismic
Tell us a little bit about this project.
This project is interesting because it highlights the flexibility of the Z CAM. It was shot completely at 2500 ISO, and yet, the shadows and highlights are very clean.
We shot it in Prores 422 for extra room in post for colour grading (which we wanted to push to a more unique colour palette).
The fast paced motion holds up well on the Z Cam (even with some rolling shutter), it is still a very pleasing image.
What Challenges if any did you encounter?
Challenges for the project were mainly on the amount of time we had. With limited time available, it was important to make sure that the lighting, camera, audio and set design all worked well and functioned the way it needed. Luckily everything went as planned, and we were able to shoot it without any problems.
New Balance – Seismic
How did using Z CAM gear make the shoot easier or better?
Having used the Z Cam for countless shoots and commercial projects, we knew the limitations and how it functions. The 10bit files are always a pleasure working with and have given us a lot more flexibility in post. Often in the past, something as simple as forgetting to change white balance could completely ruin shoot (8 bit files), but knowing there is peace of mind in codecs designed for flexibility has been great.
Was there a particular shooting style or theme you trying to accomplish?
The project was created around the idea of Kawhi Leonard's Seismic Moment shoe, an earthquake themed shoe and we wanted to somehow capture the slow buildup of an earthquake. We also wanted to highlight the fact that Canadian players don't get too much "shine" in the basketball world, but when they do, they seem to explode onto the scene (which parallels with the idea of an earthquake).
The video was shot handheld to give a more intimate, shaky aesthetic as we didn't want the floating aesthetic of a gimbal or steadicam.
Having it lit with a spotlight was important as we wanted to get rid of all the details in the background and to focus on the talent himself. We added even more atmosphere into the shot by hazing the room, and colouring it to be colder with some vintage greens.
How did the shoot meet or exceed your vision expectation?
This came out exactly how we planned, and it exceeded the original vision in the edit. We are always happy with how the final image of the Z CAM E2-F6 comes out and the full frame look is something we are very comfortable with now.
---
What is the Z CAM (and any other) gear you have used on projects?
We have tested the Z CAM E2-M4, E2-S6, and E2-F6, but the majority of our work has been on the E2-F6.
As for accessories, we have used the eND in the past and it was fantastic for run and gun scenarios. We are currently using the SDI Module, and we will be picking up the TC adapter and PL mount soon for future projects.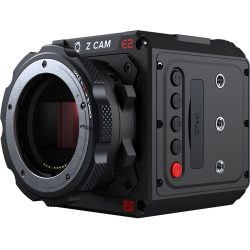 In terms of lenses, we have used the SLR Magic APO Microprimes quite extensively, and they were fantastic for solo operation, as well as with a 1st AC. They have a nice 3D pop and out of focus falloff, and even with a slight vintage aesthetic they are still sharp.
We've also used Sigma Primes and Zooms (35 f/1.4, 24-35 f/2), Canon Zooms (16-35 f/2.8, 70-200 f/2.8), Canon Macro (100m f/2.8), Vintage Leica R's and we will soon be testing anamorphic and Cooke primes to see how the image resolves on the Z Cam.
Some of the monitors we've used on the Z Cam include the Smallhd Focus 5″, and the Atomos Ninja V. The Ninja V is pairs very well for the camera, allowing camera controls (through Lanc controls) and is great for monitoring and pulling focus as a solo operator. You also need the Ninja V for Prores Raw output through HDMI.
For stabilization, we use the Crane 3s Pro with the Smallrig ring cage to attach out accessories. This system works great for attaching monitors, wireless monitoring systems, and wireless follow focusing accessories like the Tilta Nucleus N / M systems.
We run our audio externally through a recorder, but the Z Cam does have a mini XLR port which we use for quick turnaround workflows. The noise floor is not too bad, and the camera allows for multi channel recording through the 3.5mm jack as well.
What can you tell us about your ZCAM related workflows? Do you use any of the following? And if so, what are the benefits?
ProRes – We use ProRes exclusively now. The 10bit 4:22 files give us the most flexibility in post to push and pull colours. It also edits smoothly and doesn't require any proxying, so we can save that time and jump straight into the edit.
On the Z CAM, ProRes comes in 4 different flavours, Proxy, LT, 422, HQ, all with varying degrees of data rate transfers. We choose different codecs depending on the project and what the requirements of the shoots look like.
For longer recording times (interviews, recaps, and weddings where you need to shoot longer) we would shoot Proxy or H.265.
For commercial work we stick to LT or 422.
There are limitations on the Z CAM and only some codecs are available up to certain frame rates, so it's important to know beforehand what you are shooting and what is available at each resolution.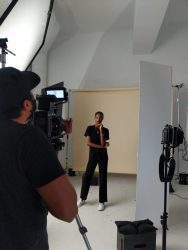 H.265 – We haven't tested h.265 as we have had experience in the past with it. As a compressed codec, we would have to go through a proxy workflow again, and that was what we were trying to avoid when choosing the camera system.
I have seen lots of work shot on h.265 for the Z Cam, and it holds up very closely to ProRes, which is very impressive.
ProRes Raw – We have used ProRes Raw (through the Ninja V), and the final image was fantastic, the extra information and sharpness was apparent and very aesthetically pleasing. The file sizes are very similar to ProRes 422, but you get 12 bit raw which offers much more flexibility in post.
Although the image was fantastic, this requires a longer workflow, and more work on the back end. ProRes Raw is only now being rolled out and optimized for different NLE's, and is not available for some NLE's.
You may even need to transcode the files to a different codec if you're looking to edit faster / colour grade in Davinci Resolve.
ZRAW – ZRAW is slowly gaining more support and optimization for NLE's, currently it is only available in Premiere Pro, and Assimilate Scratch.
You will need a stronger computer to edit ZRAW smoothly. The workflow is a bit trickier, and may chug on your computer but the final image is fantastic.
I will typically use the proxy files embedded in the video itself to edit (with the ZRAW plugin installed), and lock a base edit. From there, I will transcode / export as a ProRes 4444 file for colour grading in Davinci Resolve / Premiere Pro.
Offspeed shooting – On the Z Cam E2-F6, we spend a lot of time shooting 24fps in 6K 5760×3240. When we do offspeed shooting, we'll change to the 6k 2.4:1 resolution and shoot high frame rates (HFR) at 48FPS. We don't typically push past that.
If you are interested in shooting higher frame rates at 10bit, I would suggest shooting H.265, where you can push it to 120fps in C4K 2.4:1 4096×1728. (Editors Note: you can now shoot C4K up to 150fps on the M4 or 72fps on the F6 in ProRes 422 camera firmware ver.98)
---
Jason Dam Project 2 – Hugo Barrette – Olympian Cyclist
Tell us a little bit about this project.
This project was great to show both the dynamic range of the camera on both ends. We shot outdoors early morning, and indoors with less than ideal lighting conditions.
This was also our first time putting the Z Cam onto a stabilizer (crane 3s pro) and we really pushed the Z CAM to the limits here.
Hugo Barrette – Canadian Track Cyclist
What Challenges if any did you encounter?
The biggest hurdle we had with the Z Cam on this shoot was getting everything balanced the first time (which we tested and prepped the day before the shoot).
How did using Z CAM gear make the shoot easier or better?
The best part about shooting on the Z CAM was having the ability to shoot 10bit, in full frame. It allowed us to colour grade the footage to better match the scene and cut out a majority of the shifting colours inside the velodrome.
The square body was perfect for balancing, and the made process of transitioning to sticks or handheld simple.
It should be noted that you need a reliable focus puller / focus pulling system as this combination starts to weigh around 7-12 lbs with the gimbal.
This shoot would have benefited from a separate car rig and the crane 3s Transmount SyncMotion setup.
Was there a particular shooting style or theme you trying to accomplish?
We were trying to tell Hugo's story in a unique way leading up to his 2021 Tokyo Olympic journey.
The idea for the project stemmed from a video that I saw of Hugo cycling on rollers, and the power and intensity was unbelievable. That jump started the idea. We wanted to highlight his speed, his practice, and tell a story that fit his personality as well.
This project required a stabilization as we were tracking him cycling on the street, and we needed to be able to recompose the shot on the fly as the timeline was pretty tight.
We stuck to tripods with telephoto lenses for the indoor stadium shots as there were restrictions around the velodrome.
How did the shoot meet or exceed your vision expectation?
The video met our expectations, and let us explore a few different styles of shooting that we don't typically utilize in all of our videos.
---
Do you have any comments / advice / Tips & Tricks for exposure, using profiles or LUTs or editing colour correction?
Exposure – The Z CAM (E2-F6) has dual Native ISO's at 400 and 2500, I would suggest sticking to the 2 native ISO's, and adjusting everything accordingly through additional lights and ND's.
For skin tones you want to stick in the 40-50 IRE range by using false colours to confirm that.
All Z CAM's love light. You want to make sure you are not underexposing, as the noise floor can be tricky to remove in post.
Profiles – We shoot exclusively in zlog2 to get the most dynamic range out of the camera. We prefer shooting and viewing in the log format as we find it's easier to catch focus, but we have pre-loaded luts to check the exposures and colours. When outputting to a wireless video monitor, we have Z CAM luts loaded to get a closer idea of the final image as well.
The rec709, or flat profile are great for faster turnaround times.
LUTs – Z CAM has a wide array of luts on their website for both monitoring and editing. The zRGB-ax2 Lut is their version of the Arri Rec709 log conversion.
Editing colour correction – The Z CAM's hold up very well in the post processing end. The files retain a large amount of detail and don't break down easily.
For Zlog files, you will want to use Z CAM's Colour Plugin for your log conversion, and then build on top of that.
Personally we use Film Convert Nitrate for the projects that require a faster turnaround and Davinci Resolve for more colour intensive workflows.
---
Jason Dam Project 3 – Animal
Tell us a little bit about this project.
This project was a great test to showcase dynamic range and rolling shutter.
Animal
What Challenges if any did you encounter?
Not too many challenges this project, but wanted to see how the rolling shutter looked like on faster movements (running, and tracking)
How did using Z CAM gear make the shoot easier or better?
The Z Cam produced a gorgeous image, we shot at sunrise and the colours came out fantastic.
Was there a particular shooting style or theme you trying to accomplish?
This was one of the earlier projects we shot on the Z Cam. We wanted to test out the different recording formats as well as see how far we could push the image in post.
How did the shoot meet or exceed your vision expectation?
The video met our expectations. We wanted to create something quick and powerful using dialogue. This video is still referenced to from our new clients as the one that really showcased what we could do visually and with dialogue.
Behind the scenes making of Animal (BTS shot in the E2-M4)
---
Is there anything else you'd to share with aspiring ZCAM users?
If you're looking to make the move from an 8 bit camera, or are looking to work in a better workflow / better ergonomics on set, I would highly recommend Z CAM. They are a fantastic A cameras, a well as a great B or C cam for bigger sets with cameras like the Arri Alexa Mini's / Amiras.
You can rent lenses like the Cooke S4's, Zeiss Superspeeds, Ultraprimes, Sigma's, and anamorphics, and change the image completely, and all you would need as the additional PL mount.
It is one of the most flexible camera systems out there, and with the back interface, you can add full XLR's with Wooden Camera accessories, Vmount plates for multi Dtap usage, and really turn this body into a fully fledged multi operator camera.
What (if any) upcoming jobs are you looking forward to shooting with your ZCAM gear?
Our 2021 is filled with projects that we will be using the Z CAM on and the best part about the Z CAM system is the ability to change up it's function completely.
We will be doing lots of great story telling mini documentary pieces, some full fledged documentaries, and the Z CAM has really opened the doors into working with some brands that we are truly proud and excited to be working with.
---
Image Credit: Jason Dam, all images and videos used with permission.