We sat down with Toronto based filmmaker (and member of the Vistek Toronto rentals team), Julian Zakrzewski recently, to learn more about his experiences working with the RED Komodo camera on a recent project for clothing label Indestructible MFG.
(Lead image: Screen grab of footage shot on RED Komodo)
Tell us what drew you to the RED Komodo?
I've always been intrigued by RED and what they've been able to do in the industry and they've managed to carve out a name for themselves as one of the leading manufacturers in the cinema camera world.
When I first heard that they were developing the RED Komodo, a sub $10,000 camera boasting the same colour science, dynamic range, high resolution, and RAW capabilities as their high end cinema cameras, I was immediately interested.
Within days of its release the Komodo was becoming a popular point of discussion among indie filmmakers and professionals alike thanks to it's headline features including, a super35 6K sensor with a global shutter, 16+ stops of dynamic range, 16-bit internal RAW recording, as well as multiple flavours of ProRes, all packed within a small form factor weighing just over 2lbs.
So when I was approached by Indestructible MFG to shoot some commercial content for their new activewear clothing line, I knew it was the right project to put the Komodo through its paces and see if it lived up to it's specs.
---
Julian Zakrzewski RED Komodo Project for Indestructible MFG – City Tigers
Tell us a little bit about this project.
Due to a tight schedule, small crew and budget limitations, I opted to keep the rig relatively minimal. My Komodo rig consisted of a SmallRig cage with side and top handles, a SmallHD 502 monitor (loaded with RED's Rec. 709 monitoring LUT) and an EF Sigma Art 18-35/1.8 zoom lens with EF to RF mount adapter. I chose the lens adapter that included the drop-in variable ND filter, which was a huge help for micro exposure adjustments. Having the ND between the sensor and the lens also freed up the front thread of the lens, which allowed me to use a Tiffen 1/8 Black Pro-Mist filter (a piece of kit I rarely shoot without).
What Challenges if any did you encounter?
The project consisted of two locations: one, a controlled shooting environment inside a gym, the other was at a local park with only natural light to work with.
The gym was extremely dark with no access to natural light, but I was able to use this to my advantage by turning off all the house lights and opting for a moody, high key lighting setup, which complimented the branding of the product.
I used a single LEDGO Versatile LED panel as my key light and one 2-foot Nanlite tube mounted in the background to separate the subject from the environment.
Was there a benefit to using the RED Komodo on this shoot?
I shot the project entirely handheld without optical or digital stabilization and I was pleasantly surprised to see how stable the footage looked, which I believe is testament to the compact and balanced formfactor of the camera.
In my opinion, RED hit the sweet spot with the Komodo as it is small and light enough to use handheld for long periods of time without support and it can be mounted almost anywhere, yet it's weighty enough so as not to magnify every micro vibration.
---
Tell us about the workflow you employed for the RED Komodo.
ProRes RAW: Because this project had an abnormally quick turnaround, I decided to shoot in ProRes 422 HQ at 4K 17:9 as ProRes 16:9 wasn't an option at the time.
I knew my editing platform could handle ProRes flawlessly without the need of transcoding to proxies, but I wanted to run more tests to learn the workflow and nuances of RED RAW before taking it on a client job.
To maximize the dynamic range of the ProRes 10-bit codec I set my colourspace to REDWideGamutRGB.
Offspeed Shooting: I shot the majority of the project in 24 frames per second with some select shots undercranked to 48fps.
Any thoughts on exposure settings, using profiles or LUTs or editing colour correction?
I was really impressed with how the Komodo's sensor performed in low light. The amount of detail and lack of noise, particularly in the low end of the image was unlike anything I had used to date.
RED sensors do such a good job of preserving detail in the shadows so I wasn't forced to sacrifice my highlights in order to keep detail in the blacks, even in an uncontrolled shooting environment.
By using RED's traffic light exposure system, I was able to monitor my highlights and shadows and keep the exposure exactly where I wanted. I also immediately noticed how smooth and natural motion looked, due to the camera's global shutter.
As expected, in post production, the ProRes footage performed flawlessly in my Adobe Premiere Pro setup with no notable lagging or glitches (even working off my 3 year old laptop).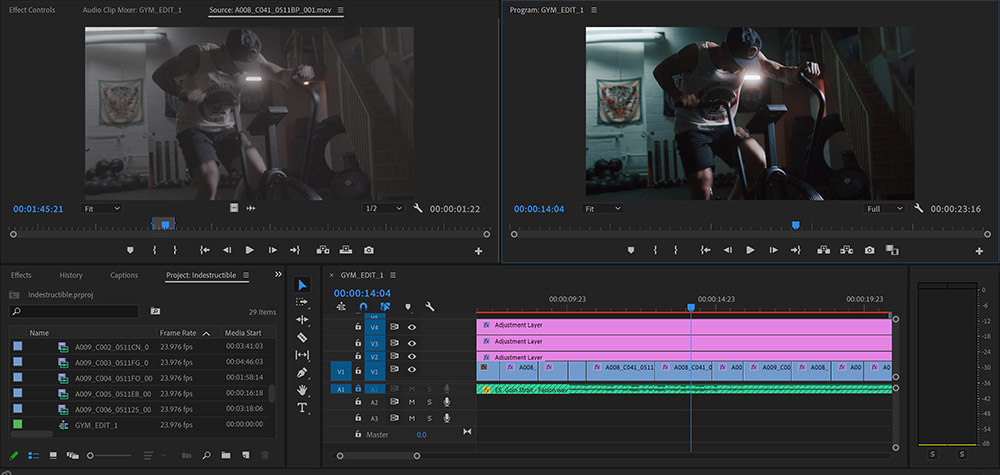 Using the RED provided Rec. 709 conversion LUT I was able to get a cinematic looking image in a matter of minutes with only minimal contrast, saturation, and white balance tweaks.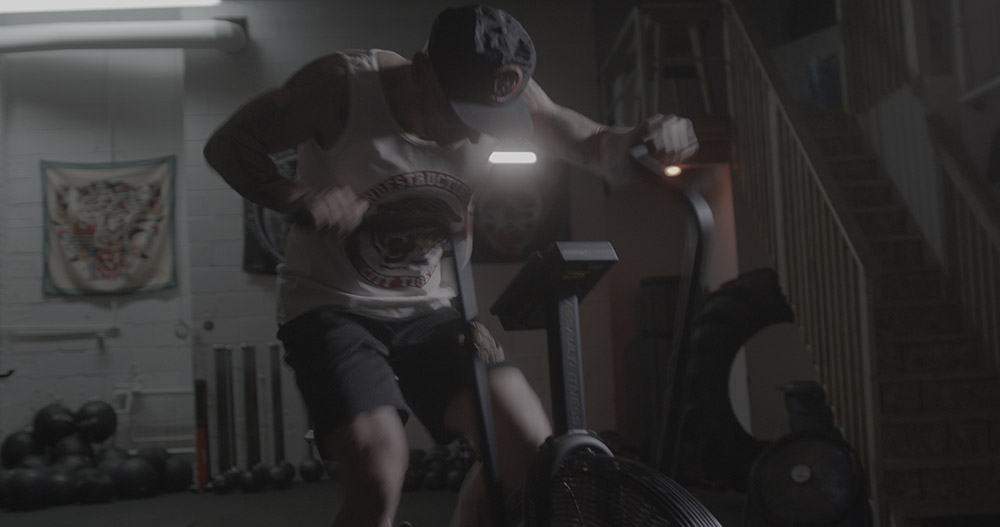 I applied RED's LUT onto an adjustment layer above the timeline which allowed me with a single click to convert my whole timeline into a Rec. 709 colourspace.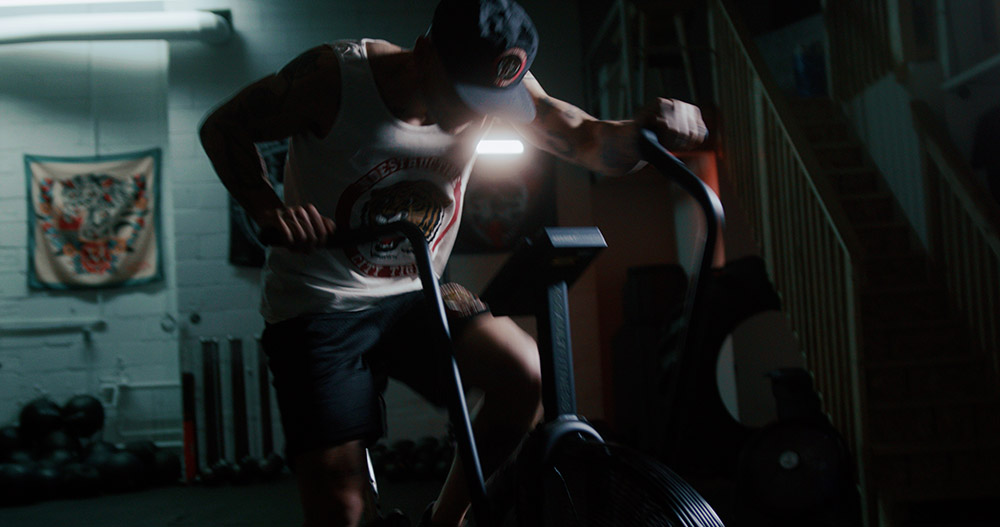 During this process, I didn't see the need to apply any sharpening, noise reduction, skin retouching or stabilization.
---
---
Is there anything you think aspiring RED Komodo users should know about using the camera?
In order to get the camera up and running there are several steps that need to be taken to get the most out of the sensor and ensure a clean image.
When bringing the camera onto a new location, it's recommended that you let the camera sit to climatize before powering it on.
Then with the port cap covering the sensor, you can boot up the camera (which takes about 22 seconds) and run a sensor calibration (aka black shading).
Once the black shading is complete, a process that can take up to two minutes (it may need to be performed more than once depending on the temperature of the shooting environment), you must power off the camera which takes several seconds, before mounting a lens.
After all of that, the camera is ready to boot up and shoot.
Any final thoughts?
I have nothing but good things to say about my experience with the Komodo. It performed beautifully both on set and in post-production.
Since this project, I've had the opportunity to use it on a slightly longer format project and I had no complaints with the camera.
Although it's close to a perfect camera for many uses, it's definitely not a one size fits all solution and I would not recommend it for a run-and-gun or documentary environment.
It might not be an ideal camera choice for a fast paced shooting environment, but if you're used to working in a more controlled environment and you're in the market for a compact cinema camera that is capable of pumping out a Hollywood level image on a budget, the RED Komodo would be at the top of my list.
---
About Julian Zakrzewski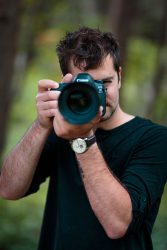 Julian Zakrzewski is a Toronto based filmmaker who has been freelancing since graduating from Film & TV Production at Humber College.
His passion for cinematography and visual storytelling is clearly demonstrated in a multitude of projects he has worked on and the success those projects have had.
He has also been a member of the Toronto rentals team at Vistek for over almost three years where he continues to expand upon his technical knowledge and is always on the lookout for inspiring stories to tell that can expand upon his creative and technical expertise.
You can find more of Julian's work on his social channels.
---
Image Credits: Julian Zakrzewski