Over a series of three posts, we have been interviewing visual creators who have one thing in common, they are all Z CAM users. Our third interview is with Kyle Tiernan, an Alberta based freelance Cinematographer who most recently shot the official video for Canadian singer/songwriter Ruth B's song "Situation."
A little about Kyle Tiernan
Kyle Tiernan's cinematography career has taken him around the world, working on a wide variety of projects and stories that provoke thoughtful questions through his shaping of light.
Kyle's unique eye for natural light, paired with strong abilities in VFX allows him to tackle a broad spectrum of projects including, the official music video for the Gord Downie song "Always is Mine", the independent film "Connecting Flights" and "The Creek", an award winning WW2 short film (all shot using the Z CAM E2-F6 or Z CAM E2-S6 cameras).
---
---
So what was it that drew you towards Z CAM?
I was originally drawn to Z CAM back in the fall of 2019, and like many other cinematographers, who are always on the hunt for "the perfect camera", I was looking for something that was full-frame format and also full of functionality.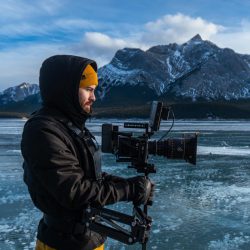 At first, I was a bit hesitant before deciding to purchase the E2-F6 as it was a smaller and lesser known company, so instinctively I figured their quality control or customer service would be hindered because it wasn't on the same level as Sony, ARRI or Canon etc.
However, I came to quickly realize that this wasn't the case at all, as I was instantly in direct email contact with the C.E.O. of Z CAM, Kinson Loo, right from day one of my purchase inquiry.
I was an early adopter and received a preorder unit, but after using this camera for over a year, it has exceeded my expectations, and its functionality is unmatched in the cinema camera world.
The amount of frame rate options, aspect ratios for anamorphic shooting, codec and lowlight capabilities are very impressive.
I shoot a wide variety of content and to me the E2-F6 is the swiss army knife of cine cams.
Editor note: As part of our conversation, we asked Kyle to talk about some of the projects that he's worked on using the Z CAM, the first of which is below.
---
Kyle Tiernan Project 1 – Tinlicker & Helsloot "Because You Move Me" Music Video
Tell us a little about this project.
I wanted to touch on this project as I think it tested the Z CAM in not only harsh environments but also the fast paced nature of this shoot.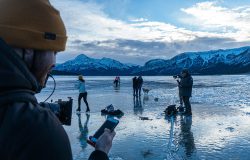 I was contacted by Toronto Director, Chris Evans, who reached out to me the day before they were flying out to Alberta to shoot this music video. They wanted to work with me on a short notice so I packed up my gear and headed out to Abraham Lake, Alberta.
What Challenges if any did you encounter?
Due to the shorter days during the winter we were hard pressed for time as we had to shoot the entire music video over the course of 1.5 days.
The wind on the day of the shoot was intense, it was very cold and we shot most of it on the open frozen lake. I operated a Steadicam system which was quite difficult to operate in the high winds and also balancing on the wind polished ice.
---
Tinlicker & Helsloot "Because You Move Me" Official Music Video – (Shot on E2-F6 with Atlas Orion Anamorphic glass)
---
How did using Z CAM gear make the shoot easier or better?
One benefit with the F6 was being able to shoot in different aspect ratios so that we could use a S35 Anamorphic lens on the full frame sensor while still getting excellent results.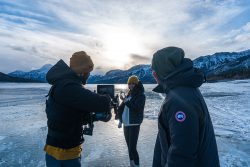 As we lost light earlier than expected, I was able to pump up the ISO on the F6 to higher levels, even up to 20000 without losing noticeable quality.
I would have been weary taking other cameras to try and get the same quality out of the low light shots I captured. The form factor of this camera has really helped for these remote shoots. Its light weight and relatively small form factor are quite ideal, I definitely could not have shot this project with an Alexa classic that's for sure.
Was there a particular shooting style or theme you trying to accomplish?
The Director wanted a high energy but also sort of melancholy feel for this video. We opted to do a lot of handheld shots to get a modern / realistic tone, accompanied by various Steadicam shots to keep the flow of the song going.
How did the shoot meet or exceed your vision expectation?
I think we are all pleased with the outcome of this spontaneous project and it has been well received so far.
---
---
What is the Z CAM (and any other) gear you have used on projects?
I own the Z CAM E2-F6, and also purchased an E2-S6 from Vistek specifically to use as a B-Cam on a feature film we shot in July of 2020.
I also own the TurboMount EF and PL Mount Adaptor lens mounts, in addition to the flagship timecode adapters for both cameras.
I personally own a few Rokinon Cine primes as well. I love the look of the 35mm XEEN for standard run and gun and corporate shoots. However I will almost always rent an Atlas anamorphic or other primes for specific projects.
---
---
What can you tell us about your ZCAM related workflows? Do you use any of the following? And if so, what are the benefits?
I shoot everything in the ProRes codec and the recent firmware update that adds ProRes to every frame rate was a huge benefit, especially in terms of editing workflow.
Before, I had to use H.265, and though it looks great, the editing workflow was drastically hindered due to modern hardware limitations of being able to process H.265 on the fly.
---
Kyle Tiernan Project 2 – Ruth B – "Situation" Official Music Video
Tell us a little about this project.
The nature of this shoot was something that was intended to be of the highest studio quality, so with the success of the Gord Downie music video that we shot 90% of in studio, I figured I would let the Z CAM shine once again.
What Challenges if any did you encounter?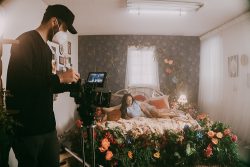 This shoot was meticulously planned with Director Annie Bercy who compiled a detailed shot list of what she expected for this shoot.
Annie wasn't able to be on set for this shoot as she resides in California, so we set up a live feed straight from the Z CAM E2-F6 to a zoom call so she could direct via the internet.
This worked surprisingly well, the latency on the wireless video feed was also quite good.
---
Ruth B – "Situation" Official Video – (Shot on Z CAM E2-F6, with Rokinon XEEN glass)
---
How did using Z CAM gear make the shoot easier or better?
For some of the shots we had to get in really close inside of a telephone booth, though we still had a full rigged up Z CAM, the form factor allowed us to get inside of the phone booth to get the shots we needed.
Was there a particular shooting style or theme you trying to accomplish?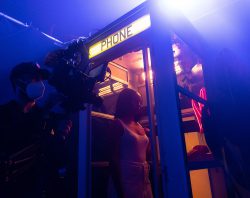 We were trying to accomplish a very modern and soft look overall for this music video. I asked for the art department to create a false window behind the bed to act as a soft hair light for Ruth to perform in front of.
The highlight roll-off of the E2-F6 allowed me to still capture detail in the blinds without blowing out the window completely, resulting in a much more realistic looking window.
How did the shoot meet or exceed your vision expectation?
This was my favourite music video to shoot, I was very pleased with the final result and the performance of the E2-F6.
---
Do you have any comments / advice / tips & tricks for exposure, using profiles or LUTs or editing colour correction?
One trick I have been using to speed up things during a shoot is the ability to have custom profiles.
With the touch of two button presses I can have custom profiles changed. I do this by setting up all of my settings in camera the way I like it, C4K, ProRes HQ, Histogram enabled, 23.976, 180 degree shutter etc, and then I save this profile in the menu. I then enable a custom profile button (f2) to load the custom profiles with the touch of a button.
This helps when you need to get a high frame rate shot quickly as it enables you to switch between different frame rates very efficiently.
Is there anything else you'd to share with aspiring Z CAM users?
For someone coming from a mirrorless background and wanting to take the next step with their filmmaking or even for the experienced cinematographer, I think there is a lot of underrated functionality and features the E2-F6 can provide.
What (if any) upcoming jobs are you looking forward to shooting with your Z CAM gear?
I am currently planning a short documentary where I will be documenting the most remote Inuit settlements in northern Canada. I plan on shooting this in summer 2021 if all goes well.
---
Image Credits: Kyle Tiernan, all images and videos used with permission.
---