Over a series of three interviews, we will be talking to three different people who have one thing in common, they are all Z CAM users. Our second interview is with Marc-André Bilodeau, a Quebec based freelance Commercial Director of Photography, Cinematographer and outdoor filmmaker.
Tell us a little about yourself.
Hi! I'm a Quebec freelance director of photography and cinematographer. I have always been an "image chaser", whether it was for memories or for personnel purpose.
I started, like many others, filming skateboarding with my friends when I was younger. A friend taught me the basics of photography in my early college days and I got more and more into landscape / northern lights photography.
Studying in Television Production in college, I learned the principles of lighting and the basics of cinematography and those 3 years of college proved to be a key element in my success.
I am now well established in Quebec City as an outdoors filmmaker and a short-film / commercial director of photography, working with a variety of clients and production houses.
Through the years, I had the privilege to work with some great equipment, from the Canon C300 series to the Sony FS series and then to the ARRI Alexa Classic, mainly as rentals. I previously owned a Sony FS5 Mark 2 with the Atomos Shogun Inferno.
---
---
So what was it that drew you towards Z CAM?
As a freelance, I always thought that owning your gear was a great added value for any clients that potentially wants to work with you. This bring me to the never ending quest : what camera will I use and why?
This is pretty much the hardest question one can answer, because there is a TON of amazing cameras nowadays. Well-established brands like Canon, Sony, Panasonic or BlackMagic are what most people will choose because of their legacy of performance and quality.
I initially was looking for the Canon C300 Mark 3 but counting everything I would need to make it "production ready", I was looking at nearly 20k$. Lots of money.
It's throughout my quest that I came across this cube-shaped Z CAM E2-F6 from the same-name company, Z CAM.
Based on what I am doing, I found this camera to be the perfect solution.
The Z CAM E2-F6 offers, full-frame, 6k max, ProRes Internal, Cube Shape (for easy rigging in any situations), ZRAW, Dual ISO, Anamorphic modes, variety of lens-mounts (all locking mounts), this camera does everything I need it to do! It's a fantastic system.
The Ability to switch from Full-frame to Super-35 modes, the anamorphic desqueeze straight IN-CAMERA, 4 customizable buttons, the Slow-Motion options, the OPEN GATE mode is insane. This camera packs a punch. All into this tiny cube body.
Editor note: As part of our conversation, we asked Marc-André to talk about some of the projects that he's worked on using the Z CAM, the first of which is below.
---
Marc-André Bilodeau Project 1 – Kayak Photography Workshop Video
Tell us a little about this project.
I chose to show this one particularly to showcase the ease of the run and gun scenarios. I used the camera from dusk to dawn, inside my 1 person kayak for days, following this adventure photographer friend of mine. It rained at times, it got some water on it but it never failed me. The ease of use and the portability of the entire system proved to be an excellent choice.
Click here to watch the Kayak Photography Workshop Teaser Video (As this is a PAID workshop, I cant give access to the full video)
The goal here was to showcase the workflow involved during those kind of adventures, as well as the true nature of the work of the adventure photographers.
Was there a particular shooting style or theme you trying to accomplish?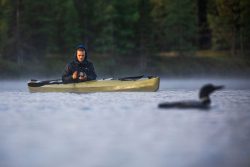 We went for a very natural look and we had to embrace the hard time of trying to stay still on the water for shooting video. Quite the mission.
What Challenges if any did you encounter?
The main challenge was the ever changing lighting conditions. To control the light, I used the Z CAM E-ND filter, so I was able to quickly dial in the correct exposure.
How did the shoot meet or exceed your vision expectation?
Using the Z CAM has exceeded my expectations for this particular shoot. I have used the Sony FS series before and I always thought they were some of the best documentary cameras out there, but the flexibility I have with the Z CAM, the small footprint, the E-ND, it made for such a pleasant shooting experience I wouldn't ever go back.
---
What is the Z CAM (and any other) gear you have used on projects?
Here you can find the list of all the ZCAM gear I own:
To come :
When it's more of a " Run and Gun " scenario:
The Tamron stabilized lenses help to get steadier footage as there is NO stabilization inside the ZCAM. A sturdy but light tripod is also helpful in those conditions where I am a solo shooter and need to be as efficient as possible.
The Wireless GO also proved itself in many situations, giving me decent quality audio in the wild.
One point to note is that the Z CAM F6 preamps are not super high quality, so I'd suggest you to test your system and see how it performs before taking it to a paid shoot.
For short-film / commercial production:
I own a lot of other smaller items but above is what I use on most of my projects.
All this gear interacts with my Z CAM system flawlessly.
If I want to use my IronGlass lenses, easy! I swap the EF mount to the Locking PL mount by simply unscrewing the 4 screws and boom, I'm ready to put my lenses on the camera without any trouble. The locking mounts have proven to be better than mount adapters because they are firmly screwed within the camera body. They are high quality and only about 99$ each, which is a steal considering the competition.
There is NO NEED for a matte box for ND'S because I have my own Electronic ND filter from Z CAM that can be swapped in either the PL or the EF mount, which is awesome. This saves some money for the rentals, and the clients love it 😉
Need an SDI? Easy, plug in the HDMI-SDI adapter and it provides your camera a SDI port. Need TimeCode? Plug in the TimeCode cable from Z CAM and sync your sound with the sound guy as easy as saying hello.
This is the versatility I needed and I'm happy to say my camera can do everything.
What can you tell us about your Z CAM related workflows? Do you use any of the following? And if so, what are the benefits?
This is a great question!
For me, ProRes in the absolute GO-TO. Manageable file size with outstanding performance and easy post-processing workflow. Most editing houses accept PRORES and it's (most of the time) way enough for mid-heavy grading. I only use ProRes.
However, Z CAM offers ZRAW, a 12bit partially delayered RAW format.
As of now, it is not implemented in DaVinci, which is a bummer, but I found a great turnaround to make it work.
Just drop the ZRAW files in Media Encoder and transcode them to ProRes4444 and boom, you keep the 12bit and you can use them in Resolve.
Why not H265? Simple, my computer hates it. I can't work with H265, as it consumes all of my computing resources.
Do you have any comments / advice / Tips & Tricks for exposure, using profiles or LUTs or editing colour correction?
First: Shoot ZLOG-2!!!!
The ZCAM has an outstanding dynamic range and the LOG curve offers tons of room for exposure and for keeping those highlights and those shadows.
Most of the time, I try to expose the skin first, and then see where I can push my image. I will always overexpose rather than underexpose. The way the Gamma Curve was designed, it leaves plenty of room for the highlight but less in the shadows. Aim for the highlights whenever possible.
Second: Go Shoot Personal Projects!
I cant say it enough : Get to know your camera!!!!
How bad looking is it to show yourself on set and get troubles because you didn't learn your camera enough? Every camera has it's learning curve, you need to test it out, figure out the menu system, know the recording formats and how framerate availability changes depending on your chosen settings…
The best way to overcome all these is to go, and shoot something that's passionate to you. Go try your camera. Bring it with you. Shoot stupid things. Just so you can take the footage home, see if you have potential mistakes in your workflow and understand what NOT to do the time you will be paid to shoot images for someone 🙂
Third: Learn False Colour!
Your eyes will trick you. They are not accurate. False Colour is factual. Use it. Understand it. Learn the correct values, play with them to push the camera's limit.
I suggest you upload your favorite LUTs to your monitor to see approximately what your outputted image will look like. I have the basic ZLOG-Rec709 LUT from Z CAM loaded into my Ninja V.
For colour correction, I always use the ZLOG colour plugin from Z CAM because it offers a great start-off for colour grading. All the sliders are helpful to get to the base image you are looking for before starting a heavier grade. For simpler projects, I find myself only using the Colour Plugin. It does a great job!
I do most of my editing in premiere and then I bring everything into Resolve because the software is just the best for colour grading.
---
Marc-André Bilodeau Project 2 – Fantome Teaser
Tell us a little about this project.
The second project I want to talk about is a small narrative for a local coffee company here in Quebec. I wanted to show the beautiful colours and footage the camera can produce as well as some slow-motion clips.
What Challenges if any did you encounter?
The main challenge were that I was a one-man team along with the director. Because the director wasn't really much of a "technical" person, I wore all the different hats, camera, lighting, sound, everything.
How did using Z CAM gear make the shoot easier or better?
In this particular scenario, one of the greatest and more underrated features of the Z CAM played a key role to the efficiency of the day, the camera's ability to stream to my phone via Wi-Fi.
With the ability to place the camera on a tripod and stream the feed directly to my phone, I was able to play around with my lights before the talent arrived and see immediately the effect of my changes on my phone.
It doesn't seem like a big deal but you DO save a lot of time there and there not having to continuously go back to your monitor to get a glimpse of the changes you made on the set.
We also rented Zeiss Super Speeds for this gig, and they only cover S35. This however, is no trouble for the E2-F6 because you can easily swap from full-frame to Super35 in the menu. How cool?
Was there a particular shooting style or theme you trying to accomplish?
For the style, again, nothing too crazy here but we wanted a clean look. We shot mostly wide-open with E-ND in full work mode. We also used a Tiffen Glimmer glass to soften things up a little bit but not as hard as a Pro Mist one would have done.
---
Is there anything else you'd to share with aspiring ZCAM users?
When May hits, it will mark my 1st full year with the ZCAM E2-F6. It has been an amazing journey and I felt that the camera has proven to be an amazing tool to help me improve my work and diversify my potential clients.
One can ask, how hard is it to own a camera that is from such an unknown brand? Will people hire you without knowing the system?
Well, I asked myself that question a lot before committing to buy. Will I be hired to shoot with my camera? Will the industry trust the name?
As of now, everyone that has tried the camera has been absolutely blown away by it. It did take that little period of "getting to know" the brand, but I am sure I will have the opportunity to shoot much higher end content with my Z CAM in the next coming months.
Now that the "Z CAM image" has made it's way to my clients head (and production houses I'm working with), I no longer have to explain me why they should trust me and the camera for the work.
I can say with assurance, don't hesitate to buy this camera if it fits your needs.
It's important to remember that cameras are only tools in the end and we should always use the best available tools for the best possible results. If I have the opportunity to rent an Alexa Mini LF for a shoot, would I ignore it and go with my Z CAM anyways? You have the answer 😉
Z CAM cameras are some of the most amazing offerings in the cinema camera world right now. The value for the money, the flexibility of the system, the full-frame/S35 modes, the Anamorphic solutions /resolutions within the system, internal PRORES, internal RAW, 6K? Open Gate? Dual ISO?… This camera has it all.
Don't be scared to learn a new system.
What (if any) upcoming jobs are you looking forward to shooting with your ZCAM gear?
As for me, the year will be an exciting one, because I will be the director of photography for 2 distinct mid-budget short films with the F6, with one of the 2 100% in nighttime, a good time to push the lowlight of the sensor and show just how amazing the DUAL-ISO of the camera is excellent at producing a gorgeous image.
The second will be shot 100% in anamorphic 2X, another good time to push the F6 limits. Crazy to say you have the perfect camera for such drastically different needs.
I am also moving north for 3 consecutive trips to shoot a documentary about the expansion of an Iron mine in Northern Quebec.
The future looks exciting and I'm excited to bring my art to life with the Z CAM ecosystem.
---
---
Image Credits: Marc-André Bilodeau, all images and videos used with permission.