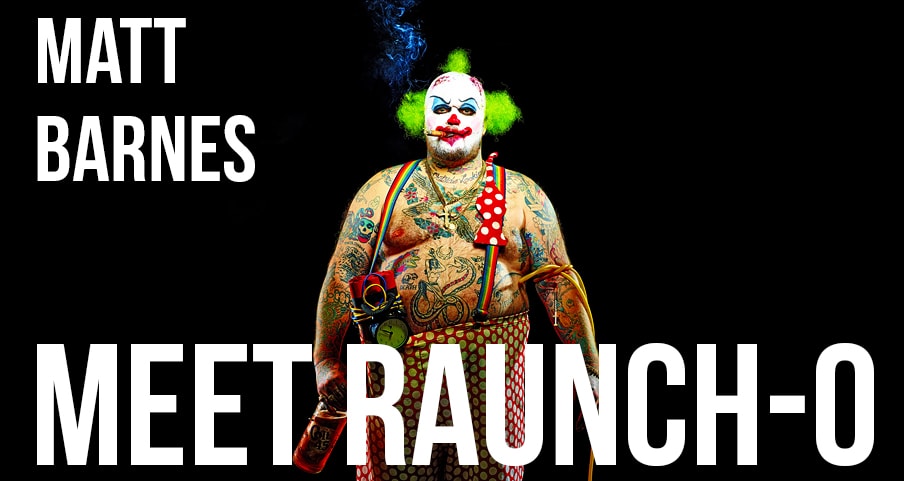 Inspired by some of his favourite blacklight 70's posters and a whole host of other influences, Matt Barnes took the time to bring Raunch-O: a post-modern Pennywise of the Violator variety into our world. And we will never be the same again.
In collaboration with VFX samurai Louise Mackintosh, Matt used the Phase One camera and IQ180 digital back to bring Raunch-O to life. Matt has created images that are "colourful and creepy in equal measure."
We had a chance to ask Matt a few questions about Raunch-O, and Matt's process in bringing his nightmarish vision to life.
What was the inspiration behind Raunch-O?
What gear really made these shots sing?
Using the IQ180 was just just amazing. The quality and the sharpness of the lens made everything so rich, The depth of the phase file really allowed me to push the colours into a super saturated palette. I'm not sure even the most high-end DSLR  would have been able to do that without losing detail. The plan was to create a 4 x 6ft metallic print of this and coat it in resin. So having the physical file size to make a monster print like that was also important to me. The final product will pretty much be life size, so I want people to walk right up to it and have the detail just pop off the page. I just used one
Profoto beauty dish
in the front and a large
Profoto strip light
on the left side for some shape. I kept the lighting simple… I hung a 12 foot black velvet about 12 feet away from him so that it would be a really clean and rich black.
Has there been any controversy thus far?
No real controversy … lol But I have a baby on the way and people keep making jokes about the print going in the baby's room…
How have your clients responded?
I don't get too much feedback really from clients about my creatives… I churn out a lot of work and put it in front of them, so hopefully stuff like this keeps me fresh and relevant in their minds. An Art Director I worked with the other day spoke to me about it. He had seen the blog and the photos. He loved them. He finds stuff like this edgy and is motivated by people who are always trying something different. Mind you, we were working on a pretty conservative project, so Rauch-o probably isn't something he would share with those clients. I guess my clients are mostly art directors and I think they react well to projects like this. I'm pretty blessed to work with people who see projects like these and take away the enthusiasm and imagination I'd hoped to convey, as opposed to the controversy. It makes collaboration that much sweeter.
To see the rest of Matt's incredible (and also kinda terrifying) shoot, visit his blog.
This is a teensy bit edgy. So… you've been warned.