Award winning photographer Karen Perlmutter, on a recent trip to Italy, embarked on a photographic mission with a twist. She was determined to capture the phenomenal beauty of central Italy, better known as the Umbria region, and specifically to capture the exquisite beauty of the ancient foundations in Spoleto.
Why travel to far-away Italy and take photos using a $69 plastic Holga camera – using nothing but film, no less?
"With this camera, I was able to achieve such effects as blurring, vignetting, light leaks and distortions," says Karen. As for using film, she claims, "With film I was able to capture the emotions of the shot – a dreamy, almost ethereal appearance, as though time has stood still."
From the evidence provided, we'd have to say, 'Mission accomplished'.
See it for yourself.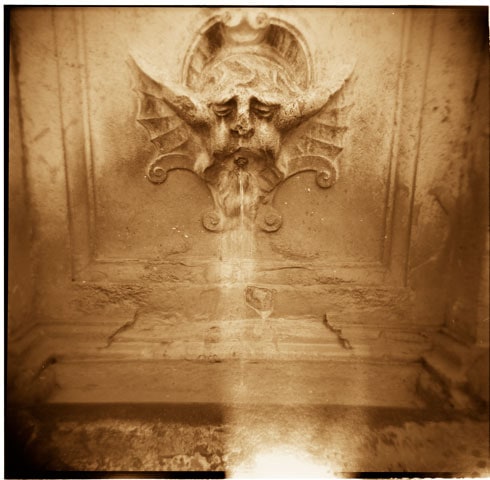 FOUNTAINS OF SPOLETO: BEAUTY OF UMBRIA
Photographs by Karen Perlmutter.
Opening reception: September 11, 2014  
The exhibit runs through October 6, 2014
Lower Gallery – Joseph D. Carrier Art Gallery Inc.
Columbus Centre 901 Lawrence Avenue West North York, ON
General Inquiries: Tel: 416-789-7011 ext.245; Fax: 416-789-3951
Gallery Hours: Mon – Fri: 10 a.m. – 5 p.m.
We had a chance to connect with Karen to find out more.
This series seems like a dramatic departure from your commercial work – what was your inspiration for the series?
This is my second Italian Series. The first series was shot in 2010 on the Amalfi Coast. It might seem like a big departure from my commercial work, but in fact this series isn't. The similarities are that each shot is composed and I wait for the right moment to take these photos. They are not random shots….there is an intention to the shooting of each image. Plus I always shoot film, both with my commercial work as well as my exhibition work.
This series was inspired by the beauty and tranquility of Umbria, specifically in the hillside town of Spoleto. I was drawn to the ancient fountains throughout the town. They are so intricate with detail. There is a mysterious quality to these fountains. I love the raw aged stone; their colours are beautiful.
Why did you choose the medium of film
I love the quality of film and the deliberate attention I have to pay to each image. I work slowly with film; I only get 12 opportunities per roll to get the shot I set out to take. I rely more on my instincts when I shoot with film, I allow myself to trust what I'm capturing at the moment. I like the anticipation of waiting for the film to be processed and proofed. Sometimes I must wait weeks to see my processed film. There is an excitement about not being able to see each shot
Were there any special challenges in using this particular medium?
My challenges were more with my choice of camera, not film. I worked entirely with a Holga plastic camera to shoot this series. There were many risks of my film being damaged by light leaks. I travelled with a roll of gaffers tape to seal the seams of the camera. This also added to the excitement of the shoot.
 Image © Karen Perlmutter – used with permission