We came across a video and were so intrigued by it, we reached out to its creators to find out how they did it.
Don't laugh. It's a puppet show. Shadow puppets, to be exact. (Remember how you used to use your hands to make shadows of birds and animals on a wall? It's like that only using actually cut-out puppets.)
The thing that fascinated us the most is that — in this age of special effects — it's neat to see artists today produce an animated show that`s purely analogue.
According to Sarah Fairlie and Erin Fleck, the puppeteers at Caterwaul Theatre, the project (for their friends in Beams) was a totally new arena for them. That is, they've never actually filmed anything before. Up until this video, they've performed their shadow puppet act in front of live audiences only.
Fortunately, a film director friend, Seth Mendelson, helped them along.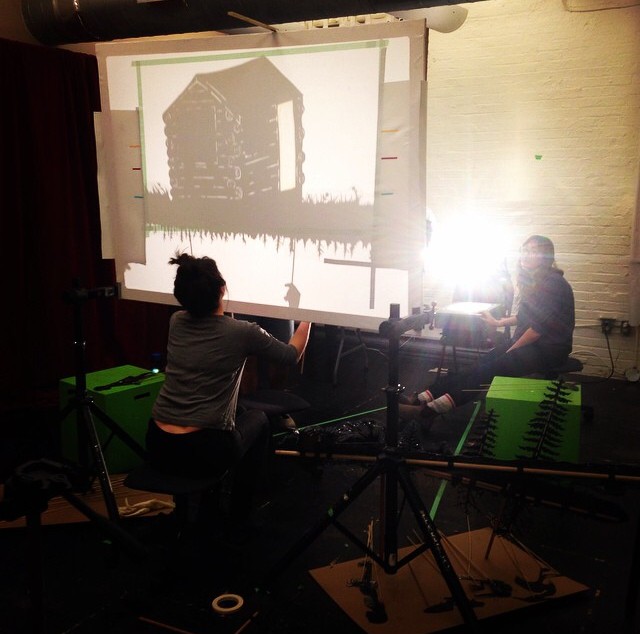 Still, they kept it simple. After rehearsing it numerous times, a total of 5 puppeteers performed the 4-minute production in one take, with no cuts, using a single camera (Canon 60D equipped with a 40mm pancake lens). All movement and changes of scenery were done by the puppeteers across the approximately 3' wide playing field of our screen.
Three puppeteers were designated to the video's 10 plus puppet characters, and two puppeteers manipulated the set.  Even with this many hands they still found it useful to slow the action down for filming and sped it up to ½ time in post-production.
Have a peek. We think you'll agree, it's pretty cool. Nice music track, too.