Starting last Thursday, Toronto's photographic community finally got a chance to meet Greg Gorman. Nearly 300 people packed into U of T's Hart House to hear Greg speak, while 15 lucky people got to learn from the master, in Greg's 3-day weekend seminar.
In case you haven't been following our coverage of this event, please read our exclusive interview. Gorman brought anecdotes and advice from his storied career to share with enthusiastic crowds, including students, pro photographers and enthusiasts.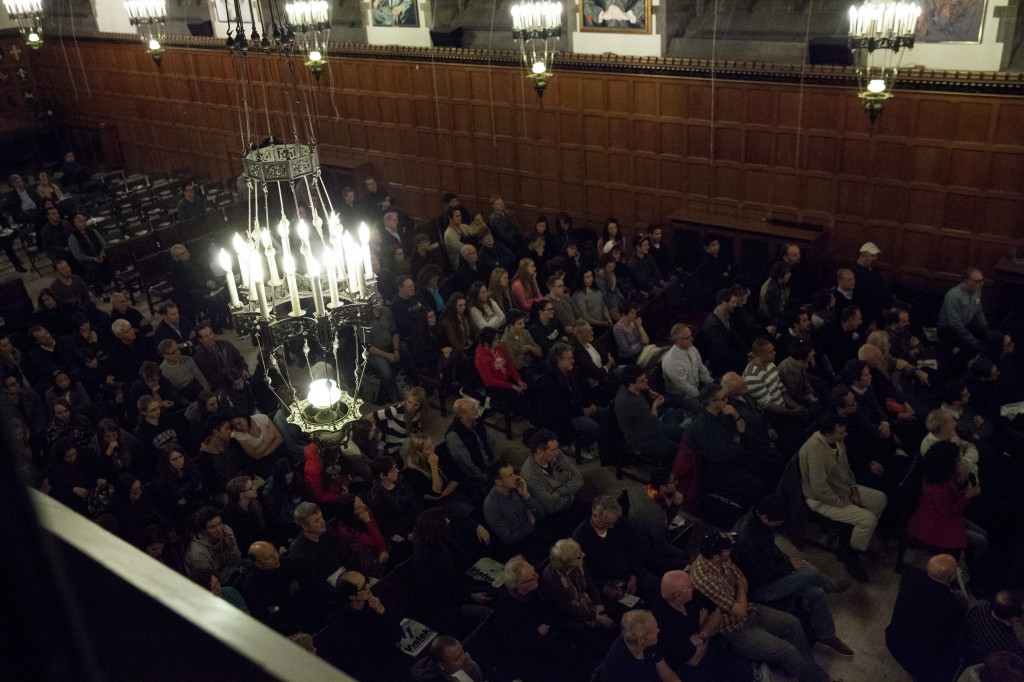 At the lecture, Gorman discussed the beginnings of his career, including his eduction, learning on the job, and decisions that would affect his later career.
On the Early Days:
When I moved out to California, I decided to take some advice and not persue still photography because I was way too much of a control freak. I went to film school at USC. We had a class called "Thursday Night at the Movies". When I finished film school, I decided to go back into still photography because it turned out I was still too much of a control freak to go into the movie business on that end of it..
On lighting:
When I got out of school, I started working with lighting. I lit with the lights I was familiar with. I couldn't afford strobes in those days, so I was lighting with 1K quartz and 2K softboxes. I'd just kind of place them right over the centre of the camera. All of the pictures looked the same, like postage stamps. It really wasn't until I took the lights off the centre point of the camera that I started to really develop my style.
On Shooting Michael Jackson:
Michael Jackson was amazing to photograph, I mean you asked me earlier if he was difficult – not at all. He was great. He always had these great ideas. This one, he called me and he said 'you know, Greg: I have pet tarantulas, and they've just shed their skin.' And the skin looks exactly like a tarantula, so he brought over a couple of the skins. We actually just gaffers taped this to his head.
On Shooting Robert Di Nero:
He came to my 50th birthday party. I had about 600 people at my studio, and my studio manager said 'I think Robert Di Niro is in your kitchen.' I said 'he probably is.' Bob was not the most social person. Amongst his friends he's pretty good, but it's just like actors: What you see is often an alter ego of the real person. he gave me this little shrug when I asked him if he wanted to join me on the roof. It took me like, ten minutes just to get him on the roof, because there were so many people there. Later I saw him in New York when he was filming The Score. He asked me if I'd had any good parties lately
On Andy Warhol:
There was a little eyeglass company in LA called LA eyeworks. Long before celebrity testimonials became a big deal, before celebrities realized the value of their endorsements, I got basically everyone and their sons to be in these ads for a song and a dance. Andy's magazine, Interview Magazine, was where these ads ran every month, so every celebrity who maybe wasn't cool or hip enough wanted to be in these ads, because that was a way to get into the magazine.  The Art Director let me do whatever I wanted in these ads. I would even choose the images. Ironically, Andy called me when he signed with Ford Model Management to become a model, and asked me if he could be in one of the ads. I say ironically, because him appearing in an ad ended up being one of my most well-known images.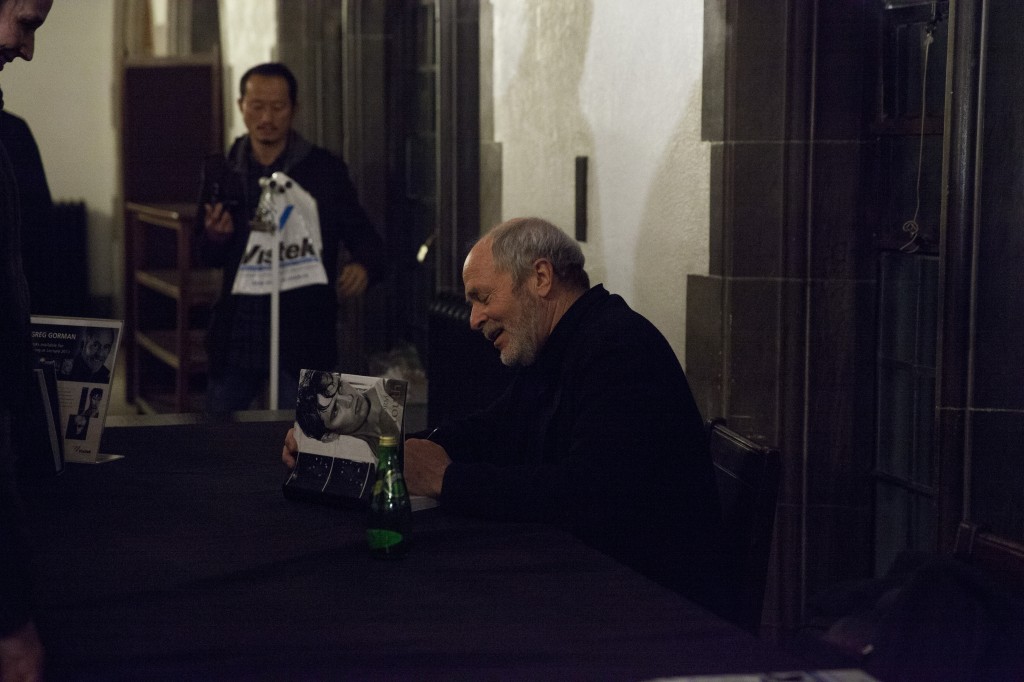 Gorman ended his lecture with an extensive Q&A period. Among the highlights of that was an audience member who cheekily asked Gorman if he would take his picture with a camera he'd brought, so he could have his very own Greg Gorman portrait. After the Q&A, Gorman took the time to meet with the enthusiastic crowd – chatting, answering questions and signing copies of his books Framed and In Their Youth. All in all, it was a tremendous experience for people of all walks to hear about the incredibly rich career of a legend in our industry.
The Seminar:
Over the weekend, Greg led 15 people through the opportunity of a lifetime. Students got to work with Greg in a hands-on environment at Silverline Studios for 3 jam-packed days. Greg shared his shooting, lighting and post techniques in an incredibly detailed, organized manner, took attendees  through a process that would boost their portfolio to new heights, and show them new ideas that would help elevate them to new heights in our industry. While pictures of the seminar were plentiful, images of Greg's 3-day seminar are a little bit less… family friendly. Known for his dazzling nudes, that was Greg's focus over the weekend. We managed to chat with some of the attendees of the seminar, and they gave us a wonderfully insightful overview of their experience.
Pam Julian of Pamela Julian Photography writes:
I found the workshop to be a fantastic experience. As someone who has primarily been a street photographer with very little experience in shooting portraits and absolutely no studio experience, I was, to say the least, a little intimated coming into the workshop. But Greg was so lovely and the people from Vistek were fantastic. Everyone was more than willing to help and go that extra step to help all of us get great pictures. I was impressed by how patient Greg was and how he took the time to answer our questions and give each of us advice. He seemed to be everywhere and was always checking to make sure that all was going well in each studio. The models were professional and worked hard to help us achieve our visions and the make up artist did an incredible job making them look gorgeous. While I absolutely loved learning from a pro like Greg and the wonderful Vistek team, I also enjoyed meeting and working with the other photographers. I learned so much from everyone and was both inspired and impressed by the work I saw. The workshop was a great place to not only learn, but make valuable connections. Definitely want to do another one!
And Katya Shkolnik wrote:
The seminar by Greg Gorman was absolutely excellent. Being one of the greatest modern photographers, Greg possesses a rare talent to teach and inspire. He brought well-structured information, shared his experience and gave us a professional boost. What's more, he gave me the energy I need to take me through my future creative work.

It was an incredibly well-organized workshop — the choice of studio space and technical support of the Vistek team greatly made for a smooth, successful weekend.

Actually, the professionalism of the technical support team must be called out here. The guys made it possible for us to work within a tight schedule. The program could not have run more smoothly.
We'd like to thank everyone who made this weekend possible. Particularly, we'd like to thank Greg for his enthusiasm, patience and for helping us put on an event everyone will remember.
Additional thanks must be made to
Epson Canada
, who graciously provided us with printers and paper to bring the weekend's creations to life. We hope you were able to attend one (or both) of these incredible events. We are so excited to have been part of this one, but please stay tuned for new announcements of future events. Canada has an incredibly rich photographic community. We're very proud to be part of it.