The Light Storm 300x is the latest point-source LED from Aputure and is also the first bi-colour Bowens mount light fixture to be compatible with optical lens modifiers.
The First of Its Kind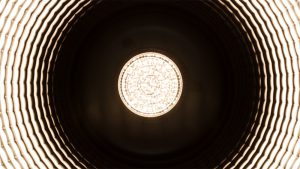 The 300x is Aputure's latest flagship Light Storm LED fixture, integrating properly mixed variable-white lighting into an easily modifiable point-source light engine.
Utilizing a specially designed colour-blending optical element in front of its LED light source, it combines the bi-colour chipset into one cohesive point-source.
Enhanced Output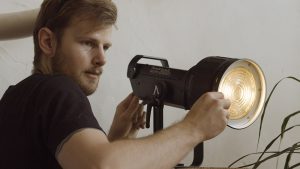 When used with the Fresnel 2X, the LS 300x is capable of producing over 56,000 lux at 1 meter, creating a stunningly bright light.
Bi-Colour Range
The 300x is the first of many Aputure lights that utilizes the expanded vari-white CCT range of 2700K-6500K, going beyond traditional bi-colour to produce light that is both warmer than typical tungsten fixtures, and cooler than conventional daylight (D55).
Colour Rendering
The 300x boasts CRI and TLCI scores of 96+, a tungsten SSI score of up to 85, and a D55 SSI score of up to 74.
Robust Design
The 300x incorporate the same sleek lamp head and control box design of the 300d II featuring a full 360-degree adjustable handbrake locking yoke and a completely silent, passively-cooled all-in-one control box, that integrates the power supply and control system into a single unit.
CCT Control
The 300x features a new CCT control wheel, in addition to the intensity wheel which allows you to fine-tune your CCT in +/- 50K increments.
Pressing the PRESET button located in the middle of the wheel, allows you to toggle between 5 common CCT presets (2700K, 3200K, 4300K, 5500K, 6500K) for quick accessibility.
Dual Output Modes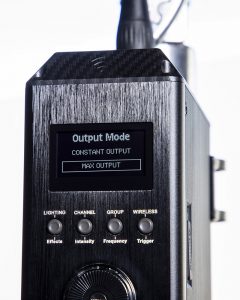 The 300x features two output modes: Max Output and Constant Output mode.
In Constant Output mode, the CCT can be precisely changed while maintaining a consistent luminance level and a new, smoother dimming system, allows you to seamlessly shift your colour temperature in the middle of a scene.
In Max Output mode, the 300x will always maximize your output for your CCT and dimming level, with the highest output range being 4000K-5500K.
Creative Power Solutions
The 300x can be operated with a single battery (that supports 15A continuous discharge) providing up to half of its maximum output, or two batteries for full power. The control box also displays real time expected remaining battery life, so you'll always know how much juice you have left.
Multiple Control Methods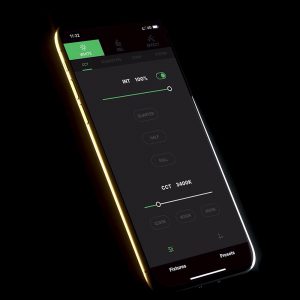 In addition to the control wheels, the 300x can be controlled using Aputure's 2.4G RF Remote, DMX512, or the Bluetooth Mesh Sidus Link App which allows you  to control all of your lights' settings from nearly anywhere on set.
Built-in Effects
The 300x features 9 built-in adjustable colour temperature lighting FX, including: "Paparazzi," "Fireworks," "Lightning," "Faulty Bulb," "TV," "Pulsing," "Strobe," "Explosion," and "Fire".
Bowens Mount Compatibility
As with other Aputure lights, the 300x is compatible with Bowens-S Mount modifiers meaning you can change the quality of your light source in seconds. It can also be used with other industry-standard modifiers from brands like Chimera, as long as they have a Bowens mount speed ring.
The Sidus Link Ecosystem
With the integration of the Sidus Mesh chipset, the Light Storm 300x allows you to control up to 100 fixtures from your smartphone or tablet through the app, and because it's a mesh network, the overall range is extended with each additional light fixture added to the mix.
The Light Storm 300x is Aputure's latest point-source LED and is the first bi-colour Bowens mount light fixture to be compatible with optical lens modifiers. By combining the latest optical colour blending technology with Aputure's dual-colour LED chipset, the LS 300x can utilize the Fresnel 2X and Spotlight Mount to give you unprecedented flexibility from a single fixture. With a simple turn of a dial or press of a button, you can adjust the fixture's white light CCT output between 2700K-6500K in just seconds. And utilizing the same robust lamp head and control box design as the 300d II, this light is built to handle any filmmaking challenge.
Main Features
2700-6500K Tunable White Point
Bowens-S Mount
Compatible with Lensed Optical Modifiers (e.g., Fresnel 2X, Spotlight)
Up to 56,000+ lux with the Fresnel 2X
CRI & TLCI scores of 95+
SSI Scores Higher Than The Industry Standard. Tungsten SSI: 85; D55 SSI: 74
Smooth 0%-100% Dimming Control
Preset Button to Toggle Between Common CCT Presets (2700K, 3200K, 4300K, 5500K, 6500K)
4 Dimming Curves: Linear, Exponential, Logarithmic, & S-Curve
All-in-One Silent Control Box
Neutrik-Locking Connector
Single Battery (50%) or Dual Battery (100%) Operation
Firmware Upgradeable
9 Built-in FX w/ CCT Control: Paparazzi, Strobe, Lightning, Faulty Bulb, TV, Pulsing, Fireworks, Explosion, & Fire
Handbrake Locking Yoke with 360° Rotation
55° Hyper Reflector for Increased Output
Quick Release "Lightning Clamp" Included
Durable Carrying Case Supports up to 100kg
User Presets available via App Control
DMX512 Compatible
Sidus Mesh Technology
Compatible with Sidus Link App & 2.4Ghz Remote