Aputure has shed some more light on the new Light Storm 600d, originally announced at IBC last september, as well as the new Nova P300c RGBWW panel light. Also included in the announcement was information about the new F10 Bowens Mount Glass Fresnel Lens modifier.
Light Storm 600d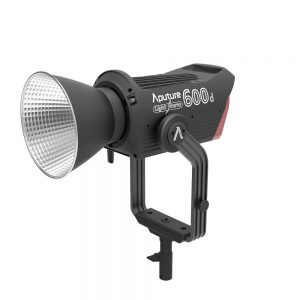 Hailed as their most powerful light yet, the LS600d doubles the power of the LS 300d, offering a massive 600W COB (Chip-On-Board) LED output, making it one of the brightest (approaching the brightness of more traditional 1200W Hydrargyrum Medium-Arc Iodide (HMI) lights) point source LEDs on the market.
The remarkable thing is that it outputs this level of light using a only a 720W max power draw meaning that you can theoretically run more than one light from a single household circuit.
For portability, the 600d can also be powered via four (or two only yielding half power) V and Gold Mount cinema batteries and thanks to its dual voltage battery plates you can use 14.4V, 26V and 28.8V variants.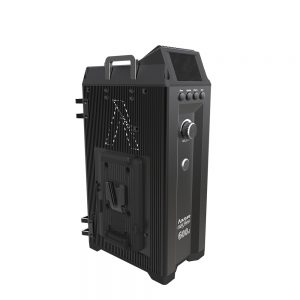 The control box also accepts 48V DC power via 3-pin XLR allowing it to be powered from external battery power stations.
Both the light head and control box are fully weatherproof to a IP54 standard, meaning that it's as much at home outdoors in less than ideal weather as it is in the studio.
The 600d features fully integrated wireless DMX support and utilizes Sidus.link wireless control platform, allowing users to control multiple lights using an app.
Finally, the 600d uses a built-in Bowens mounting system giving it a lot of versatility for mounting modifiers.
Light Storm P600d Top Features
Up to 200,000+ lux @ 1 Meter with the F10 Fresnel
Comparable to a 1200W HMI
IP54 Weatherproof (Dust and Water Resistant)
Built-in Wireless Control: 2.4G Remote, Bluetooth App, Wireless DMX
Can Achieve Half Output with 2x 14.4V 15A Batteries
Multi-Voltage Battery Plates (14.4V / 26V / 28.8V)
Can Charge V & Gold Mount Batteries (14.4V / 26V / 28.8V)
Supports 48V DC Input Power, including Battery Power Stations and Block Batteries (3-Pin XLR)
(Requires 15A)
---
Aputure 600d and Nova P300c Panel Updates – Via Newsshooter YouTube
---
Nova P300c Panel Light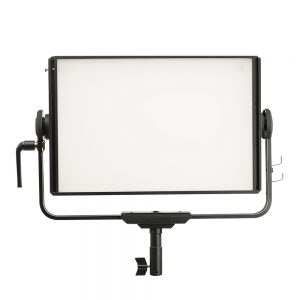 The Aputure Nova P300c is a RGBWW panel light with an output that Aputure says is comparable (in certain instances) to the ARRI Skypanel S30.
Because it's an RGBWW light, (red, green, blue and two whites – both daylight and tungsten hence the WW at the end-), it can simulate various filter effects and colour gels, including colour correction up to 10,000K with green/magenta shift. It also offers special effects, such as flashing police lights, party lights and TV static.
The Nova P300c can be plugged into a continuous power source such as a wall plug, or powered by two 90Wh V-Lock batteries which Aputure says should provide around 1 hour 45 minutes of runtime.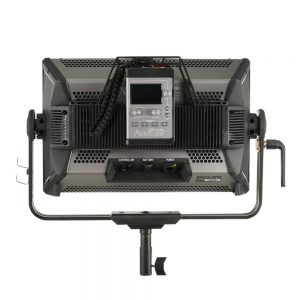 Nova P300C Key Features
300W RGBWW LED Soft Light Panel – Up to 9000lux at 1 meter
CRI & TLCI >95+
Soft 120° Beam Angle
Fully Tunable CCT from 2000K to 10000K
Tunable Green-Magenta Adjustment in CCT Mode (Full Plus/Minus Green)
RGB Colour Tunability with Hue, Saturation & Intensity Control
Industry-standard X,Y (CIE 1931): Colour Coordinate Adjustment to Match Other Lights
90% of Colours Within Rec.2020 Colour Space
300+ Industry-Standard Gel Presets Built-in
15 Built-in Lighting FX: Cop Car, Lightning, Paparazzi, Candle, Fire, etc.
User-Programmable Presets
Stepless Dimming from 0 to 100 % with no colour shift
User Programmable Presets
Sidus Link App Compatible (Sidus Mesh TM )
Onboard 5-Pin DMX512 In & Out
Extendable Control Box w/ Lightning Clamp QR Plate
0.6m & 3m-long Head Cables for Flexibility & Organization
4-Pin XLR DC 24V(15A)-48V(7.5A) Battery Input – Built-in Internal Ballast
Neutrik powerCON Locking Power Cables
Dual Junior/Baby Pin (28mm/16mm) for Mounting on Any Stand
Handbrake-locking Yoke with 360° Tilt
Aputure F10 Fresnel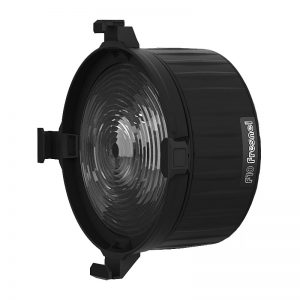 The Bowens Mount F10 Fresnel is a true glass fresnel lens modifier, made to match the size of traditional 10 inch Fresnel lights featuring a 250mm diameter lens made of real glass.
Designed with advice from professional gaffers and cinematographers, Aputure says that the F10 Fresnel is currently the largest professional Bowens Mount Fresnel lens on the market.
The F10 uses Aputure's dual-lens optical design, utilizing a condenser lens to refocus the light from a flat chip COB LED to further enhancing the fixture's illuminance.
Aputure says that when the F10 is combined with the Aputure LS 600d it can output over 200,000lux at 1 meter.
It features a variable 15°-45° beam angle and uses Aputure's seamless adjustable focus design previously found on the Fresnel 2X.
The F10's unique ventilation design also allows for better airflow to prevent the COB from overheating while keeping light leaks to a minimum.
The F10 is compatible with Aputure's F10 barn doors (sold separately) providing large adjustable leaves to properly cut light from the large Fresnel.
F10 Fresnel Top Features
Up to 200,000+ lux @ 1 Meter with the Aputure LS 600d
15°-45° Variable Beam Angle
10" Glass Fresnel Lens
Dual Lens Optical Design
Compatible with F10 Barn Doors
Seamless Focus Adjustment
Minimizes Light Leaks