The Aputure MC features full HSI colour control, a CCT range of 3200K-6500K, USB-C PD and Qi wireless charging, built-in Sidus Mesh Technology and more!
With it's credit-card-sized footprint and built-in magnets, the Aputure MC offers a range of flexibility not found with other mini RGB lights allowing it to be used almost anywhere you might need it.
Wireless Charging
The MC also features USB-C PD and Qi wireless charging, so it's always ready to go.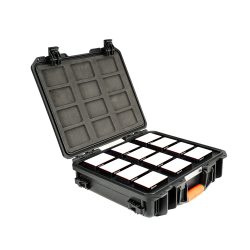 The kit's hard shell case will also charge the MC lights using integrated charging pods. All you need to do is place the light onto one of the magnetic charging pads in the case, turn the case power on and you are good to go!
You can also charge your mobile phone or other Qi wireless charging enabled device in the same manner. There are also three USB 5V/2A ports that you can plug the MC's or any other mini lights into for even faster charging.
Lastly, in addition to it's integrated AC power supply, you can also power the MC 12-Light Kit via high output D-Tap batteries using the included D-Tap to D-Tap power cable.
Sidus Mesh Technology
As with all of the latest Aputure lights, the MC 12 Kit features built-in Sidus Mesh technology, meaning you can use the Sidus Link app to control and unlock all of the light's capabilities.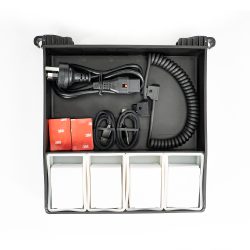 It also means that the MC 12 Kit can take advantage of the Sidus Pro FX suite, including Picker FX, Manual FX, and Magic Program.
Hard Shell Case
The MC 12-Light Kit stores it's cables and accessories in the built-in drawer located on the side of the case.
It's a handy feature as it ensures you always have everything you need on hand, including the AC and D-Tap power cables, USB Type-C Charging Cables, four sets of diffusers, cold shoe ball heads, and adhesive mounting pads.
---
The MC is Aputure's first light to include full Hue, Saturation, & Intensity (HSI) colour control. With 360° of hue and 100 levels of saturation adjustment, you have the power to conveniently reproduce any colour, all in the palm of your hand.