Nanlite has added two new lights to their Forza series, The Forza 60B Bi-Color LED Spot and the Forza 200 LED Monolight.
Nanlite Forza 60B
The Nanlite Forza 60B is the first bi-colour light in the Forza series offering a wider 2700-6500K colour range than found on the other lights in this series allowing users to quickly match natural ambient or artificial lighting situations.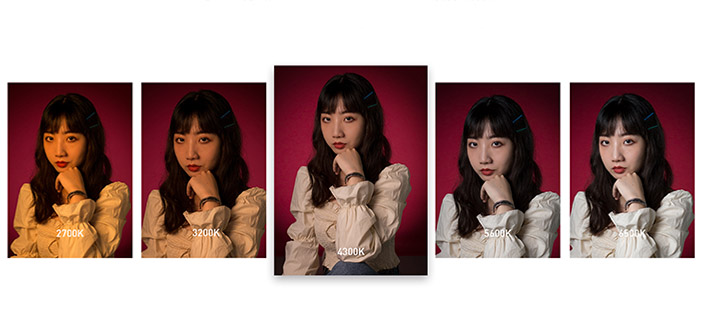 The palm-sized body includes a precision designed reflector and is capable of emitting an impressive 13830 Lux at 1 metre 5600K (up to 33530 Lux at 1 metre with the optional Fresnel lens) and features CRI of Average 96 and TLCI of Average 98, to ensure consistent professional colour rendition.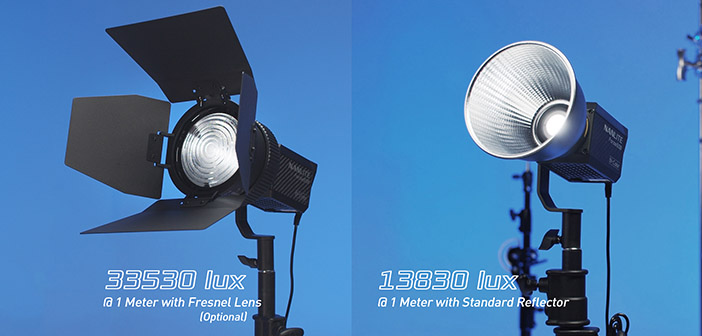 The Forza 60B can simulate 12 different practical lighting effects including, CCT Loop, INT Loop, Flash, Pulse, Storm, TV, Paparazzi, Candle/Fire, Bad Bulb, Firework, Explosion and Welding.
The mini mount allows you to use all Forza 60 modifiers and the optional Bowens adapter (sold separately) allows you to attach most standard Bowens modifiers if you so wish.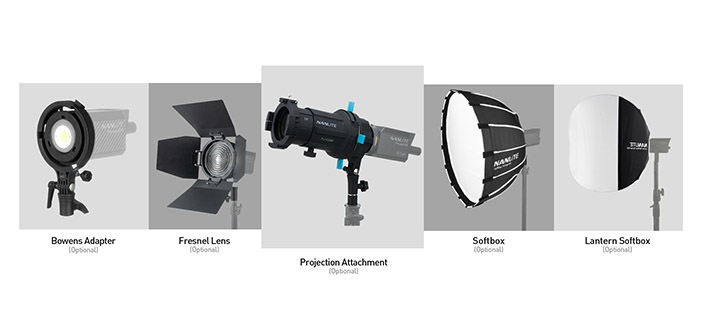 The Forza 60B can run with either the included AC adapter ,NPF batteries or a V-mount battery using battery grip (sold separately) or D-tap cable (sold separately) allowing you to operate the fixture in any location regardless of power availability.
The quiet (20db audible output at full power) controllable fan, provides up to 60,000 hours of operation and can also be turned off to achieve complete silence in situations that require it.
Other Features
USB port for firmware updates
Wirelessly controlled via 2.4G controllers
Weighing only 1.8 lbs and about the size of a DSLR, the Forza 60B features output up to 5560 Lumens (13830 Lux @ 1 meter 5600K),CRI/TLCI of 98/95, 0-100% dimming, variable colour temperature from 2700K to 6500K, 12 pre programmed special effects, and a quick change Modifier mount.
Nanlite Forza 200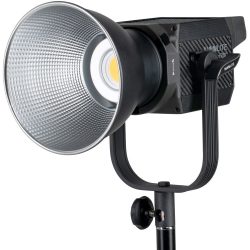 The Nanlite Forza 200 is a monolight style LED light fixture that weighs only 8.5 lbs that uses a COB LED module and reflector to emit 37540 Lux of 5600K daylight-balanced light at 1 meter and a high CRI/TLCI of 98/97 for accurate colour rendition.
The 200 also features a DMX connection, 11 preprogrammed special effects including, INT Loop, Flash, Pulse, Storm, TV, Paparazzi, Candle/Fire, Bad Bulb, Firework, Explosion, and Welding and a native Bowens style modifier mount.
Like the 60B, the Forza 200 is designed to be used just about anywhere running off either the included AC adapter or a 26V V-Mount battery (Not Included). Alternatively, it can also run off a 14.8V V-Mount with a reduced 120w output.
A monolight style LED light fixture engineered to give maximum output out of a minimal footprint.