The Nanlux Evoke 1200 is a portable, IP54 rated, high-power draw, 1200W LED fixture that can be used with a wide variety of light modifiers including, Fresnels, reflectors and softboxes.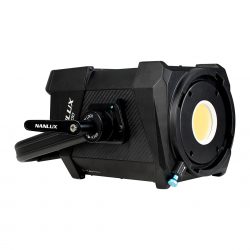 The Evoke 1200 is available in both 5600K and Tungsten 3200K versions, and features an innovative, interchangeable optic system allowing it to be easily configured, to suit almost any lighting need.
A powerful COB (Chip-On-Board) LED bulb is at the heart of the system, delivering controllable, flicker-free light, comparable to that found on 1.8kW PAR or 2.5kW HMI Fresnels.
The mounting system features a large aperture and sturdy fixings, allowing users to quickly switch between optics, to sculpt, shape and modify the output with without compromising beam quality, colour or intensity.
The Evoke is fully dimmable from 0-100% in intervals of just 0.1%, and features a selection of onboard creative effects including INT loop, flash, pulse, storm, TV, paparazzi, candle/fire, bad bulb, firework, explosion and welding.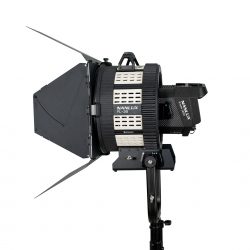 User settings and custom looks can be locked or stored for later use and the intuitive user interface features an easy-read 2.8 inch display.
Featuring a robust construction that incorporates a sturdy, fast-fixing yoke with full pan and tilt and 360° rotation and an IP54 rating, the Evoke 1200 will feel at home in just about any environment.
The Evoke 1200 also supports both wired and wireless operation via Nanlink APP, DMX/RDM, Bluetooth and Lumenradio TimoTwo.
Dual power and battery options further extend the flexibility of the system.
A groundbreaking 1.2kW LED spotlight which blends unprecedented levels of crisp, bright LED illumination with multiple configuration options. The Evoke 1200 is a revolutionary new 1.2kW LED fixture, which breaks free from the boundaries of traditional light sources. Powerful, reliable and incredibly flexible, the Evoke out-performs almost any comparable luminaire.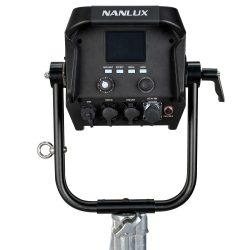 Nanlux Evoke 1200 – Key Features:
Choice of models: 5600K or 3200K
IP54 rated
Fresnel, Reflector, Softbox, Lantern options
Powerful output, comparable to that of an 1.8kW PAR or 2.5kW HMI Fresnel
Intuitive user interface with clear 2.8inch display
Fast set up
Flicker free
Fully dimmable from 0-100% in ultra-precise intervals of just 0.1%
Intelligent design
Selection of customizable pre-set effects
Wireless and DMX connectivity
Range of compatible accessories
Estimated Release Date: Aug 01, 2021 This exciting new product is being released in limited quantity. Orders will be filled on a first-come, first-served basis. A credit card authorization will be processed upon placing your order. We will only charge your credit card at time of shipment.