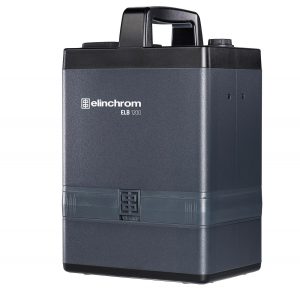 It's no coincidence that Elinchrom has come through with what many are calling the "premier adventure light!"
A revolution in portability and weather resistance, the Elinchrom ELB 1200 power pack makes an ideal partner for every photographer.
Light in weight yet heavy-duty in performance, the ELB 1200 is built to deliver: faster recycling with more flashes per battery, a larger power range with shorter flash durations, and better control of colour.
Its robust practical design with large OLED display makes the control of its many functions simple and intuitive.
The integrated wireless Skyport system provides seamless sync between lighting and camera.
In addition, the Elinchrom ELB 1200 is available with three new ELB 1200 heads – Pro, Hi-Sync, and Action. Each head features a robust lightweight aluminum housing and tilt head, the option to use 7 mm and 8 mm umbrellas, and a powerful 92 CRI LED for both still and video use with full-sized Elinchrom accessories.

WHY ELB 1200?
Fast recycling times (1.7s in FAST mode, 3s in DEFAULT mode)
Head with 92 CRI daylight LED equivalent to 250w Halogen.
Heavy duty compact head 22.5 x 14 x 23 cm weighing 2.2 kg with silent video mode.
The most compact pack 18 x 13 x 28 cm including battery.
Weight 4.3 kg including battery
Li-Ion Battery Air; 215 full power flashes, weight 1.1 kg (included)
Li-Ion Battery HD; 400 full power flashes, weight 1.5 kg (optional)
Both batteries include a 5v USB power output max. 1A
Weather resistant design
Features Creative Suite, with strobo, sequence and delayed flash options
Next generation Skyport offering more range, channels and control
USB for firmware updates
WHICH ELB 1200 HEAD?

ELB 1200 Pro – Although offering a slower flash duration than the Action head, this is a great all-rounder for general use
ELB 1200 Hi-Sync – Freeze action and control ambient light at up to 1/8000s with the EL-Skyport Transmitter HS.
ELB 1200 Action – Freeze motion with very short flash durations at normal shutter Speeds (Please note that the ELB 1200 Action will not be sold as a kit but sold Head only)
---
The Premier Adventure Light For Photographers.
With a weight of only 4.3 kg, the Elinchrom ELB 1200 is a remarkably powerful, robust and portable battery pack designed to take photographers to new heights!
---
Elinchrom ELB 1200 TO GO SETS
ELB 1200 Pro To Go
This Pro set is the versatile option, featuring an excellent flash duration for sharp images. Even the carrying bag is designed with the photographer in mind, made out of durable nylon and YKK zippers.
1x ELB 1200 – Supplied with Li-Ion battery, charger, sync cord
1x ELB 1200 Pro Head – Supplied with 4 m flash cable and protective cap
1x Reflector 16 cm / 90°
1x Snappy carrying option with shoulder strap
1x Skyport Transmitter Plus
1x ProTec Location bag
ELB 1200 Hi-Sync To Go
The Hi-Sync set – with optional Skyport transmitter Plus HS – is optimized to freeze motion, overpower the sun, darken backgrounds and use wider apertures with higher shutter speeds.
1x ELB 1200 – Supplied with Li-Ion Battery, charger, sync cord
1x ELB 1200 Hi-Sync Head – Supplied with 4m flash cable and protective cap
1x Reflector 16 cm / 90°
1x Snappy carrying option with shoulder strap
1x ProTec Location bag
Elinchrom ELB 1200 To Roll Kits – Get the complete lighting kit
ELB 1200 Pro To Roll
1x ELB 1200 -Supplied with Li-Ion battery, charger, sync cord
1x ELB 1200 Pro Head – Supplied with 4 m flash cable and protective cap
1x Grid Reflector 18 cm / 70° with 30° Grid
1x Snappy carrying option with shoulder strap
1x Umbrella shallow white/translucent 85 cm
1x Skyport Transmitter Plus
1x ProTec Rolling case
ELB 1200 Hi-Sync To Roll
1x ELB 1200 – Supplied with Li-Ion battery, charger, sync cord
1x ELB 1200 Hi-Sync Head – Supplied with 4 m flash cable and protective cap
1x Grid Reflector 18 cm / 70° with 30° Grid
1x Snappy carrying option with shoulder strap
1x Umbrella shallow white/translucent 85 cm
1x ProTec Rolling case
---