Litra has a track record of creating some extremely popular lights (LitraTorch & LitraPro LED) and it looks like they are going to have another winner with their first RGBWW LED light, the upcoming LitraStudio.
Build Quality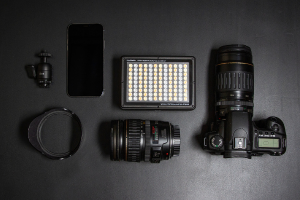 As with all of their lights, the LitraStudio is a small, rugged, portable light that while quite a bit larger than their previous lights, can still quite comfortably fit into your backpack, messenger bag or kit bag.
The LitraStudio's rugged, 810g MIL Spec aluminum body protects against the inevitable drops and bumps that most on set equipment faces and it's also waterproof up to 10m (30ft).
Power is supplied by a 9,000 mAh rechargeable, fast swappable lithium ion battery offering up to 20hrs on low and up to 1hr when running at 2,400 lumens.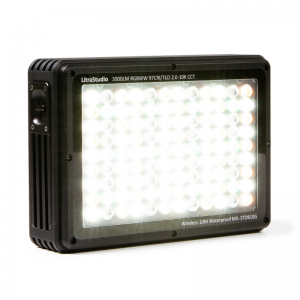 Quality of Light
The LitraStudio features a 2,400 Lumen constant output, but also offers a 3,000 Lumen "Overdrive" mode and a 6,000 Lumen "Flash" mode, making it as appealing to photographers as it will be to filmmakers.
Light is delivered in an even pattern with no centre hotspot or harsh edges and is flicker free at all shutter speeds or "angles" in cinematography terms.
---
Controls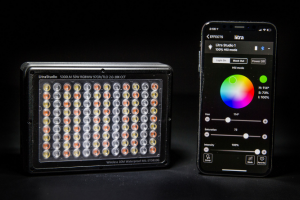 Settings can be controls using the OLED display on the rear of the light or via the bluetooth connected app on a smartphone.
CCT, HSI, RGBWW, Gel Presets, Effects and Flash mode colour settings are fully tunable in real time with CCT mode providing 2,000 – 10,000K adjustable bi-colour lighting with green and magenta shift control.
Accessories
There are a host of accessories for the LitraStudio further expanding its versatility, including a custom built soft-box, barn doors and honeycomb grids. You can also use more traditional light modifiers to help soften and shape the light even further.
---
Click the link below for Canadian pricing and availability via Vistek Canada
LitraStudio is the world's most powerful and portable RGBWW light for photo and video. This light pushes the boundaries of studio lighting when it comes to size, durability, and versatility, delivering fully tunable lighting that can be used in any imaginable location on the planet. Compact enough to fit in a small camera bag and capable of producing up to 3,000 Lumen of continuous light, there is simply no other fixture on the market that delivers this much power per inch and per ounce.
---
LitraStudio Key Features
Dimensions: 139.7mm x 99.06mm x 50.8mm (5.5″ x 3.9″ x 2″)
Weight – 950g (33.5 oz)
Color Accuracy: 97 CRI/TLCI
Brightness: 2,400 Lumen (constant) / 3,000 Lumen (overdrive) / 6,000 Lumen (flash)
Color Temperature: 2,000 – 10,000 K with adjustable Green / Magenta in CCT mode
Modes: CCT, HSI, RGBWW, Gel, and Effects Modes
Control & Connectivity: built-in OLED display, Bluetooth app compatible, and DMX control with adapter
Build: precision crafted aluminum body, waterproof up to 10M/30FT, and 810G MIL SPEC
Battery life: 20hrs on low, 1hr at 2,400 Lumen
Battery type: 9,000 mAh rechargeable, fast swappable lithium ion battery
Charger type: 45W Quick Charge adaptor with USB PD2 Type C cable