---
The new Profoto B10 battery-powered strobe is relatively tiny compared to other similar portable lighting systems.
How tiny you ask?
Well, according to Profoto, it's only slightly larger than a medium sized zoom lens, which means you'll be easily able to throw it into your kit bag and take just about anywhere.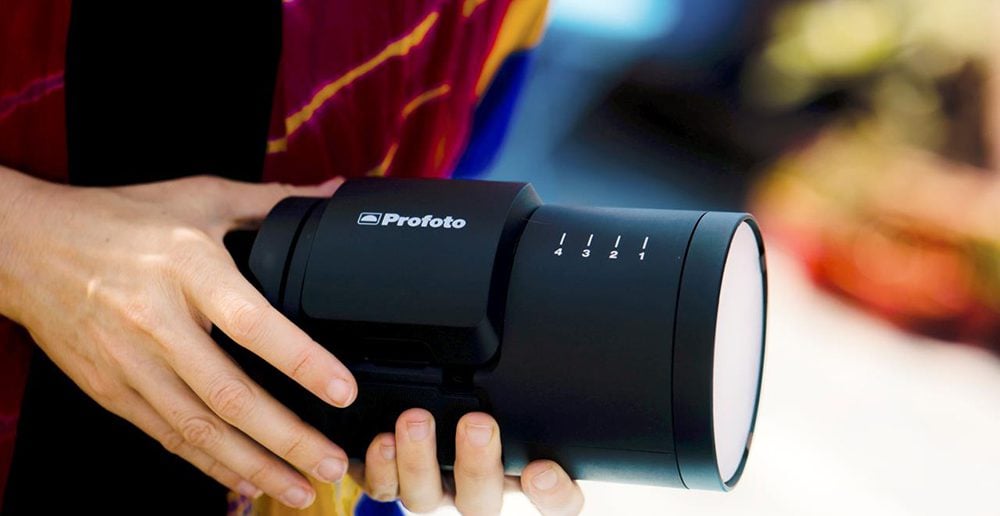 Profoto B10 250 AirTTL
Weighing in at only 1.5 kg (that includes the battery and stand adapter), the B10 opens up a world of possibilities for location shooting.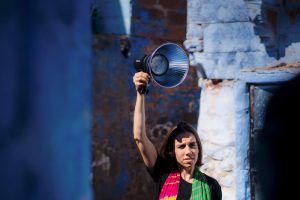 The B10 can be mounted on a camera tripod as easily as it would on a light stand, meaning you won't need to carry around extra gear with you if you don't want to.
Want to ditch the tripods/stands entirely?
The B10, is small and light enough that you can easily use it handheld even when paired with one of Profoto's OCF family of light-shaping accessories.
Light Quality
In strobe mode, the B10 offers five times the power of a normal speedlight (up to 250 Ws), and like all of Profoto's light, provides natural looking light with a soft, gentle fall-off and lighting fast recycle time of 0.05 – 2 seconds.
In continuous light mode (perfect for video shooters), you have full control over brightness (up to 2500 lumens) and colour temperature (adjustable from 3000 – 6500K (+/- 500K) with colour rendering of CRI 90-96 and dimming range of 10% – 100%) allowing you to easily adjust to match the ambient light quality.
---
---
Easy to Use…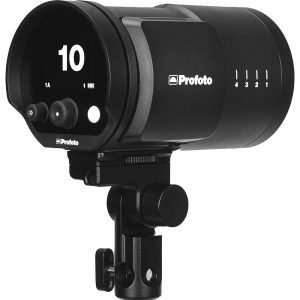 Profoto recognizes that nobody wants to cycle through endless menus of settings during a shoot and has worked hard at simplifying the menus on all of their newer products.
The B10 continues this trend offering a clean, minimal interface with large bright, easy to read  screen and large control knobs.
It's powered by a Li-Ion battery that charges in less than 90 minutes, and is capable of producing up to 400 full power flashes or up to 75 minutes of continuous light.
Wires? We don't need no wires…
Fully wireless, the B10 has an operating range of 0.5m – 300m (with sync and remote control capability) and 0.5m – 100m (when in HSS and TTL modes).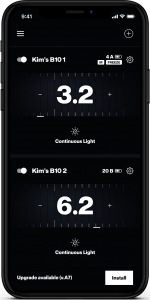 Profoto Air features supported include, flash sync, remote control (via the Profoto App, any Profoto AirTTL remote or separate Profoto A1 flash), TTL and High Speed Sync (HSS).
The B10 is also Bluetooth enabled making it easy to connect to a mobile device with the app installed.
The app (only available for iOS devices) allows you to view and control all of the settings without having to touch the B10 at all. This is great when you have multiple units set-up and need to fine tune things on all or individual flash heads. It also allows you to update the firmware on the fly making sure you have the latest features available for your shoot.
Accessories
As mentioned above, the B10 is compatible with not only all of Profoto's OCF line of smaller and lighter light-shaping tools, but over 120 of Profoto's other accessories as well.
---
With five times the power of a speedlight packed into the size and shape of a camera lens, The B10 allows you to be creative with light anywhere. You can even shoot video with the integrated continuous light. And thanks to compatibility with over 120 Light Shaping Tools, with all Profoto Air Remotes and connectivity with the Profoto App, you have almost endless opportunities to grow.
---
Profoto is really making a push into the battery powered portable lighting arena.
The larger, heavier B1X released a couple of years ago was a great start. Then, last year, Profoto went the other way and announced the "speedlight" sized A1 model and dubbed it the "World's Smallest Studio Light" which covered the on camera crowd.
With the release of the B10, (available as a single head kit, or in the two head B10 Duo Kit) Profoto now has a middle sized "bridging" option for photographers who don't necessarily want the bulkiness of the B1X, but also find that they need more power than what's available with the A1.
Key Features:
Size and shape of a camera lens
Lightweight and cordless
Flash with the power of 5 speedlights
Continuous light with adjustable brightness and colour temperature
Flexibility to set up on camera tripods or light stands
Compatibility with 120+ Profoto light shaping tools including the full OCF range
Compatibility with all Profoto AirTTL Remotes, including the Profoto A1
Smart connectivity with the Profoto app
---