Profoto has announced two new handheld studio lights aimed squarely at smartphone photographers, the Profoto C1 and C1 Plus.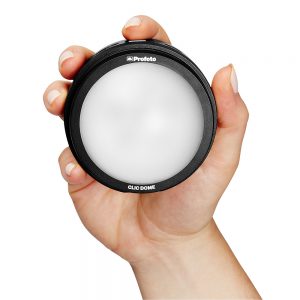 Both lights feature a round design and fit nicely into the palm of your hand.
The C1 is the less expensive and smaller of the two, and features a fixed diffuser rather than a removable on as found on the C1 Plus.
Power output on the C1 is also slightly less than half that of the C1 Plus at 2300 lumens vs 4300 lumens respectively.
Another difference is that the C1 Plus is compatible with the range of Profoto's magnetic "Clic Accessories" that include a 10-degree grid, 20-degree grid and a creative gel kit.
The unfortunate thing is that none of these accessories come with the light and must be purchased separately.
---
Get a hands-on look at the Profoto C1 & C1 Plus Lights at

---
Weekly Crop Ep. 39 – Profoto C1 & C1 Plus Studio Lights for Smartphones Review
---
The C1 Plus also features a built-in AirTTL receiver giving it the ability to be triggered using the Profoto Connect and/or Profoto A1X flash.
Both lights can also be controlled via Bluetooth when using the Profoto Camera app on your phone (compatible with iPhone 7 or later).
[columns]
[column size="1/2″]
C1 Plus Specifications
Flash
Max output: 4300 lumens
Max illuminance @ 1m: 1700 lux
Color temperature range: Adjustable 3000K-6500K (±200K)
Color rendering index (CRI): 90-98
Recycling time: 1 second at full power
Continuous Light
Max output: 280 lumens
Max illuminance @ 1m: 140 lux
Color temperature range: Adjustable 3000K-6500K (±200K)
Color rendering index (CRI): 90-98
Measurements
Diameter: 7.9 cm / 3.1 in
Height: 3.7 cm / 1.5 in (6.4 cm / 2.5 in with Dome)
Weight: 176 g / 0.4 Ibs (208 g / 0.5 lbs with Dome)
[/column]
[column size="1/2″]
C1 Specifications
Flash
Max output: 1600 lumens
Max illuminance @ 1m: 800 lux
Color temperature range: Adjustable 3000K-6500K (±200K)
Color rendering index (CRI): 90-98
Recycling time: 1 second at full power
Continuous Light
Max output: 280 lumens
Max illuminance @ 1m: 140 lux
Color temperature range: Adjustable 3000K-6500K (±200K)
Color rendering index (CRI): 90-98
Measurements
Diameter: 7.4 cm / 2.9 in
Height: 4.9 cm / 1.9 in
Weight: 120 g / 0.3 Ibs
[/column]
[/columns]
[columns]
[column size="1/2″]
C1 Plus Key Features
Pocket-sized and designed for your palm
Round shape with a soft fall-off gives a beautiful light
Inner reflectors placed under two levels of diffusing glass evenly mix the light to create natural shadows
With a Color rendering index >90, it produces colors very close to daylight
10 warm and 10 cool LEDs mixing seamlessly to mimic daylight color temperatures from 3000-6500K
Click-on magnetic mount for Clic light shaping tools
Choose between automatic mode for point-and-shoot and manual mode for full freedom
Capture with the built-in capture button to truly paint with light and shadows
Adjustable power levels from natural to dramatic effect (max 4300 lumens)
Choose between flash and flicker-free continuous light
Standard 1/4″-20 thread for stand mount
Built-in rechargeable Li-Polymer battery packs >2000 full-power flashes or >40 minutes continuous light at full power in one charge
USB-C charging 2h to full
Compatible with iPhone 7 and later
Compatible with all Profoto AirTTL Remotes
[/column]
[column size="1/2″]
C1 Key Features
Pocket-sized and designed for your palm
Round shape with a soft fall-off gives a beautiful light
Inner reflectors placed under a built-in dome diffuser evenly mix the light to create natural shadows
With a Color rendering index >90, it produces colors very close to daylight
4 warm and 3 cool LEDs mixing seamlessly to mimic daylight color temperatures from 3000-6500K
Choose between automatic mode for point-and-shoot and manual mode for full freedom
Capture with the built-in capture button to truly paint with light and shadows
Adjustable power levels from natural to dramatic effect (max 1600 lumens)
Choose between flash and flicker-free continuous light
Built-in rechargeable Li-Polymer battery packs >2000 full-power flashes or >30 minutes continuous light at full power in one charge USB-C charging 2h to full
Compatible with iPhone 7 and later
[/column]
[/columns]