It's been said that good things come in small packages, and now we can add that powerful things do, too. The new Nanlite LitoLite 5C pocket light proves this in spades. It's being billed as the brightest of its kind on the market today, as well as one of the most intelligent – and more. Let's take a closer look at some of its class-leading functions and features.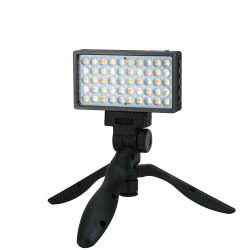 Weighing in at just 138g, the 5C has the widest colour temperature range in its category, spanning an impressive 2700 to 7500K, with 0 to 100% dimming. It's also got the largest beam angle capability in its class, at 45 degrees (hard narrow) and 253 degrees (soft wide). When used with a removable diffuser, it can perform brilliantly as ambient lighting.
And it's the only pocket light in its category with a green/magenta adjustment function, meaning the LitoLite 5C can be easily matched to any other pro-level LED light flawlessly. It's smart, too, trumping the competition with its 15 customizable special effects, which can always be firmware updated by USB going forward.
You can add to this list of accolades highest cost/feature-benefit performance in its category, making the LitoLite 5C an unbeatable all-round winner.
The 5C boasts an OLED rear menu operation screen and intuitive button menu operation control. It houses an internal rechargeable lithium-ion battery, with the screen clearly showing estimated remaining battery operation time for selected brightness. On the bottom you'll find a convenient ¼-inch-20 mount, making it compatible for use with a wide range of equipment, and its unique magnetic design means you can place it securely almost anywhere.
The LitoLite 5C comes with a soft diffuser, a USB-C charging cable, as well as a zippered soft pouch that can hold the light and a selection of additional available accessories. It arrives Bluetooth-ready, and a new control app currently in development will also provide it with wireless-control capability sometime in the new year.
Portable. Powerful. Feature-packed. Imagine having all this in the palm of your hand and you'll never want to leave home without this perky little puppy in your pocket.​
Key Features
CCT colour range: 2700-7500K
CRI: 95/TLCI: 97
RGBWW hue, saturation, intensity control
+/- green/magenta adjustment
Li-Ion battery runtime: 90 minutes at full power
15 special effects, including fireworks, bad bulb and cop car
Nanlite LitoLite 5C RGBWW LED Pocket Light – Pocket-sized design combined with powerful output, strong battery performance and magnetic mounting created to enhance your work and save you time on set.