As a photographer or videographer, it's hard not to get excited when a new lighting product is announced. Doubly so when it's a product as exciting as the Rotolight Anova Pro LED studio/ location light.
Founded in 2009, the UK based Rotolight has made a solid reputation for themselves with their award-winning LED lights.
Used by leading photographers and cinematographers around the world, Rotolight's products have been used on major feature productions, including James Bond "Skyfall" starring Daniel Craig and Captain Phillips starring Tom Hanks.
Now, you might be saying to yourself, that's all fine and dandy, but how does this affect me as a shooter?
Well, let's find out…
Rotolight Anova Pro
Like past Rotolight products, the key to the Anova Pro is its versatility. The bi-colour LED system with AccuColour™ delivers exceptional colour rendering (CRI:96+) and has a soft light output that is up to 43% brighter than previous versions.
It also boasts five patented, "industry-first" features that will help to save "significant time and money whilst enabling greater creativity for DOP's and cameramen in-studio or on location."
"I've tested a few continuous lighting panels in the past — having used strobe for a long time — but I've never liked the feel of them. Until I found the Rotolight Anova," – Mark Mann
Shots made using the Anova Pro
[the_grid name="Rotolight Anova Pro"]
Features:
CineSFX™ – A suite of customizable lighting effects including fire, lighting, TV, film, neon and spark simulation as well as police, paparazzi and gunshot visual effects.
FX Slave™ – Enables the CineSFX ™ effects to be slaved to up to 512 third-party light sources in real time with zero latency to create powerful lighting effects for large-scale productions
True Aperture Dimming™ – Calculates and displays F-stop for a subject at a given distance
Designer Fade™ – Provides custom fade up/down production effects
High-Speed Sync Flash (HSS) – Provides a powerful HSS flash with zero recycle time at 150% of the maximum continuous light output for traditional photographic workflows
---
[columns]
[column size="1/2″]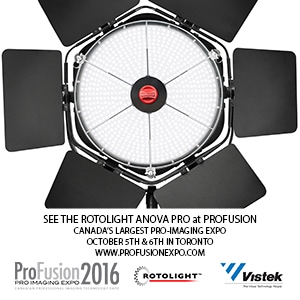 [/column]
[column size="1/2″]
See the Rotolight Anova Pro in person at ProFusion Expo
Get Your Free Tickets Today!
[/column]
[/columns]
---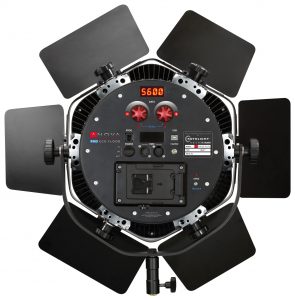 While the first four features are valuable tools for cinematographers, it's the last feature, the High-Speed Sync Flash that is the reason that photographers will want to jump all over this.
What sets the Anova PRO apart from other high-speed sync systems is that it's the world's first professional LED light to offer high-speed sync flash capability with no recycle time.
That's right, zero, nada, zip!
This means that it will fire continuously with no noticeable loss of power for as long as you hold the button down, perfect for portraits, weddings, sports, dance or any other set-ups that you want to capture crystal clear shots of people in motion. In fact, the possibilities are endless!
Check out this video featuring photographer Jason Lanier to see why photographers should be excited about the Anova Pro.
With the versatility and portability of the Anova Pro, we feel that it's fast going to become the must-have piece of lighting kit for photographers and videographers alike.
---
Order Your Rotolight Anova Pro from Vistek Today
[button link="https://www.vistek.ca/search/-Rotolight/Anova%20Pro.aspx?display=New" size="medium" target="new" text_color="#ffffff" color="#007ac3″]Order Now[/button]
---
Technical Specs:
| | |
| --- | --- |
| Weight | 2.47kg (3.34 Kg with Yoke), 4.78kg with Yoke and Barn Doors |
| Dimensions | 440mm (Width) x 493mm (Height) x 107mm (Depth) |
| Beam Angle | Standard 50º |
| TLCI | 86 – Ideally Suited for professional use – "errors are so small a colourist would not consider correcting them." |
| Overall CRI (RA) | CRI=>91 (Skintone R15 CRI=92) |
| Skintone CRI (R15) | (Skintone R15 CRI=92) |
| Power Consumption @ 100% Output | 51 Watts @ 100% Output |
| Colour Temperature Range | Fixed 5600K (+/- 100K) – Correction filters supplied to achieve 6300K, 4400K or 3200K |
| Mounting | via Standard TVMP Bracket on Yoke or M8 via Utility Block |