Elinchrom's popular D-Lite "to go" kits have been updated with the launch of the new D-Lite it (internal transmitter)  To Go Kits in 200 & 400 watt/second versions.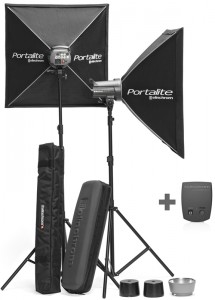 With everything you need to set up your studio, these kits incorporate all the original D-Lite features and have thrown in the intelligent slave cell enabling it to synchronize with "strobist" speedlite systems and a four channel radio frequency trigger for reliable synchronization in every circumstance.
And built in to every new D-Lite it is an EL-Skyport Receiver. So, with the Skyport ECO transmitter attached to your camera's hot shoe, you can trigger one or several D-Lite IT flash units – wirelessly. No sync cord required. Just think: no more wires to trip over.