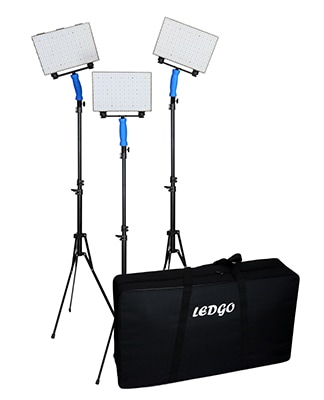 [dropcap style="square"]T[/dropcap]he LEDGO 560 3-Panel lighting system is a complete and affordable lighting kit that is perfect for both videographers & photographers.
Suitable for field operations or studio work, this versatile lighting kit comes with everything you need to set-up and start shooting right out of the bag.
Completely power flexible:
While out in the field, the LEDGO B560 LED lighting system operates off DC power via Sony style NP-F type batteries or you can use the supplied adapters for AA batteries (runs off 3 AA type not supplied). Each fixture will also support up to 3 battery packs simultaneously, providing you with extended run times or hot swapping in the field.
If you're shooting in studio, you simply plug them into any available AC power outlet, or continue to keep them wire free with the same battery options as mentioned above.
---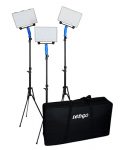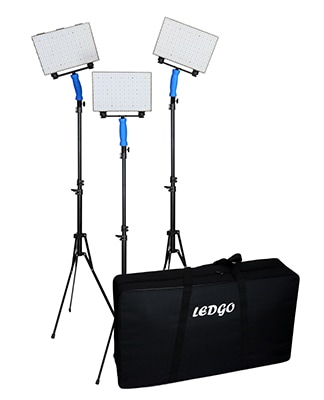 The LEDGO B560 LED lighting system is currently available for $1549.99 online or at your local Vistek Store.
Looking for more LED lighting options? Our full line up of LEDGO products can be found here.
---
Features:
High CRI (>90)
5600K (3200K Filter or Bi colour version available)
Bright/soft light output almost as much as a typical 1×1
Built in dimmer dial
Flexible twist handle allows for easy angle adjustment of the light (hand held or on a stand)
Lightweight and portable about 2lbs ea and 10.5"x 7"x2.4"
What's Included:
3x LG-B560 LEDs
3 filter sets
3 AA battery packs
3 NPF type batteries w 1 charger
3 Handles
3 AC/DC power Adapters
3 Mantis Travel Light stands
Carrying Case for the full 3 light system contents
---
Check out the LEDGO B560 LED lighting system in action on the set of Out There with Melissa DiMarco
---