Sony has announced their new (free) Imaging Edge Webcam software that will allow any compatible Sony digital camera to be used as a webcam via USB connection to a Windows 10 based PC.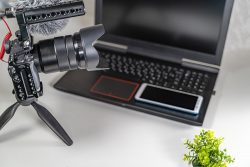 Currently, the Imaging Webcam Software is compatible with 35 different Sony cameras, including Sony Alpha Mirrorless & DSLR models, and their point and shoot DSC models.
The software also supports charging over USB (if the camera is capable), and more interestingly, it will also support the face and eye detection feature found on more recent Sony Alpha Mirrorless and DSC RX100 and RX10 models.
Here is the complete list of compatible cameras:
Sony Alpha mirrorless models:
Sony Alpha DSLR models:
Sony DSC Models:
If you would like to download the software, you can do so here.