With the new Podtrak P8 from Zoom, setting up your own podcasting studio has never been easier!
Zoom's robust Podtrak P8 features everything you need to record, edit and mix your podcast, whether you're broadcasting from the studio or live on location.
Features
The six high-gain XLR mic inputs, provide up to 70dB of gain, and are compatible with various dynamic mics (such as the Shure SM7B) and/or condenser mics (such as the Rode NTG-2).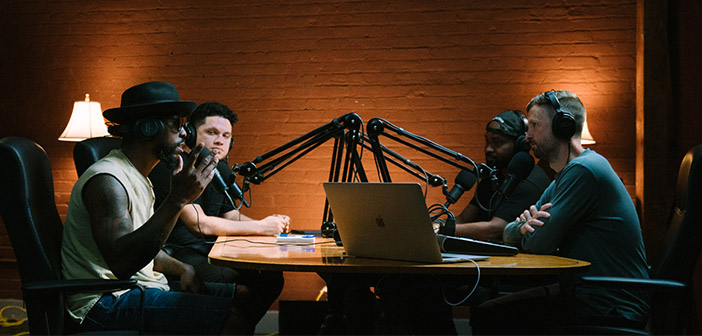 Each of the six headphone outputs are independently controllable allowing each person to adjust their own playback volumes.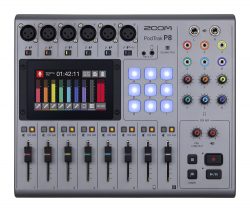 There is also a dedicated channel for recording phone calls and channel six features a USB mode allowing you to record your call-in guest sessions to a computer. Both of these options include a Mix-Minus feature designed to prevent echo and feedback for the caller.
Want to have a private aside with or prep a guest during a session? Simply press the ON AIR button to temporarily disable recording.
Audio will still be present through the headphones, but won't be recorded, or audible through attached speakers or USB connection to a computer.
If you want to record on location, the P8 provides up to 2 hours of recording with four AA batteries, or you can connect a USB power supply for virtually unlimited use.
Controls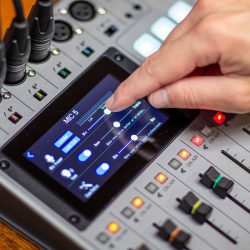 The large colour touchscreen allows you to monitor, adjust and onboard edit your broadcast seamlessly by providing access to:
The Mic Preamp Slider – Dials in the level or gain of each mic.
The Limiter – Prevents distortion if the volume suddenly gets too loud.
The Low Cut – Reduces low frequency noise from unwanted sources like air conditioning, street sounds, and vibrations.
Tone Adjustment – Allows you to make your voice sound darker or brighter.
The Compressor/DeEsser – Enables your voice to have more presence for that perfect studio podcast sound
The On Air screen – Select noise reduction to decrease background noise by automatically turning down mic levels for tracks not in use.
The touchscreen display can also be set to any one of six languages, English, French, German, Spanish, Italian or Japanese.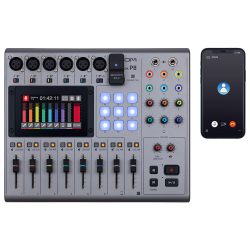 Another nice feature is that all of the inputs, outputs, and controls are all colour-coded making it easier to identify and adjust the correct settings for each participant.
The Podtrak P8 also has the ability to wirelessly connect and record to your phone when paired with the (sold separately) Zoom BTA-2 Bluetooth Receiver.
Production Tools
If you want to make your podcasts sound a little more professional, the P8 gives you the ability to trigger sound effects, intro music, jingles, pre-recorded interviews and more, using the nine multi-colored sound pads.
You can choose from 13 preloaded sounds, load your own and create up to four banks of sounds for a total of 36 sound clips.
The P8 also features onboard editing of audio clips, allowing you to trim, split and fade them to produce a finished episode.
You can also transfer the track files to your computer if you prefer to do a final mix there.
---
---
Key Features
Full-color LCD touchscreen display
Record up to 13 tracks simultaneously
Six mic inputs with XLR connectors and optional phantom power
Individual volume sliders, mute buttons and "on air" indicators for each channel
Dedicated channel for recording phone interviews
Optional BTA-2 Bluetooth enables wireless call recording
Mix-Minus function automatically prevents echo and feedback from call audio
Nine assignable Sound Pads with four banks
13 pre-loaded sounds including applause, laugh track and more
Six headphone outputs with individual volume controls let everyone hear clearly
Onboard editing
13-input, 2-output USB audio interface
Class-compliant mode for iOS compatibility
Battery power provides up to two hours of use with four AA batteries
Records directly to SD, SDHC and SDXC cards up to 512GB
Up to 16-bit /44.1kHz audio in BWF-compliant WAV or a variety of MP3 formats
---
This new podcast mixer-recorder has all the functions you need to record, edit and mix podcast audio with its full-colour touchscreen interface. Records up to 13 tracks simultaneously, with individual volume sliders, mute buttons and on-air indicators for each channel, plus nine assignable sound pads and 13 preloaded sounds. The Zoom PodTrak P8 is easy to use and can handle the most ambitious podcasting projects.