If you're new to podcasting or even if you've been doing this for a while, you're going to love the ease with which the compact and versatile new PodTrak P4 recorder makes it to capture pristine audio quality in a diversity of recording situations. This streamlined little unit features four mic inputs – powered by Zoom's professional quality preamps for up to 70dB of gain on each channel – on top, along with four corresponding headphone jacks at the bottom, each with independent volume controls.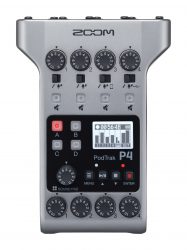 I'm sure you can already see where this is going: just picture how easy it would be to interview three guests at once on your podcast, with everyone speaking and hearing each other loud and clear. The PodTrak P4 also boasts four programmable sound pads to trigger instant sound effects, jingles, intros or even prerecorded segments, all at the push of a button. You can load it up with your own preferred sound selections or choose from any of the 11 included presets. Each mic input and the sound pad mix can be recorded onto separate tracks simultaneously.
You can also conduct remote interviews with ease using the P4 by connecting a phone with a TRRS cable, Zoom's optional BTA-2 Bluetooth receiver (more on this below), or through your computer via USB using conferencing software. And the P4's built-in Mix-Minus feature automatically eliminates distracting echoes and annoying feedback.
You can record an entire show to SD, SDHC and SDXC cards up to 512GB, or record directly to your computer, Android or iOS device using the P4 as a 2-input, 2-output audio interface with streaming capabilities. It runs up to four hours on just two AA batteries – or you can use a USB power supply for extended recording times.
Two additional new Zoom products accompanied the launch of the P4. First, there's the ZDM-1 Podcast Mic Pack, which has everything you need to capture superb audio with the Zoom recorder, including a broadcast-style dynamic mic – to give voices a velvety-smooth broadcast quality – professional closed-back headphones, an adjustable tabletop mic stand, windscreen and two-metre mic cable.
And then there's also the above-mentioned BTA-2 Bluetooth transmitter/receiver that lets you wirelessly connect a phone to record interviews using apps such as Skype to bring guests into your podcast interview, seamlessly, remotely and clear as a bell.
Together, all of these affordable new products ensure that you'll hit the ground running with professional-sounding results for your next podcast and going forward for a long time to come.
The PodTrak P4 has everything you need to capture professional sounding podcasts to SD card or to your computer. Compact, affordable, and loaded with features, the PodTrak P4 makes it easy to capture professional audio wherever you're recording your podcasts.