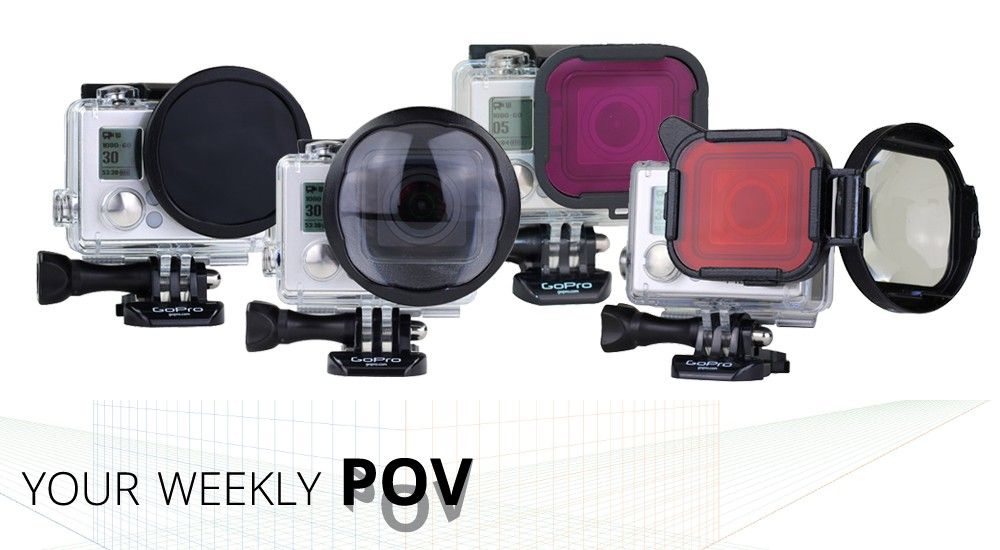 Welcome to another edition of  POV of the Week!
Thus far, we've covered what people are doing with their GoPro cameras, from amazing animal encounters to falling off stuff onto other stuff. This week, we're covering some of the amazing filters from Polar Pro that add colour, neutralize light, provide beautiful macros and generally make post-production a heck of a lot easier.
First up is the Polar Pro Filters Magenta FilterAqua Series for GoPro Hero3+. The Aqua3+ Magenta Filter for the GoPro Hero3+ is Polar Pro's newest and most effective color correction formula yet. Improving on previous magenta filters, they've bulked up the frame on the new Aqua series as well as over molded the glass for more strength. The Aqua magenta filter colour corrects flawlessly in green water from 8 to 65 feet deep.
That means that colours appear as they should before you even hit the editing suite. This video shows you the astonishing difference by taking the filter off and on in mid-dive.
Next up is the Polar Pro Filters Macro Lens for GoPro Hero3+. Once on, the macro lens will swing open and closed. This an awesome new way to add creativity to your Gopro edits. The Macro allows you to capture razor sharp close ups, completely changing what the Hero3 can do.
This creative macro provides 2.2x magnification allowing you to capture super creative close ups like never before possible. The GoPro Hero3+ is great at capturing wide angle shots, so this macro lens accessory adds insane tight closeups to the mix.
One of the frustrating aspects of video at high speeds is what's called the "jello effect". Vibrations cause the rolling shutter in digital video cameras to wobble the video, sometimes creating a disorienting, rippling look. This is common with cameras of all walks, from the lowest to highest end. Thankfully, Polar Pro has created a Neutral Density filter, which eliminates much of this effect, creating a smoother shot overall.The GoPro Hero3+ has a very high shutter speed so often times when moving fast, nothing is blurred, creating the illusion that you are not moving quickly. For example when in the car the neutral density filter will blur the pavement and it creates the illusion of speed. Another use for the neutral density filter is for aviation, remote control planes, and shooting with quadcopters. The filter reduces the jello-effect which happens when the camera is mounted to vehicles with high vibration.
And Finally, for those looking to get the best of everything in one incredible filter, There's Polar Pro Filters Switchblade Aqua Series for GoPro Hero3+. This 3 in 1 combo has a glass Red filter, and a glass Macro lens, both which can swing away and be used in any combination.
This accessory features a new Aqua Glass Red filter which is Polar Pro's best colour correction formula yet. It captures beautiful deep blue hues as well as vibrant tropical colours which pop off the screen. The Macro lens is also brand new and features more powerful 2.2X magnification as well as being made out of glass for even higher durability against scratching. The Switchblade3+ also features a beefed-up, frame leading to higher durability.
So what kinds of filters/add-ons would you like to see more of?