In announcing the launch of its brand-new 6K Pocket Cinema Camera, Blackmagic Design has done it again – and then some. Building on the success of its super-popular 4K version, the latest model packs some amazing high-end digital film features, including a 6K Super 35 sensor, into a miniature handheld body. The sensor alone marks a major step up from the previous Micro Four Thirds in terms of image quality, but there's more to tell you about the new 6K Pocket Cine Camera.
With dual native ISO up to 25,600, this new 6K model will be able to perform superbly in low-light conditions, and with 13 stops of dynamic range, you'll be able to capture fine details with superior sharpness, even in dimly lit interiors.
It's also incredibly versatile. The EF mount makes it compatible with lenses from a wide range of go-to brands, including Canon, Zeiss and Sigma, and when combined with that larger sensor, the camera can deliver significantly shallower depth of field. Subjects within the frame will now stand out more noticeably against a slightly blurred-out background.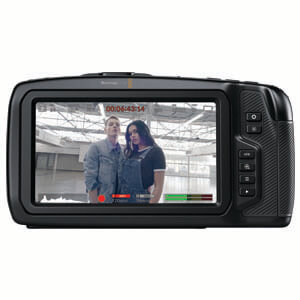 This model boasts a total of four built-in microphones, plus built in-recorders and, like its predecessor, a super-bright five-inch touchscreen. And as with its slightly older sibling, the 6K's lightweight, compact body gives you all the mobility and portability you need, while its carbon-fibre reinforced composite shell gives you plenty of strength, along with peace of mind when shooting in rugged or unpredictable environments.
With the new 6K Pocket Cine Camera model, Blackmagic Design has retained many of the features and the same form factor that contributed to the unparalleled and unprecedented popularity of last year's 4K version, but cleverly boosted its strength and quality significantly where it's bound to matter most to serious shooters.
Key features:
23.10×12.99 mm Super 35 6K HDR sensor
ISO up to 25,600
13 stops dynamic range
3D LUTs
Large 5-inch touchscreen
Professional audio
Blackmagic RAW
6144×3456 resolution